DVRPC News: February 2019
Volume 40, Issue 7 | February 2019
Study Explores Bicycle and Pedestrian Access to KOP Rail Stations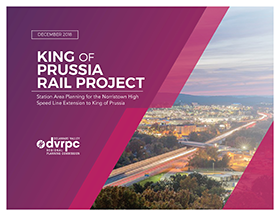 DVRPC's new report examines the land use and transportation implications of the proposed extension of SEPTA's Norristown High Speed Line (NHSL) to the King of Prussia area. Station Area Planning for the Norristown High Speed Line Extension supports SEPTA's KOP Rail project and identifies opportunities to enhance pedestrian and bicycle mobility in the areas around the five proposed stations.
The study emphasizes improvements, including new sidewalks, multi-use trails, and bicycle facilities, that will improve nonmotorized access to transit while also making it easier for residents, employees, and visitors to get around without a car. If implemented, these recommendations can help maximize the overall usefulness of the KOP Rail project with better integration of the new stations into existing neighborhoods.
Learn more and read the report.
Inventory Shows Decrease in Greenhouse Gas Emissions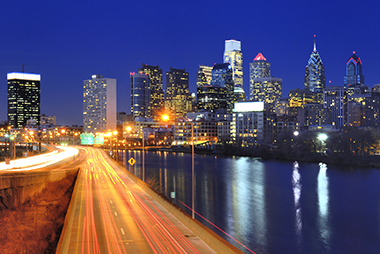 DVRPC's Energy Use and Greenhouse Gas Emissions Inventory for Greater Philadelphia estimates that the equivalent of 74 million metric tons of carbon dioxide in net greenhouse gases (GHG) were emitted in the region in 2015. This reflects a 10 percent decrease in GHG emissions from 2010 levels and a 21 percent decrease from 2005 levels.
DVRPC's Office of Energy and Climate Change inventories the region's GHG emissions and energy use to understand trends and develop strategies to reduce them. Increased energy efficiency and reduced GHG emissions lowers energy costs, and helps the region contribute to the fight against global climate change. A number of factors led to the decrease in GHG emissions: a cleaner electricity grid due to the switch from coal to natural gas; a decrease in on-road emissions per mile traveled due to better vehicle fuel economy; and a decrease in electricity consumption per household.
Read the report and learn more about DVRPC's energy and climate change initiatives.
Study Identifies Potential Neighborhood Greenways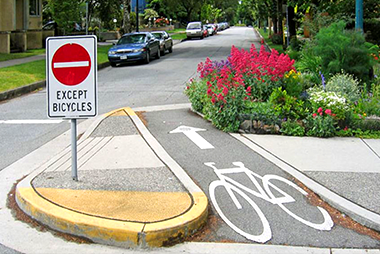 Neighborhood greenways are low-volume, low-stress streets that prioritize bicycle and pedestrian travel over vehicles. DVRPC's new study, Identifying Neighborhood Greenway Possibilities in Philadelphia, identifies suitable streets to build neighborhood greenways in each of Philadelphia's ten city council districts.
Creating neighborhood greenways on key corridors is a way to adapt Philadelphia's many narrow streets that have only one travel lane thereby creating much-improved facilities for cyclists and pedestrians. Neighborhood greenways can also help the City of Philadelphia meet the objectives of its Vision Zero policy and fill-in gaps in the on-road bike network. The report outlines key factors such as location and length of streets, vehicle volume, speed limit, and connectivity using best practices identified by the National Association of City Transportation Officials, Portland State University, and Portland Bureau of Transportation. The report identifies the streets best suited for greenways with maps and visuals, including design treatments and next steps.
Learn more and read the report.
New Video Series Shows the Benefits of Long-Range Planning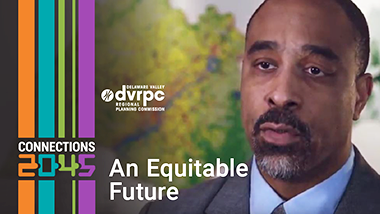 DVRPC released a series of short videos highlighting different facets of the long-range plan, Connections 2045. These videos, available on DVRPC's YouTube channel, follow the longer videos about Connections 2045 that were released this past summer.
The three new videos – "DVRPC Brings the Region Together," "Transportation Investments for the Future," and "An Equitable Future" – feature officials from PennDOT, SEPTA, and counties across Greater Philadelphia speaking about key transportation investments, the future of transportation, and how regional planning benefits us all.
Watch the videos and learn more about Connections 2045.
Share-A-Ride Ridematch Service Makes Commuting Easier in Southeastern PA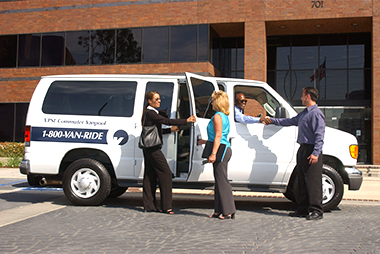 DVRPC's Share-A-Ride ridematch service offers an easy way for commuters and employers to participate in a new vanpool incentive program, funded by the Pennsylvania Department of Transportation (PennDOT). The new statewide grant initiative, called the Pennsylvania Vanpool Incentive Program, or PVIP, provides an economic incentive to create new vanpools by subsidizing vanpool rider fees.
Share-A-Ride (SAR) is a quick, easy, and free way for commuters working in southeastern Pennsylvania to connect with other commuters to share the ride to work. To form a new vanpool, commuters need to find five more commuters. (SAR provides transit options, too).
To qualify for the new PennDOT program, riders must be part of a new vanpool group. Vehicles provided can accommodate groups in a variety of sizes, from seven to a maximum of 15 passengers. Approved vanpools will be offered up to $800 each per month, based on van capacity; the subsidy is decreased and phased out over three years from the start of the vanpool. ADA-accessible vanpools are eligible for a monthly subsidy up to $1,200 per vehicle, and may be able to receive an ongoing subsidy after year three.
For more information on Share-A-Ride, visit www.dvrpc.org/MobilityAlternatives or call 215-895-1800 and ask for Commuter Services.
Upcoming LTAP Classes in PA and NJ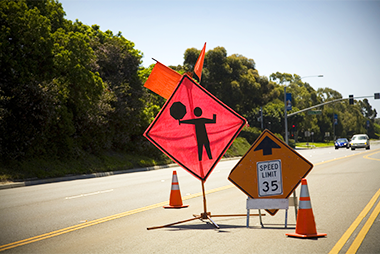 The Local Technical Assistance Program (LTAP) provides technical information and expertise to help municipal governments use transportation funds more effectively, improve road maintenance, and increase roadway safety.
Upcoming PennDOT classes in Pennsylvania include:
Speed Limits and Speed Management
Gilbertsville, PA
February 6, 2019 (8:00 AM – 12:00 PM)
Road Surface Management
Thorndale, PA
February 6, 2019 (8:00 AM – 3:00 PM)
Visit PennDOT's LTAP website to view the course descriptions and register. For any questions, contact Linda McNeffer at lmcneffer@dvrpc.org or 215-238-2872.
There are two upcoming New Jersey LTAP courses:
Traffic Control Coordinator Program
Hamilton, NJ
February 12-15, 2019 (8:00 AM – 4:00 PM)
Rapid-Repair Cements Seminar
Newark, NJ
February 25, 2019 (9:00 AM – 7:00 PM)
Visit cait.rutgers.edu/cait/training for a list of all New Jersey workshops and to register.
Staff Profile: Addison Larson, Planning Data Scientist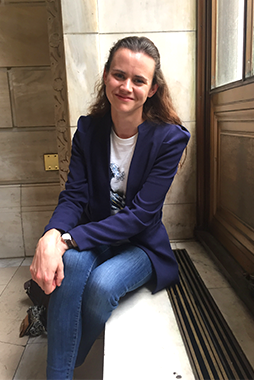 Where did you grow up?
In the desert, in Midland, TX.
That's pretty far away from Philadelphia, what was it like? I had a normal childhood. It was very warm and dry there, unlike here, and ironically, I played a lot of golf.
What did you want to be growing up?
My first career aspiration was to drive a trash truck. I later moved on to wanting to be an architect.
What did you study in college?
I started out in mechanical engineering at University of Texas in Dallas, but after barely surviving Calculus 2, I switched to International Political Economy (IPE).
And graduate school?
After college I went straight to grad school for a Masters in GIS. As an IPE major, I was required to take GIS. I also took statistics classes, they really clicked, and I became a TA for stats, too. I followed a hunch that it would be interesting to combine my stats toolbox into GIS, and so Spatial Statistics became my specialty.
How did you end up in Philadelphia, at DVRPC?
I've always been interested in the built environment, dating back to my days wanting to become an architect. With my undergrad political science background, I first came east for an internship in Washington, D.C. doing housing policy. Before graduating, I was searching for jobs that combined political science, built environment, and spatial analyses. I saw the DVRPC posting for the Planning Data Scientist and it was a perfect fit!
What was your first job ever?
I analyzed survey results from first responders from a pipeline group in Midland as a sophomore in high school.
What next? As a sophomore in college, I landed an internship at the World Affairs Council, and I got to plan the logistics for and meet a delegation on women leaders from Afghanistan.
And first job related to planning? I developed a tool to prioritize spending on affordable housing at the DC Fiscal Policy Institute, which combined my background in policy and spatial analyses. That led to my graduate thesis on analyzing commuting patterns in Dallas/Ft. Worth.
Tell me about an exciting project you are working on.
I'm working with Cassidy Boulan on the southeastern PA pedestrian cyclical counting program, creating a method to prioritize locations representative of various walkable areas throughout the region. The counts can be used to track effectiveness of spending on pedestrian facilities.
What three words best describe you?
Bookworm, adventurous, and completist1
I heard that you speak Arabic – where did you hone your skills?
I lived in Oman for a summer through the State Department Critical Language Scholarship Program.
What were some impressions? My interest in architecture opened my eyes to how their vernacular building styles, using the existing environment and local materials, worked to their advantage, making the indoor temperature naturally cool. In contrast, everything new was cinder block, which held the heat and required lots of air conditioning.
Are you a cat or dog person?
A cat person! My 14-year old cat "Socks" is my good buddy who I look forward to seeing after work each day.
Do you have life, or work, philosophy?
Do it right, and do it right the first time. Although that is not what I expect of others, just myself.
Do you have a fantasy career?
In another life, I would teach college statistics.
Where would we find you after hours?
I love throwing pottery. But more likely, I'd be at the library or checking out different coffee shops.
What's the last book you read?
"If Not Now, When," by Jack Jacobs. It's an autobiography about duty and sacrifice in time of need, by a Vietnam vet.
1According to Addison, a "completist" is someone who places high importance on following things through to completion.