DVRPC News: April 2019
Volume 40, Issue 9 | April 2019
Future of Transportation Event Brings Together Industry Leaders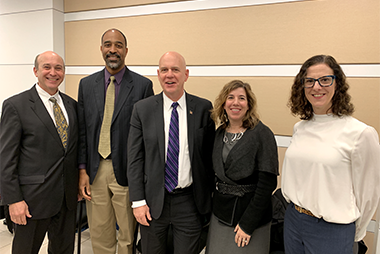 DVRPC and the Free Library of Philadelphia partnered on March 21, to explore the new trends and projects that will shape the future of transportation in the region. An engaging panel discussion included: Secretary of the Pennsylvania Department of Transportation, Leslie S. Richards; General Manager of SEPTA, Jeff Knueppel; Deputy Managing Director of OTIS, Michael A. Carroll; and Director of Mid-Atlantic Public Affairs for Lime, Shari Shapiro. The panel was moderated by DVRPC's Executive Director, Barry Seymour. Panelists and attendees discussed the challenges and opportunities transportation will face in the future including, SEPTA upgrades, micro-transportation, and automated vehicles.
This event was a part of the Free Library's exhibition of Philadelphia: The Changing City, which draws from 300 years of documents and maps that reveal the planned and unplanned changes in Philadelphia's landscape.
If you would like to learn more about the future of Greater Philadelphia's multimodal transportation system, view this video that DVRPC created and features several of the event's panelists.
DVRPC Approves $3.67 Million for 22 Trail Projects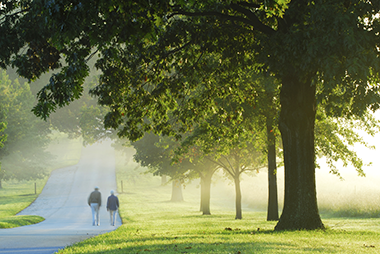 On March 28, the DVRPC Board approved $3.67 million in grants for 22 Circuit Trail projects throughout Greater Philadelphia. Projects include design and construction, as well as feasibility studies, to complete gaps and extend and connect to Circuit Trails. These include: construction of the Schuylkill River Trail in Lower Pottsgrove (Montgomery Co.) and the Route 202 Parkway to Bradford Dam Connector Trail in Warrington Township (Bucks Co.); design of the Parkside Cynwyd Trail in Philadelphia and the Darby Creek Trail in Upper Darby Township (Delaware Co.); and design and construction of multiple segments of the Lawrence-Hopewell Trail in Lawrence and Hopewell townships (Mercer Co.), among other projects.
The grants are Phase VII of DVRPC's Regional Trails Program. Funding was provided by the William Penn Foundation. View the full list of projects and learn more about the Regional Trails Program.
Greater Philadelphia is building the Circuit Trails, an 800-plus mile network of multi-use trails spanning the metropolitan region. Currently, about 330 miles of this network are complete, 77 miles are in progress, and 408 miles are in some stage of planning.
New Study Evaluates Multimodal Access to Tourist Attractions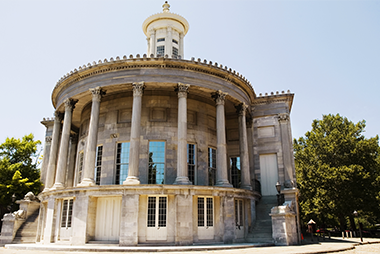 The tourism and hospitality industry represents an important and growing part of the region's economy, contributing $11.2 billion in direct sales and 169,000 jobs in the region. Over the last year, DVRPC has evaluated multimodal access to tourist destinations in Greater Philadelphia and compiled information about how visitors access the region's 278 tourist destinations.
The new study, Evaluating Access to Tourist Attractions in Greater Philadelphia, includes the survey results of regional tourist attractions about accessibility, as well as an analysis of how different attractions promote multimodal transportation options. Some of the findings include: 38% of attractions indicated transportation accessibility is their greatest problem, and 68% of attractions include transit directions on their websites. Findings from the study and new online tools focus on multimodal accessibility to tourist attractions to ensure a positive experience for the visitor.
Read the new report.
2019 Ozone Season Starts April 29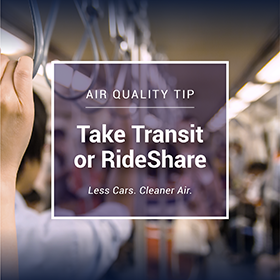 Air Quality Awareness Week (April 29 to May 3) marks the start of ozone season, which runs through September. The Air Quality Partnership monitors ozone levels, provides air quality forecasts, and offers tips you can take to reduce air pollution. Taking steps to reduce air pollution is critical because Greater Philadelphia does not currently meet the federal air quality standards for ground-level ozone.
You can help reduce air pollution. Consider:
Rethinking how you travel. Take transit, carpool, or ride a bike to your destination.
Cleaning out your trunk. An extra 100 pounds reduces your gas mileage by 2 percent.
Refueling in the evening. Ozone levels build through the day. Refuel after peak travel times.
Combining errands. Trip-linking errands with your daily commute can save time, money, and the environment.
Maintaining your car. A well-maintained vehicle emits less pollution and saves gas. Properly inflated tires improve your gas mileage by 3 percent, while regular oil changes improve your gas mileage by 1 to 2 percent.
Interested in learning more? To see the daily air quality forecast, get tips to reduce air pollution, and sign up for alerts, visit www.airqualitypartnership.org.
Training for First Responders Shares Best Practices in the Region for Complex and Large-Scale Extrications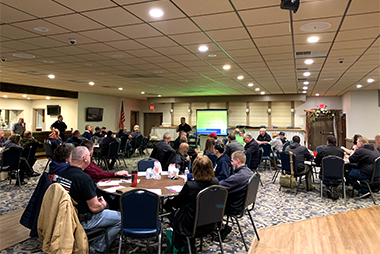 Photo by Paul Carafides, DVRPC
DVRPC's Bucks County Incident Management Task Force (IMTF) hosted a half day seminar on Saturday, March 16, focused on safe and effective methods when responding to large scale incidents, specifically extrications. Over 70 first responders attended the training and learned from each other's experiences navigating complex multi-agency incidents in Greater Philadelphia and beyond. Speakers also discussed the role and use of specialized emergency resources at large scale incidents, and the importance of knowing those resources' availability throughout the region.
Because a multitude of public and private entities respond to incidents, it is important that first responders get to know one another during these types of training seminars and coordinate in regularly scheduled meetings.
Learn more about DVRPC's Transportation Systems Management and Operations and Traffic Incident Management (TIM).
New Interactive Tool Shows Passenger Origins at Transit Stations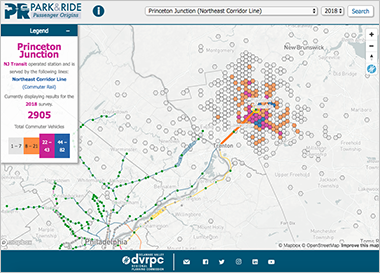 DVRPC's newest interactive webmap shows the origins of commuters who park at transit stations in the nine-county region. The Park and Ride Passenger Origins map includes train stations and park-and-ride lots that have publicly-accessible parking, and have been surveyed by DVRPC (dating back to 2000). For example, the graphic here shows that there were 2,905 commuter vehicles at the NJ Transit Princeton Junction Station in 2018.
Each station's data is based on fieldwork completed in one day, typically in fall or spring between the hours of 9 AM and 4 PM. License plates are recorded and sent to the appropriate state agency to be anonymously geocoded. After receiving the geocoded records, DVRPC converts the data into a GIS format in order to be used in this web application, which helps planners identify where improvements are needed to better access the train stations. To learn more, view the information button on the webmap.
Staff Profile: Barnell Neville, Traffic Counting Technician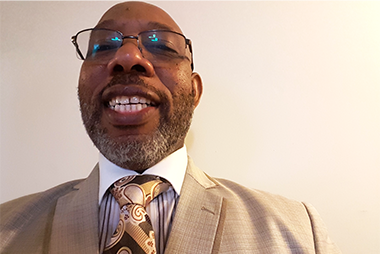 What did you want to be growing up?
A psychiatrist, because I wanted to support people by listening to their problems and help them figure things out.
What was your first job?
I joined the Army because my parents could not afford to send me to college. I stayed 12 years, 9 months, and 22 days before I got out, but I re-joined one year later because I missed the comradery. I ended up serving a total of 33 years.
Wow, that is a long career in the Army. Where were you stationed and what did you do?
I started out in Fort Sill, OK, as an artilleryman. I also served in Savannah, GA, Ft. Louis, WA, six years in Germany, and additional years in the Army Reserve, National Guard and finally the Active Guard as a Supply Sergeant. I used my extended time in the army to get several degrees in business management.
In which wars or conflicts did you serve?
Gulf War, Bosnian conflict, and then Afghanistan and Iraqi wars. Were you there? No, but I trained people and sent people and equipment.
How was the experience of serving in the Army?
It was the best part of my life. Military service taught me valuable things, including leadership, how to be a team player, empathy, compassion, and how to be a great trainer. I discovered that I really enjoy training people to be the best that they can be – I guess that goes back to my original desire to be a psychiatrist!
How did you end up at DVRPC?
After leaving the army, I took on several other jobs, including a counselor for vets. Then one day about three years ago I saw the Traffic Counting Technician position and applied. I was called in for an interview, and I liked the DVRPC staff I'd be working with. I wanted to be of service, so I signed on the dotted line.
Tell me about the workday of a Traffic Counter Technician.
Based on different studies' needs, we go out and place tubes across the roadway and leave them there for several days, then pick them up again and download the data to show how much traffic there is on a given roadway. I have lots of adventures – everybody wants to know what I'm doing. Some blow their horns at me, and others stop to talk. I've had some fascinating conversations, most recently with a retired navy guy, trading war stories.
What three words best describe you?
God-fearing, kind, helpful.
Who would you most like to meet and spend time with?
Pastor Benny Hinn. He has the power of healing and is well-versed in the Word of God.
What is your life philosophy?
Be the best that I can be and help as many people as I can every day.
Where would we find you after hours?
With family or in church.
Do you have a goal yet to be achieved?
I am striving to be the best traffic counting technician that DVRPC ever hired!
Upcoming LTAP Classes in PA and NJ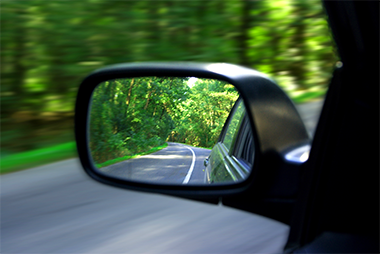 The Local Technical Assistance Program (LTAP) provides technical information and expertise to help municipal governments use transportation funds more effectively, improve road maintenance, and increase roadway safety.
Upcoming PennDOT classes in Pennsylvania include:
Bridge Maintenance and Inspections
Gilbertsville, PA
April 5, 2019 (8:00 AM – 3:00 PM)
Roadside Vegetation Control
Horsham, PA
April 9, 2019 (8:00 AM – 3:00 PM)
Visit PennDOT's LTAP website to view the course descriptions and register. For any questions, contact Linda McNeffer at lmcneffer@dvrpc.org or 215-238-2872.
There are two upcoming New Jersey LTAP courses:
Design of ADA Curb Ramps and Pedestrian Access Routes
Runnemede, NJ
April 12, 2019 (8:30 AM – 4:00 PM)
Roadway and Traffic Safety Improvement Program
Piscataway, NJ
April 18, 2019 (8:30 AM – 4:00 PM)
Visit Rutgers' CAIT website for a list of all New Jersey workshops and to register.