DVRPC News: October 2018
Volume 40, Issue 4 | October 2018
Making Trails Happen - New Funding Available!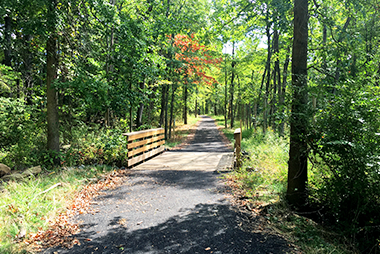 DVRPC is pleased to announce a funding opportunity through the Regional Trails Program. Up to $3 million of private funds are available to plan, engineer, or construct eligible trail projects in DVRPC's nine-county region, plus Berks County in Pennsylvania. This open call for applications closes on Friday, December 14, 2018. In addition, up to $4 million in federal TA Set-Aside funding may be available to construct eligible projects in southeastern Pennsylvania. Learn more here.
DVRPC helps shepherd trails from idea to completion – planning, prioritizing, funding, mapping, and monitoring progress. Our commitment to making trails happen is part of our vision for the Greater Philadelphia region's transportation system – one that is safe and modern and fosters greater opportunities for all. Learn more at www.dvrpc.org/Trails.
Reviving Vine Corridor Study Released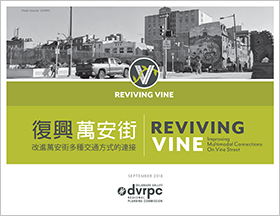 Reviving Vine is a new study focusing on safety and neighborhood connectivity improvements on Philadelphia's Vine Street Local between 8th Street and Broad Street. The report used input from community members and partner organizations to describe problems with the existing conditions and identify improvements.
A priority throughout the study area is safe transportation for all modes and users while supporting a vibrant community. Recommendations identified include traffic calming measures and lane reconfiguration to enhance pedestrian, bicycle, and transit facilities in and along the Vine Street corridor. This study is a follow-up to the U.S. Department of Transportation's Every Place Counts Design Challenge.
Read Reviving Vine and learn more about the planning process here.
New "Story Map" Illustrates Connections 2045 Plan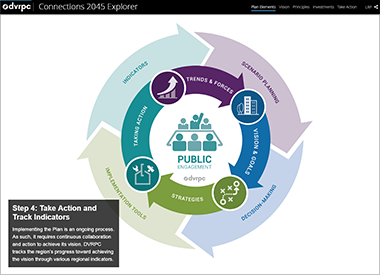 How do we prepare our region for a world that's always changing? The new Connections 2045 Explorer illustrates how the Long-Range Plan establishes a vision for growth and development of our region. This interactive story map outlines the goals of the plan, and how we are working toward them.
Be sure to check out our new video as well. You'll hear local officials explain how long-range, regional planning allows us to make better connections between transportation, land use, the environment, and the economy.
Pease tag @DVRPC if you share these new products on social media. You can also subscribe to DVRPC's new YouTube channel to keep a closer eye on more videos coming soon!
Patty Elkis Honored by American Planning Association - PA Chapter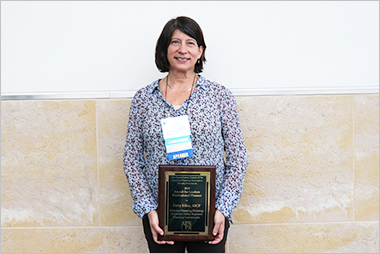 DVRPC's Director of Planning, Patty Elkis, AICP, received an award from the American Planning Association (APA) Pennsylvania Chapter recognizing her distinguished planning career and contributions to the field. She received the Award for a Leader - Professional Planner on October 15, 2018 at the APA-PA Annual Conference. Ms. Elkis' innovative work includes Return on Environment, a study of the economic value of open space; Municipal Actions to Improve Water Quality; creating DVRPC's Healthy Communities Task Force; and other major open space preservation initiatives. In addition to her professional achievements, she shares her knowledge with staff and other planners by mentoring young professionals and serving on a number of boards and committees, including ULI's Philadelphia chapter.
Growing Greater Philadelphia Convenes CEDS Stakeholders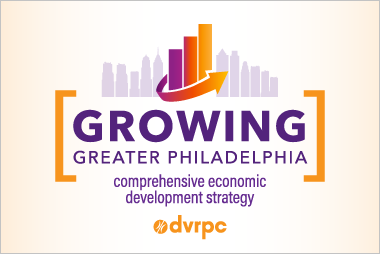 Earlier in October, DVRPC hosted stakeholders from across the region to kickoff a major update to the Comprehensive Economic Development Strategy (CEDS). Attendees worked together to identify the region's Strengths, Weaknesses, Opportunities, and Threats. A regional CEDS is required for projects within a metropolitan area to receive U.S. Economic Development Administration (EDA) funding. Updating Greater Philadelphia's CEDS provides our region with an opportunity to create a regionally owned planning process that fosters economic prosperity and resiliency.
A strong regional economic development strategy relies on input, participation, and leadership from elected officials, employers, workforce and education leaders, nonprofit executives, economic development professionals, and interested citizens. The interactive discussion was a launching point for research and future outreach meetings.
Learn more about the CEDS planning process and upcoming meetings.
New Data Bulletins Available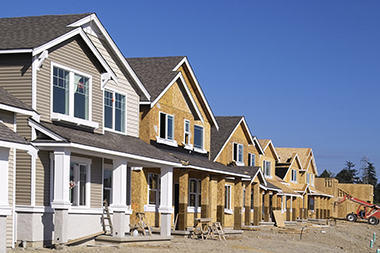 The updated data bulletins for Residential Permits Issued, 2010-2017, and Population Estimates, 2010-2017, in DVRPC's 28-County Extended Data Services Area are now available online. DVRPC's 28-County extended area includes parts of Pennsylvania, New Jersey, Maryland, and Delaware.
The reports are based on current U.S. Census data which showed growth throughout the region. The residential building permit data identified over 30,000 new units as authorized by building permits in 2017. This is the highest number generated in the 28-county area in 10 years. Philadelphia experienced the greatest population growth in the region. The city has gained over 52,000 new residents in the past seven years - a shift away from the primarily suburban growth patterns of the prior decade.
Explore the Population Estimates and Residential Permit data.
Upcoming LTAP Classes in PA and NJ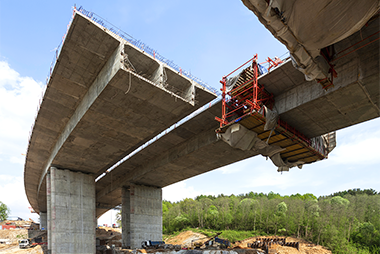 The Local Technical Assistance Program (LTAP) provides technical information and expertise to help municipal governments use transportation funds more effectively, improve road maintenance, and increase roadway safety.
Upcoming PennDOT classes in Pennsylvania include:
Stormwater Facility Operation and Maintenance
Phoenixville, PA
November 12, 2018 (8:00 AM – 12:00 PM)
Bridge Maintenance and Inspections
Horsham, PA
November 15, 2018 (8:00 AM – 3:00 PM)
Visit PennDOT's LTAP website to view the course descriptions and register. For any questions, contact Linda McNeffer at lmcneffer@dvrpc.org or 215-238-2872.
There are two upcoming New Jersey LTAP courses:
Traffic Control Coordinator Refresher
Piscataway, NJ
November 8, 2018 (8:30 AM – 3:30 PM)
Work Zone Safety Awareness Workshop
Piscataway, NJ
November 15, 2018 (8:00 AM – 1:00 PM)
Visit cait.rutgers.edu/cait/training for a list of all New Jersey workshops and to register.
Staff Profile: Keith Hartington, Principal Transportation Engineer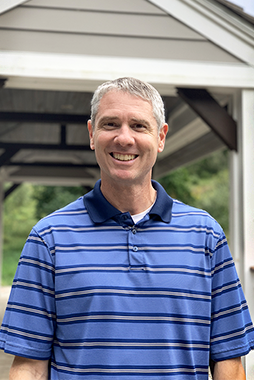 What did you want to be growing up?
A meteorologist. I was a weather geek as a kid, probably influenced by growing up in Kansas City, where the weather changes frequently and rapidly.
What was your first job?
Mowing lawns. I had 5-6 yards I did regularly, starting at age 12.
How did you get into planning?
I joined the Marine Corp after high school, which built up my maturity, discipline, confidence and self-growth. In college, I started out studying architecture and urban design, but found out in my first semester that I hated it – I didn't have the patience for building models by hand. After talking with my advisor, I switched to geography with a minor in urban planning. Sitting in my first "Intro to Planning" class, I knew planning was for me.
How did you end up at DVRPC?
As I was winding up my graduate program in planning at the University of Kansas, I was eager to get out of Kansas, and applied for jobs from Chicago to Florida, including a position at DVRPC. I drove out to Philadelphia from Kansas, and as soon as I entered the city, I loved it. I got offered the job, which was doing Intelligent Transportation System (ITS) and corridor planning work.
What is the most compelling project you've worked on?
It would have to be the I-76 Schuylkill Expressway project, where we built the operations model that simulates traffic flow on the entire Schuylkill Expressway, from the Walt Whitman Bridge to the toll plaza in King of Prussia. It was a steep learning curve, but it launched my interest in doing more technical work. The model became the platform for a lot of other work down the road, and is used to test scenarios on how different improvements to lane and interchange configurations would likely impact traffic.
In your experience, what's changing in planning and modeling?
We're more efficient with the advent of new software like Vissim and Vissum, and we're more collaborative across departments. I recently moved from Corridor Planning to Modeling, working on modeling projects specifically for PennDOT, such as the reconstruction of I-95. We're examining how new interchange reconfigurations will impact local access, freight movement and daily traffic volumes.
What three words best describe you?
Fun, nerdy, athletic
What is your work philosophy?
Two things: "You can't make an omelet without breaking eggs", and "Do what makes you happy – then it's not work".
What is something your colleagues don't know about you?
From my days mowing lawns at an early age, I chopped off the ends of two fingers, which generated a nickname of Nubs, and Uncle Nubbies. While I was in the military, some people didn't even know my real name and just call me Nubs.
What's your favorite place in the region?
The disc golf course in Tinicum Township, Bucks County. On a hot summer day, I love to play a round and then jump in the Delaware River for a swim.
If you could be King of the Delaware Valley for a day, what would you do?
I'd repurpose all the larger, surface parking around our region's train stations into mixed use developments.
Where would we find you after hours?
If I'm not out playing disc golf, ultimate frisbee, or running, I'm happy to be a homebody watching sports with my two boys.