DVRPC News: May 2018
Volume 39, Issue 11 | May 2018
Public Comment Period for the Draft FY2019 PA Transportation Improvement Program is Closing Soon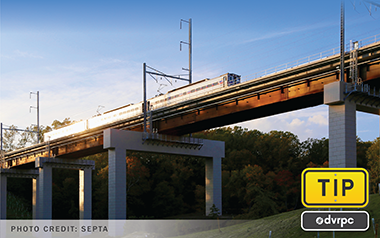 There is still time to provide your input on the Draft DVRPC FY2019 Transportation Improvement Program (TIP) for Pennsylvania (FY19-FY22). The public comment period ends June 3, 2018 at 5:00 PM. The TIP outlines the region's federally funded transportation improvement priorities and is required for the region to receive and spend federal transportation funds.
An electronic version of DVRPC's Draft PA TIP is available at www.dvrpc.org/TIP/Draft. This new webpage allows you to search locations and projects and submit comments. There is also a recorded information session and webinar on the Draft FY2019 TIP for Pennsylvania and its related Draft Transportation Conformity Demonstration (which is also open for public comment).
A Circle of Progress: The Greater Pottstown Trails Feasibility Study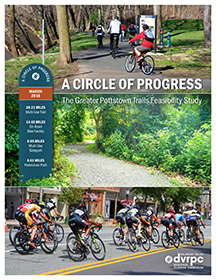 DVRPC developed a feasibility study to plan and analyze a 40-mile network of multi-use trails and on-road bicycle infrastructure for the "Greater Pottstown Trails network". When this network is completed, cyclists of a moderate skill level will be able to travel through Pottstown Borough and eight surrounding municipalities in Chester, Montgomery, and Berks counties. The study also gives priority to planning safe, scenic, and well-connected trails and on-road facilities that cyclists, pedestrians, and equestrians of different ages and skill levels can use.
The study focuses on the opportunities and challenges of constructing trails that municipal and county leaders and staff, together with recreation advocates, educators, and other stakeholders, have proposed for the region in past years. To move these trails from the planning stage to construction, the study provides basic construction phasing guidelines and recommends which trail segments should be designed and constructed first. When completed, the Greater Pottstown Trails network will connect residents to important destinations within the multi-municipal area and major trails in the larger Circuit Trails network, including the Schuylkill River Trail and Perkiomen Trail.
Recent Publications and Products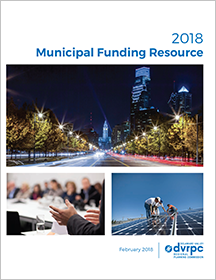 Freight Movement Around New Jersey Turnpike Interchange 6A
This study examines traffic circulation along the US 130 corridor in the industrial area. The study encompasses parts of Florence Township, Burlington Township, and Burlington City. This area is expected to grow by approximately 10 million square feet of additional warehouse and industrial space by 2025. This study identifies roadway improvements that can support greater traffic volumes generated by new development.
2018 Municipal Funding Resource
This guide is intended to assist local and county governments, community groups, and nonprofit organizations in the Delaware Valley to identify federal, state, regional, county, and private or non-profit sources of funding for locally initiated planning and development projects. A searchable version is available at www.dvrpc.org/asp/MCDResource.
City of Camden Access Study
This study is an update from 2012 for the City of Camden and the Camden County Redevelopment Authority. Recently, Camden has seen a resurgence of activity and development. This study assesses the transportation infrastructure needs associated with the city's growth and opportunities for future improvements.
DVRPC Staff Honored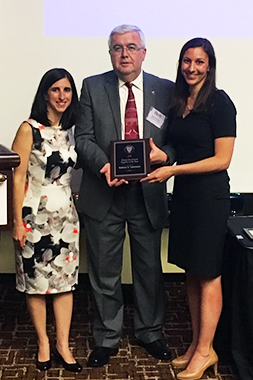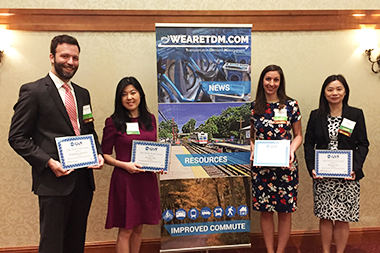 DVRPC staff members were honored this month for their leadership and service. On May 3, Katrina Lawrence, Senior Project Implementation Engineer, was named Young Government Engineer of the Year by the American Society of Civil Engineers Philadelphia Section. Katrina manages 24 federally funded non-traditional local PennDOT projects at a time; many of which are multi-use trails, bicycle and pedestrian facilities, and streetscape improvements. She also sits on multiple review committees and helps administer grant programs. Katrina provides guidance to municipalities in project development before an application is submitted and helps municipalities navigate the PennDOT Project Delivery Process once awarded federal funds.
Four DVRPC staff members were named "Top TDM Professionals Under 40" by GVF on May 7. They are: Benjamin Gruswitz, Senior Planner; Kwan Hui, Senior Capital Program Coordinator; Katrina Lawrence, Senior Project Implementation Engineer; Meijun Liu, Transportation Engineer. They were recognized as ambitious leaders who have made a positive impact on the transportation industry. They improve the region by implementing transportation demand management (TDM) programs and strategies.
Focus 352: Community Investment Index (CI2)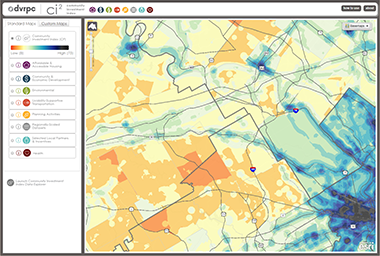 Community Investment Index (CI2) is a useful resource for the region's municipalities. It identifies opportunities for greater impact by leveraging the area's current assets. The CI2 shows concentrations of recent place-based investments and features that contribute to sustainable communities. DVRPC mapped nearly 100 types of place-based investments and developed a composite scoring "heat map" with current datasets.The seven topic areas include economic development, transportation, environment, housing, planning activities, and more.
Successful applications for discretionary funding often require applicants to demonstrate their ability to leverage funding by building on other local planning or investments. By using CI2 to link planning and grantmaking, planners will be able to target the projects that will be most competitive for funding and have the greatest local-area impact.
Learn more at: www.dvrpc.org/CI2
Staff Profile: Ben Gruswitz, Senior Planner, Office of Long Range Planning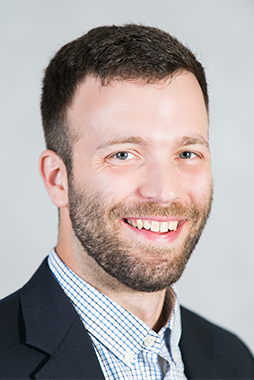 What did you want to be when growing up?
A history or English teacher, because I was (still am) a history buff, and also took an odd enjoyment of diagramming the grammatical structure of sentences.
What was your first job?
In high school I worked in a Benedictine Monastery gift shop/book store, selling rosaries, candles, art, spirituality books, etc. My first "real" job after college was with an all-girls Catholic high school running community service programs.
How did you get into planning?
I was a Theology undergrad—not a typical start to a planning career. But my theology background increased my interest in social justice and I became much more interested in understanding and helping others than looking inward or upward. I found the planning field made sense in that it applied a systems approach of integrating transportation, housing, environment, the economy and health concerns as a way toward the long-term structural changes needed to achieve social equity and better quality of life. I got a Masters in City and Regional Planning at Morgan State while teaching, and gained my first planning work experience at Montgomery County, MD, conducting environmental planning and later socio-economic research, among other things.
How did you arrive at DVRPC?
I tend to follow my wife around to where she lands jobs, which eventually took us to Wilmington, DE (in Greater-Greater Philadelphia!). I landed a job in the Office of Modeling and Analysis at DVRPC, which offered a learning curve to the work I was accustomed to, but was similar in that it involved managing large datasets, technical analyses, and GIS. In the last year, I moved to the Office of Long-Range Planning where I am focusing on managing census data, indicators for the Long-Range Plan, forecasting, and other data analyses.
What's your favorite project so far?
The Indicators of Potential Disadvantage refresh, aka IPD 2.0, because it brought me back to the roots of my interest in planning—social justice and equity. The IPD 2.0 took a good thing and improved it through collaboration with others at DVRPC who were equally excited to take a deeper dive into the data and explore ways to make it more meaningful and usable. It also provided an opportunity to chip away at automating updates to frequently accessed data resources by creating scripts, which make our upkeep of current data much more efficient.
What drives you in planning?
I like problem solving and making things more efficient through the use of data and technology. I also like that the planning process challenges conventional thinking, forcing us to think and act differently if we're serious about improving society.
What three words best describe you?
Goofy, interested, laid-back, hopefully kind, a little odd, kind of verbose!
What is something colleagues don't know about you?
My mother was a nun before she met my dad—never took her final vows. They are both Michiganders but I grew up with five brothers (and about a dozen goats) in Sussex County, NJ. It was a lively household!
Where is your favorite place in the region?
Old City, due to the history buff in me. It's really awesome to think about folks like John Adams walking the same streets I use when I go out to lunch.
What car do you drive?
A Subaru Outback. It has adaptive cruise control and practically drives me!
If you could be King for a Day, what would you declare?
I'd better distribute wealth and resources. But the healing needed from issues rooted in inequity are long-term and cannot be solved with one swoop.
Where would we find you after hours?
Doing Dad stuff: on a bike ride with my kids, at museums or playgrounds in Greater-Greater (or just Greater) Philadelphia!
Upcoming LTAP Classes in PA and NJ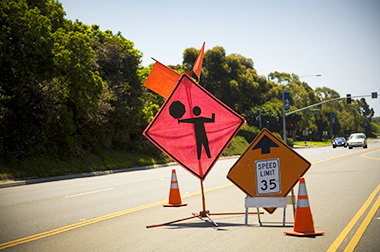 The Local Technical Assistance Program (LTAP) provides technical information and expertise to help municipal governments use transportation funds more effectively, improve road maintenance, and increase roadway safety.
Upcoming PennDOT classes in Pennsylvania include:
Safe Driver C1
Chester County
June 13, 2018 (8:00 AM – 12:00 PM)
Stop Signs and Intersection Traffic Control
Montgomery County
June 14, 2018 (8:00 AM – 12:00 PM)
Visit PennDOT's LTAP website to view the course descriptions and register.
There are two upcoming New Jersey LTAP courses:
Compliance to the Americans with Disabilities Act (ADA) in the Public Right-of-Way
Newark, NJ
June 6, 2018 (8:30 AM – 12:30 PM)
Highway Inspection Procedures for Federal-aid Projects
Cherry Hill, NJ
June 16, 2018 (8:30 AM – 12:30 PM)
Visit cait.rutgers.edu/cait/training for a list of all New Jersey workshops and to register.