DVRPC News: June 2018
Volume 39, Issue 12 | June 2018
$5.5 Billion Approved for Transportation Projects in Southeastern Pennsylvania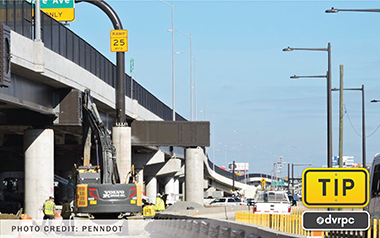 During the June meeting, the DVRPC Board adopted the FY19-FY22 Transportation Improvement Program for Pennsylvania (PA TIP). The TIP is a regionally agreed upon list of priority transportation projects, as required by federal law. Projects included in the TIP are multi-modal; including bicycle, pedestrian, ITS, and freight-related projects, as well as the more traditional highway and public transit projects.
The adopted PA TIP contains more than 400 projects, totaling over $5.5 billion for the region over the next four years. That is an investment of over $1.39 billion per year. The TIP document must list all projects that intend to use federal funds, along with all non-federally funded projects that are regionally significant.
Attend the Futures Group Meeting on July 19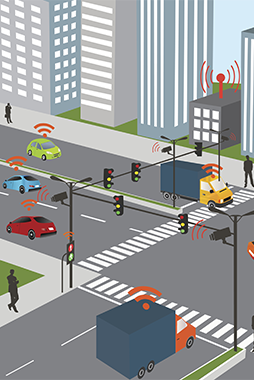 Join DVRPC's Futures Group and the Urban Land Institute - Philadelphia for a dialogue on smart cities and regions. There is a major push to connect everything to the Internet, and make infrastructure, transportation, facilities, and cities smarter. Are you interested in learning where this push is coming from, and what it means for the future of Greater Philadelphia? Attend this upcoming meeting.
The Futures Group will welcome two nationally recognized experts in technology and planning; David Zipper, Resident Fellow at the German Marshall Fund's Urban and Regional Program, and Anthony Townsend, PhD, President, Bits and Atoms LLC; Author, SMART CITIES: Big Data, Civic Hackers, and the Quest for A New Utopia. Panels will include local distinguished smart city technologists. Speakers and panelists will address the opportunities and challenges in implementing smart cities and what is being done in the region. This meeting is open for anyone interested in the intersection of technology and urban areas, and will be held at DVRPC's offices on Thursday, July 19th from 9:00 am to 11:00 am. View the agenda and register, space is limited.
NJ Transportation Alternatives Program Accepting Applications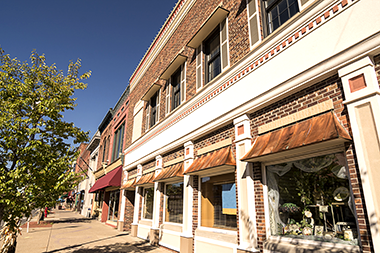 The Transportation Alternatives (TA) Set-Aside Program, which allocates federal funds toward "non-traditional" projects, is now soliciting New Jersey-based projects until August 23. This grant program focuses on projects that strengthen the environmental, cultural, and aesthetic facets of our intermodal transportation system.
The New Jersey Department of Transportation, in partnership with DVRPC, the North Jersey Transportation Planning Authority and the South Jersey Transportation Planning Organization, will administer these funds. Examples of eligible projects include trail facilities, prevention of vehicle-caused wildlife mortality, and preservation of historic transportation facilities.
For the first time, DVRPC is offering pre-application meetings to all potential applicants to discuss their project and strengthen their applications. Visit our website for additional information on this funding round, including a full list of eligible categories.
DVRPC Honors Air Quality Partnership Excellence Awards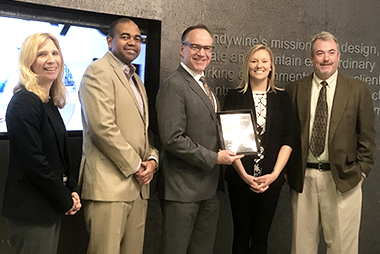 In May, DVRPC's Air Quality Partnership honored three local organizations with 2018 Air Quality Partnership Excellence Awards for their efforts to reduce pollution in Greater Philadelphia. Their work is critical to help Greater Philadelphia meet current federal air quality standards.
Awardees included Students Against Violating the Earth, led by Souderton Area School District students, who organize recycling and environmental education events in their community. Philadelphia's Brandywine Realty Trust both builds environmentally responsible buildings and practices sustainability within its own offices – last year, 40 percent of its total electricity was procured from wind. Bristol-Meyers Squibb, located in Princeton, provides its employees with a range of alternative transportation and teleworking programs.
These types of activities help reduce emissions that contribute to ozone and fine particle pollution in Greater Philadelphia. The Air Quality Partnership monitors these pollutants because they pose health risks to everyone, especially children, older adults, and people with asthma.
"Cooperation between people and organizations that care about the air we breathe presents our greatest opportunity to ensure cleaner air for our region," said Barry Seymour, DVRPC Executive Director.
Climate Adaptation Forum Discusses Climate Change and Flood Insurance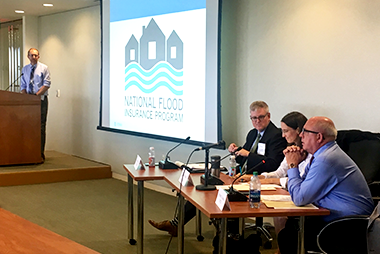 Earlier this month, DVRPC's Climate Adaptation Forum hosted a conversation with experts in our region about the National Flood Insurance Program (NFIP). Presenters discussed the importance of flood insurance, especially in municipalities affected by climate change.
Flood insurance is a timely topic as both the effects of climate change become more severe and the NFIP is due for reauthorization. The forum explored the structure of the NFIP, and discussed policies to support vulnerable communities and enhance long-term resiliency.
Themes such as the threat of flooding to coastal areas and the importance of educating the public about the risks of flooding and how flood insurance works appeared across all three.The panelists also discussed discounted rate classes for flood insurance policies, the need to expand the number of households that participate in the program, the role of private insurers, and the impacts of growing flood risks on municipal credit ratings.
Visit the Forum's webpage for additional information and presentation slides.
Recent Publications and Products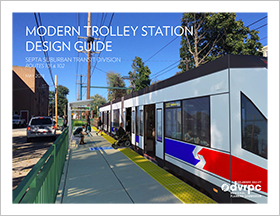 Modern Trolley Station Design Guide: SEPTA Suburban Transit Division Routes 101 & 102
This report presents conceptual designs for modern trolley stations on routes 101 and 102 in Delaware County. It also provides practitioners with design guidance on creating accessible stations, and introduces Trolley Modernization's benefits and constraints. The designs build upon DVRPC's 2017 Modern Trolley Station Design Guide, which focused on SEPTA's six City Transit division trolley routes.
Pedestrian and Bicyclist Road Safety Audit
This report documents the process and findings of the CR 534 (Blackwood-Clementon Road) Pedestrian and Bicyclist Road Safety Audit. This report was jointly undertaken by DVRPC and members from the Regional Safety Task Force and details safety issues identified at the study location and strategies to address them. Emphasis is placed on identifying low-cost, quick-turnaround safety projects to address the identified issues, where possible. This report helps implement DVRPC's Transportation Safety Action Plan.
2016 Aircraft Operations Count Program
This technical report presents aircraft operations estimates for three non-towered airports in the Delaware Valley aviation planning area. Results are used by multiple sources to monitor aircraft activity levels in the Delaware Valley and as a base for planning and forecasting documents.
Upcoming LTAP Classes in PA and NJ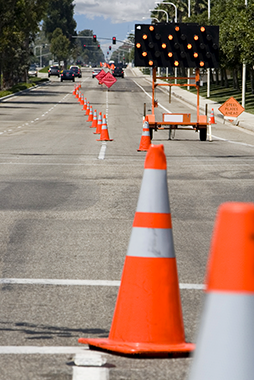 The Local Technical Assistance Program (LTAP) provides technical information and expertise to help municipal governments use transportation funds more effectively, improve road maintenance, and increase roadway safety.
Upcoming PennDOT classes in Pennsylvania include:
Traffic Safety Development Plan for Local Roads
Montgomery County
July 10, 2018 (8:00 AM – 3:00 PM)
Conducting Sign Retroreflectivity Inspections
Chester County
July 12, 2018 (8:00 AM – 12:00 PM)
Visit PennDOT's LTAP website to view the course descriptions and register.
There are two upcoming New Jersey LTAP courses:
Police Work Zone Safety Refresher Training
Hamilton, NJ
July 19, 2018 (8:30 AM – 1:00 PM)
Traffic Control Coordinator Refresher
Piscataway, NJ
July 12, 2018 (8:00 AM – 1:00 PM)
Visit cait.rutgers.edu/cait/training for a list of all New Jersey workshops and to register.