DVRPC News: April 2018
Volume 39, Issue 10 | April 2018
Input Needed on Records Policy and Transportation Planning Documents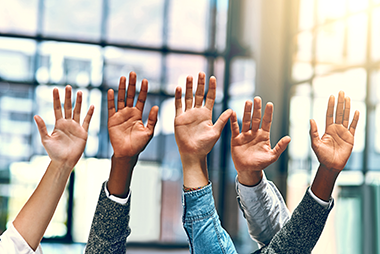 You have an opportunity to review and comment on several important documents. A 45+ day Public Comment Period is open for proposed changes to DVRPC's Public Participation Plan [0.1 MB pdf], specifically changes to Appendix B: Draft Access to Records Policy [0.1 MB pdf]. The policy clarifies existing practices regarding public access to DVRPC records. Comments must be submitted in writing by May 21, 2018. Full details are available on the public notice.
Starting May 1, 2018, you can review and comment on the Draft DVRPC Federal Fiscal Year (FY) 2019 Transportation Improvement Program (TIP) for Pennsylvania. The TIP represents the region's federally funded transportation improvement priorities, and is required by federal law in order to receive and spend federal transportation funds. Starting May 10, 2018, the Draft Transportation Conformity Demonstration for the Draft DVRPC FY 2019 TIP for Pennsylvania will be available for public comment.
An information session on the TIP will be held on Thursday, May 24, 2018 from 4:00 PM to 6:00 PM. Web conferencing is available. See the public notice for full details.
For more information about all public comment periods, access to copies of the documents, information about translation requests, and more, please visit www.dvrpc.org/GetInvolved.
Ozone Season Begins Next Week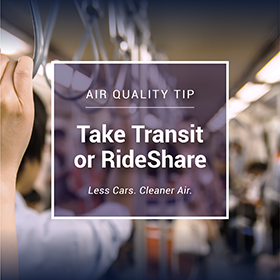 As warmer weather approaches, so does ground-level ozone pollution. In the summer, sunlight and high temperatures "bake" pollutants from vehicles, power plants, and other sources, to form smog. It poses health risks for everyone, and can make breathing more difficult for children, older adults, and people with asthma.
Air Quality Awareness Week (April 30 to May 4) marks the start of the ozone season, which runs through September. Greater Philadelphia does not meet the federal air quality standards for ground-level ozone. The Air Quality Partnership monitors ozone levels, provides air quality forecasts, and offers tips you can take to reduce air pollution.
To reduce air pollution:
Take transit or carpool.
Don't top off your gas tank. Spillage adds two tons of pollution to the air each day.
Refuel at the end of the day. Ozone levels are highest in the afternoon.
Clean out your trunk. An extra 100 pounds reduces gas mileage by 2% and wastes fuel.
Combine errands. Combine other trips with your daily commute to save time, money, and the environment.
Maintain your car. A properly running vehicle emits less pollution and saves gas. You can improve gas mileage by 3% by properly inflating your tires. Improve gas mileage by 1-2% by getting a regular oil change.
To see the daily air quality forecast, tips, and sign up for alerts, visit www.airqualitypartnership.org.
Connections 2045 Long-Range Plan Summary Document is Now Available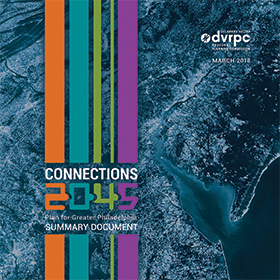 In October, DVRPC's Long-Range Plan, Connections 2045, was adopted and released to the public. An infographic heavy summary document is now available. It visually highlights the Plan's key findings, principles, and actions.
The Plan outlines a future vision of the region and prioritizes transportation funding. It also looks at land use, the environment, economic development, equity, and quality of life issues. The Plan focuses on five principles: Sustain the Environment; Develop Livable Communities; Expand the Economy; Advance Equity and Foster Diversity; and Create an Integrated, Multimodal Transportation Network.
DVRPC Staff Honored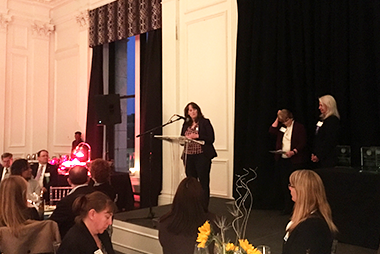 This month, DVRPC staff members were honored for their hard work and dedication to the region.
Alison Hastings, Manager of the Office of Communications and Engagement, accepted the Water Resources Association's 2018 Government Award for the Municipal Actions to Improve Water Quality in the Delaware River Watershed project. The project researched strategies to protect or improve water quality at the municipal level across 800 municipalities in four states.
At this month's Goods Movement Task Force, Freight and Aviation Planning Manager, Ted Dahlburg accepted the Outstanding Achievement Award to DVRPC from the Federal Highway Administration. The award honors DVRPC, and recognizes Ted's 25 years of exceptional work in the industry and leadership of DVRPC's Goods Movement Program.
Reviving Vine Meeting Brings Together Planners and Vine Street Community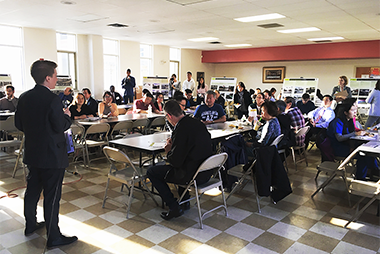 Earlier this month, DVRPC, PCDC, and Philadelphia oTIS hosted the Reviving Vine Open House. The goal was to discuss potential improvements along Vine Street Local - the service road on either side of the Vine Street Expressway/I-676 - with those who live, work, play, or worship in the surrounding area. DVRPC's Office of Corridor Planning is currently working on a plan to create a safer and more connected street.
Presentations led by Transportation Planner, Al Beatty, covered the challenges and opportunities along Vine Street Local. DVRPC staff were on hand so attendees could provide feedback and ask questions about the proposed projects. Proposed recommendations aim to improve road, bike, and pedestrian safety and include traffic calming changes and lane reconfigurations.You can now view preliminary recommendations or participate in a survey: www.dvrpc.org/Corridors/Vine/.
Staff Profile: Al Beatty, Transportation Planner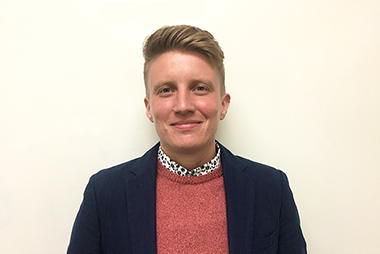 What did you want to be when growing up?
A marine biologist, because I loved animals and was interested in the environment.
What was your first job?
I worked in a movie theater. It was fun and, as a local theater, it wasn't all that busy, so I could get my homework done – and we got to watch movies for free. I was a pretty shy teenager, so learning to talk with customers was a good learning experience, too.
How did you get into planning?
As an undergrad, I majored in Environmental Studies and Anthropology, and after college I did environmental education at nature camps. That evolved into teaching math and science in classrooms. Eventually I realized that focusing on the urban environment tied all my interests together. So I went to NYU for a Masters in Urban Planning.
How did you end up at DVRPC in the Office of Corridor Planning?
In grad school, I had internships with research and advocacy organizations promoting parks, transit, housing and transportation issues. I basically played urban planning bingo, figuring out what I liked most. I landed on transportation planning because I was attracted to the problem solving mindset of looking at community needs and making getting around more efficient.
What is your favorite project so far?
"Reviving Vine," because it touches on a number of neighborhood challenges that Chinatown is facing that we can help address through transportation improvements and public engagement. We're building on previous work on Vine Street including the Chinatown Neighborhood Plan and the USDOT Every Place Counts Design Challenge to keep up the momentum to solve problems of neighborhood connectivity. Vine Street is quite difficult to cross, creating a barrier between neighborhoods and people. Our Open House in mid-April attracted over 60 residents and other stakeholders to hear about and react to recommendations for a road diet, crosswalks and pedestrian islands, ADA ramps, bike lanes, lighting, and open space and beautification enhancements.
What is your planning philosophy?
That it's important to hold different points of view up at the same time. Various scales and perspectives can create conflicts, such as neighborhood versus regional needs, but we can inform people on why those conflicts exist and work through them, and that is a core part of planning.
What three words best describe you?
Curious, friendly, and adventurous
Where is your favorite place in the region?
Fairmount Park and the Kelly Drive loop. I like to run and bike the loop.
What is something about you that your colleagues wouldn't expect?
I am a fan of big band music and like to swing dance.
Do you have an ideal vacation?
Somewhere in the woods, hiking, rafting, or biking.
What is the last book you read?
"Difficult Women" by Roxanne Gay. It's a collection of short stories about women in the U.S. and their different experiences.
If you could wave a magic wand and change something in the region, what would it be?
I'd increase walkability in the region, because everyone would benefit from being able to reach destinations on foot instead of relying only on their car.
PennDOT Connects Workshop for Municipalities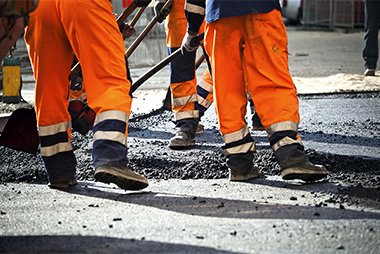 The Local Technical Assistance Program (LTAP) provides technical information and expertise to help municipal governments use transportation funds more effectively, improve road maintenance, and increase roadway safety.
Upcoming PennDOT classes in Pennsylvania include:
Stop Signs and Intersection Traffic Control
Chester County
May 5, 2018 (8:00 AM – 12:00 PM)
Asphalt Roads Common Maintenance
Chester County
May 16, 2018 (8:00 AM – 12:00 PM)
Visit PennDOT's LTAP website to view the course descriptions and register.
There are two upcoming New Jersey LTAP courses:
Federal-aid Responsible Charge Training
Newark, NJ
May 3, 2018 (8:30 AM – 12:30 PM)
Basic Math and Plan Reading
Newark, NJ
May 10, 2018 (8:30 AM – 12:30 PM)
Visit cait.rutgers.edu/cait/training for a list of all New Jersey workshops and to register.