DVRPC News: January 2016

Volume 37, Issue 6
January 2016
50th Anniversary Dinner: A Night to Remember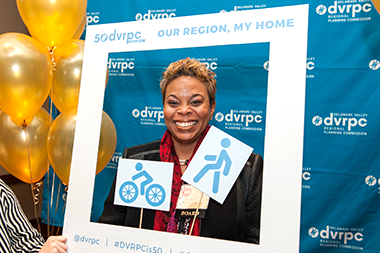 Paul Reitano Photography
On December 9, 2015, over 300 of DVRPC's partners and friends gathered to celebrate half a century of regional cooperation and innovative programming. After opening remarks by Barry Seymour and a welcome from the Honorable Dana L. Redd, Mayor, City of Camden and DVRPC Board Chair, representatives from each of DVRPC's nine counties recognized
Landmarks: County Milestones that Shaped the Region
– the most impactful and meaningful planning projects from the past 50 years. These projects represented the breadth and diversity of DVRPC and its partners' efforts, from open space preservation to highway construction to public transit improvements.
To view the program and photos from the event, visit www.dvrpc.org/50/dinner.
DVRPC Draft FY2017 Work Program Open for Public Comment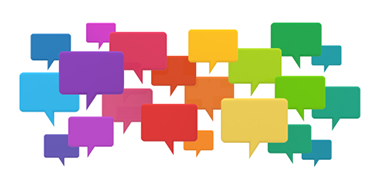 DVRPC opened a public comment period on December 10, 2015 for the Draft FY 2017 Planning Work Program. This document outlines all of the federally funded planning projects slated for the nine-county region from July 1, 2016 to June 30, 2017. The listing includes DVRPC projects, as well as projects planned by member governments and transit organizations. The Work Program is developed annually by the DVRPC Board with its planning partners to reflect the region's short-range planning needs.
Copies of the Work Program are available on DVRPC's web site, www.dvrpc.org; in the DVRPC Resource Center, located at 190 North Independence Mall West, 8th Fl., Philadelphia; in a number of regional libraries; or by contacting John Griffies, DVRPC Contracts Manager, at 215-238-2925 or jgriffies@dvrpc.org. Written comments regarding the Work Program should be mailed to Mr. John Griffies at the address above, faxed to 215-592-9125, or e-mailed to jgriffies@dvrpc.org. All comments must be received by 5:00 PM on January 12, 2016. DVRPC fully complies with Title VI of the Civil Rights Act of 1964 and related statutes and regulations in all programs and activities. Visit www.dvrpc.org/WorkProgram to find out more.
Everyone Benefits from New Transit Cap Increase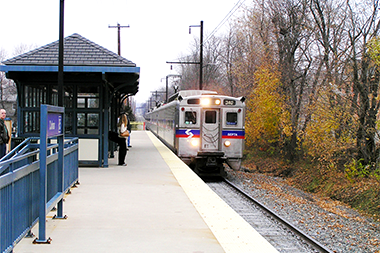 The Consolidated Appropriations Act of 2016 (HR 2029), which was passed by Congress and signed by the President earlier this month, contained a provision that raises the monthly cap for the transportation fringe benefit to $255. The provision is effective for the 2016 calendar year and is now permanent.
This employer-provided program has many benefits: Employees can save when they utilize DVRPC's RideECO program to pay for their transit costs. Employees who take full advantage of the new monthly cap via pre-tax payroll deductions can save over $900 a year on their transit fares. Employers can save up to $230 per employee on FICA taxes each year, too. And, those employees who commute by transit are also helping to save the region's air quality, by reducing emissions associated with driving alone to work. To learn more, visit www.RideECO.org.
$20M Available for Projects that Promote Clean Air and Reduce Congestion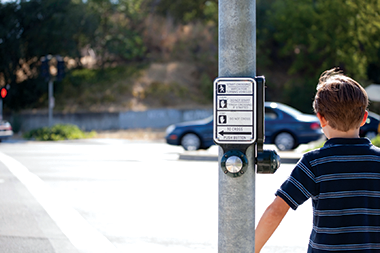 DVRPC will begin accepting applications for Congestion Mitigation and Air Quality (CMAQ) Program funding on January 21, 2016. This year, the CMAQ Program will award a total of $20 million in the Delaware Valley's five Pennsylvania counties (Bucks, Chester, Delaware, Montgomery, and Philadelphia) to projects that will improve air quality and/or reduce traffic congestion.
CMAQ-eligible projects include pedestrian and bicycle facility installation, transit upgrades, traffic flow interventions, diesel retrofits, and more. Private-public partnerships with a public agency sponsor and public agencies are encouraged to apply for the competitive CMAQ Program funds.
Program application forms and guidance will be available at www.dvrpc.org/cmaq on January 21, 2016. The application period starts on January 21, 2016 and runs until April 21. A mandatory information session for all applicants will be held at the DVRPC offices at 190 N. Independence Mall West in Philadelphia on February 23 at 4:00 PM. Any questions about the program or application process can be directed to Sean Greene, Manager, Air Quality Programs, at sgreene@dvrpc.org or at 215-238-2860.
DVRPC Hosting APA Webinars on January 20 and February 17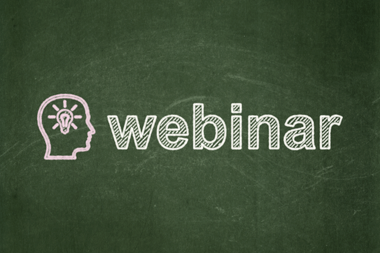 DVRPC will hold a viewing of the webinar "Technology, Data, and Engagement" on January 20 at its offices in Philadelphia from 3:45 PM to 5:30 PM. Panelists will explore how the three big components of technology—plan management, research and data, and public engagement—are reshaping building, governance, and planning. This free event provides 1.5 CM credits for APA members. RSVP or learn more at www.dvrpc.ticketleap.com/technology-data-and-engagement.
Together with the Lincoln Institute of Land Policy, DVRPC will screen the APA Webinar "New Visions for Community Planning" on February 17 at the Montgomery County Planning Commission from 3:45 PM to 5:30 PM. At this free event, commissioners, mayors, and planners from across the nation will share their experiences implementing bold urban designs, fresh sustainability initiatives, and new economic development strategies. The program provides 1.5 CM credits for APA members. Register or find more information at www.dvrpc.ticketleap.com/new-visions-for-community-planning.
Grant Writing Workshop on January 22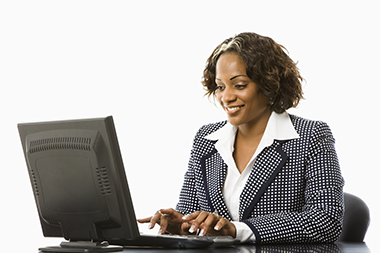 On January 22, DVRPC will host a workshop on "How to Write a Successful Grant Application" from 8:30 AM to 4:00 PM. It will address some of the most common questions and quandaries faced by grant writers crafting proposals for their government agencies, nonprofit organizations, or community development corporations. Pat Richter from PRQuickhelp Nonprofit Consulting will help participants increase their projects' odds of being selected by identifying common grant-writing pitfalls, clarifying which information that should be included in each proposal section, and suggesting writing strategies to concisely entice funders. To learn more or to purchase tickets, please visit www.dvrpc.ticketleap.com/grants.
New Reports on Camden Food Economy, Transit Signal Priority, Port Emissions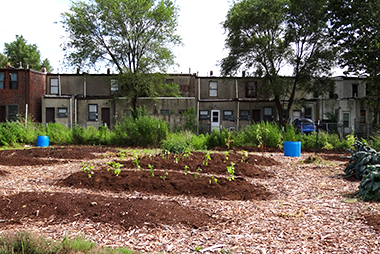 DVRPC has released three new publications. In an effort to boost the food economy in Camden City, DVRPC partnered with the Campbell Healthy Communities Program and The Reinvestment Fund to produce "Cultivating Camden: The City's Food Economy Strategy." It seeks to build off Camden's existing assets by identifying opportunities to increase food access and economic opportunities within the city. DVRPC makes recommendations to increase the role of food as an economic sector, increase opportunities for food entrepreneurs, engage Camden's institutions, and more. To see the full report, click here.
"Evaluating Opportunities for Transit Signal Priority in Southern New Jersey" examined traffic signal and surface transit routes in Mercer, Burlington, Camden, and Gloucester counties and developed a method of scoring corridors on their likelihood for successful and cost-effective TSP and related signals investments. To view the report, please click here.
DVRPC also looked at the impact of diesel emissions from port facilities on local communities. Demographic and health data analysis shows that communities surrounding port facilities are generally more economically disadvantaged than the region as a whole. An emissions analysis revealed that older trucks are responsible for the majority of emissions from heavy-duty vehicles serving the port facilities, and efforts to modernize the fleets have the potential to improve air quality in these neighborhoods and the larger region. To learn more, click here.
DVRPC Signal Retiming Project Recognized by Communities in Motion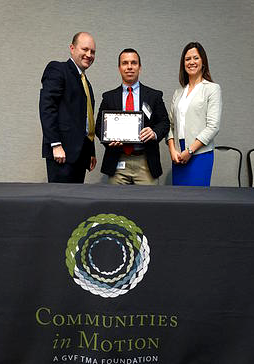 On December 7, 2015, Communities in Motion, a GVF TMA foundation, presented the 2015 Star Awards to recognize projects, plans, and people who demonstrate leadership in sustainability planning and implementation. This year, DVRPC's Pennsylvania Regional Signal Retiming Initiative Program received a Star Award. The RSRI Program provides no-cost signal retiming, implementation, and adjustment of new timings to specific corridors chosen by the project team and PennDOT, helping corridors become more efficient. In one of the first RSRI corridor improvement projects, signal retiming improved travel times by 20%. The RSRI Program is funded by DVRPC's Congestion Mitigation and Air Quality Program (CMAQ).
PennDOT LTAP One-On-One Technical Assistance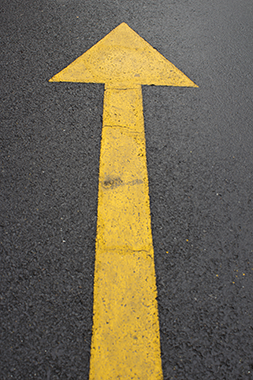 Did you know that in addition to training, the PennDOT LTAP program offers free one-on-one technical assistance sessions to municipalities? Since 1983, LTAP technical experts have provided municipalities with the personal guidance they need to confidently handle such issues as posting of traffic signs, operation of traffic signals, improvements at intersections, collection of traffic data, calibration and repair of road equipment, and dust control on unpaved roads.
If your municipality wants to see improvements on its roadways, whether it's an issue related to safety or maintenance, consider seeking one-on-one help and give LTAP Tech Assists a try this year. PennDOT LTAP technical experts are available to help you troubleshoot your specific maintenance and safety problems. Contact Melissa Andrews at mandrews@dvrpc.org for more details.