DVRPC News: August 2016
Volume 38, Issue 1 | August 2016
$21 Million Awarded to Transportation Projects that will Improve Air Quality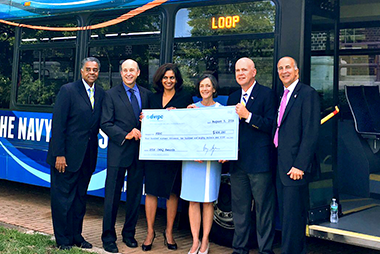 Photo courtesy of PIDC
DVRPC has awarded $20.9 million to 17 transportation projects in southeastern Pennsylvania through the competitive Congestion Mitigation and Air Quality (CMAQ) Program. The CMAQ Program funds projects that improve air quality or reduce traffic congestion. Such projects, which include pedestrian and bicycle enhancements, transit improvement programs, congestion reduction and traffic flow improvements, and diesel retrofits, will reduce emissions and help Greater Philadelphia meet federal air quality standards. Since 2012, CMAQ has provided $33.9 million to 43 projects in our region, leveraging over $17.4 million in additional state, local, and private funds.
In Philadelphia, the CMAQ awards will fund a second loop for the Navy Yard Shuttle between AT&T Station and the Navy Yard; 12 CNG waste haulers; construction of ten bus stations for express bus service on Roosevelt Boulevard; construction of a half-mile multi-use trail connecting Fox Chase SEPTA station and trail system in Montgomery County and Philadelphia; and traffic calming and signal upgrades for North 5th Street.
For the complete list of projects by county and to learn more, visit www.dvrpc.org/CMAQ.
Making Connections Giveaway: Explore the Future Forces or Share Your Vision to Win a Fitbit Alta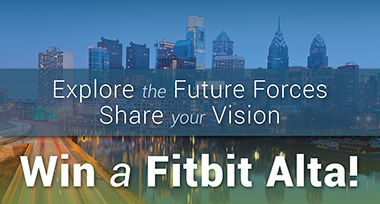 DVRPC planners are working on the region's new long-range plan, Connections2045, and we need your help! Enter our #MakingConnections giveaway by viewing the Future Forces slideshow and taking the survey, or by sharing your vision for Greater Philadelphia's future on social media, and you could win a Fitbit Alta.
You can enter the giveaway by exploring the Future Forces—emerging social, political, economic, environmental, and technological trends that will drive change in our region. To access the slideshow and survey, please visit www.dvrpc.org/Connections2045/FutureForces. Participants who complete the survey and enter an email address will get a chance to win the Fitbit.
You also can enter the contest by sharing your own vision for Greater Philadelphia's future. It could be anything from an idea for a specific transportation project to an aspiration for the kind of community you want to live in. Simply post your vision in images or words on Facebook, Twitter, or Instagram using the hashtag #MakingConnections and make sure to tag @DVRPC.
Whether you choose to complete the Future Forces survey or to tell us your vision for the region, your valuable feedback will inform the next phases of the long-range planning process.
You can learn more about Connections2045 and upcoming opportunities to get involved at www.dvrpc.org/Connections2045. For the contest rules, please visit www.dvrpc.org/MakingConnections/pdf/MakingConnectionsGiveawayRules.pdf [0.1 MB pdf].
Pennsylvania Transportation Improvement Program Approved by DVRPC Board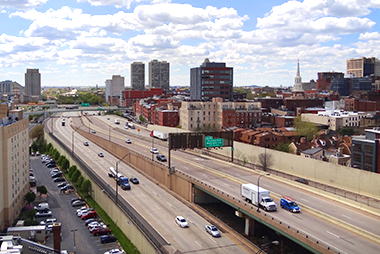 The DVRPC Board has adopted the FY2017 – FY2020 Pennsylvania Transportation Improvement Program (PA TIP), providing a blueprint for transportation projects across the DVRPC region's five counties in Southeastern Pennsylvania. The PA TIP contains over 370 projects worth more than $5.3 billion, an average of over $1.32 billion per year.
Programmed funds include almost $2 billion for projects primarily addressing the non-interstate highway system, and almost $578 million for projects addressing the Interstate Management Program, resulting in an overall four-year total for the Highway Program of over $2.5 billion. Additionally, there is a $2.8 billion Transit Program for the Southeastern Pennsylvania Transportation Authority (SEPTA), Pottstown Area Rapid Transit (PART), and the Pennsylvania Department of Transportation (PennDOT) Bureau of Public Transit.
For information about the process of developing and adopting the TIP, and a list of projects by county, please visit www.dvrpc.org/TIP. Additional information about the program's impact on air quality can be found in the Transportation Conformity Demonstration at www.dvrpc.org/Products/16029.
Data Journal: Percent Population Change from 2010 to 2015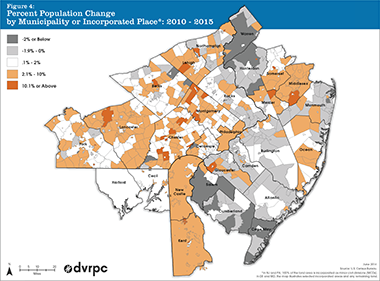 A new publication by DVRPC, Data Bulletin #097: Population Estimates, 2010-2015, explores population changes over the past five years in the DVRPC region and in its 28-county Extended Data Services Area. The figure to the right shows the percent by which the population of each municipality or incorporated place has grown or declined from 2010 to 2015.
The population of the Philadelphia-Camden-Wilmington Metropolitan Statistical Area (MSA) increased by two percent, or 104,532 residents, between 2010 and 2015. The population of the nine-county DVRPC region also increased by approximately two percent between 2010 and 2015. Chester and Philadelphia counties had the greatest percent increases, with the City of Philadelphia having the greatest net growth. Eight of the DVRPC region's nine counties gained population over the five-year period, ranging from an additional 1,492 residents in Burlington County to over 41,000 new residents in Philadelphia County. Within the region, only Camden County saw its population decline.
Based on percentage change, the two fastest-growing municipalities between 2010 and 2015 in the DVRPC region were Chester County's East Brandywine Township (up 23%) and Gloucester County's Woolwich Township (up 21%).
To read the full Data Bulletin, see how population changed in your municipality, and find out more about recent population growth and change in Greater Philadelphia, go to www.dvrpc.org/Products/DB097.
The Data Journal highlights some of the Commission's most exciting research findings. Every month, the Data Journal showcases a thought-provoking chart, map, or other graphic that illustrates DVRPC's recent work and illuminates an interesting facet of our region.
New Publications include Trenton Bicycle and Pedestrian Plan, Transportation Safety Action Plan, Data Bulletins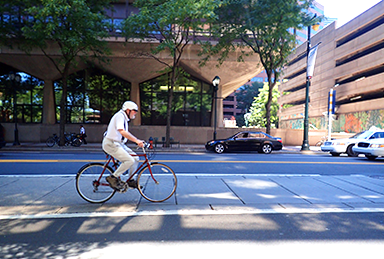 The Commission has recently released several important new publications. The Downtown Trenton Bicycle and Pedestrian Plan details an array of bicycle and pedestrian recommendations for Trenton's downtown district. The plan proposes actions that will enhance safety when traveling to, and within, downtown Trenton; aims to increase cycling and protect pedestrians; builds upon and includes the work of related plans such as the 2004/2005 Trenton Transportation Master Plan and the 2006 Trenton Station Linkage Plan; and will be incorporated into the upcoming Trenton 250 Master Plan. The full text is available at www.dvrpc.org/Products/DB097.
The 2015 Transportation Safety Action Plan seeks to provide a blueprint for reducing vehicle-related crashes, injuries, and fatalities in the Delaware Valley by focusing on eight key safety emphasis areas. These safety emphasis areas include curbing aggressive driving, improving the design and operation of intersections, increasing seat belt usage, sustaining safe senior mobility, and more. To read the report, visit www.dvrpc.org/Products/15022.
DVRPC has also published two data bulletins on the Commission's 28-county Extended Data Services Area. Data Bulletin #097: Population Estimates, 2010-2015 (www.dvrpc.org/Products/DB097) explores population changes over the past five years. Data Bulletin #098: Residential Building Permits, 2010-2015 (www.dvrpc.org/Products/DB098) presents residential building permit data for 2010 through 2015.
You can stay up to date on new publications by checking www.dvrpc.org/Products/Recent.
Six LTAP Classes to be Offered in September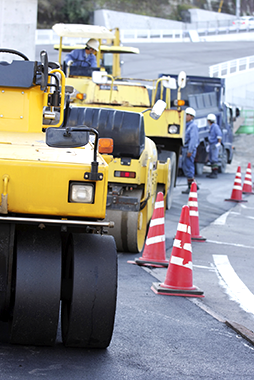 The PennDOT Local Technical Assistance Program (LTAP) provides technical information and expertise to help municipal governments use transportation funds more effectively, improve road maintenance, and increase roadway safety.
Road Surface Management (Chester County)
London Grove Township Building
372 Rose Hill Road, Suite 100, West Grove, PA 19390
September 13, 2016 (8:00 AM – 3:00 PM)
This course provides the basics for developing a road surface management program to help local governments manage their pavements by providing an understanding of the concept and importance of road surface inventories and condition surveys.
Risk Management Strategies (Montgomery County)
Delaware Valley Insurance Trust
719 Dresher Road, Horsham, PA 19044
September 14, 2016 (8:00 AM – 12:00 PM)
This course is directed at the importance of maintenance crews and their operations in reducing municipal liability. The course helps participants understand and assess their major liability exposures by identifying high tort areas in roadway activities. It explains tort liability and the tort trial process, and presents the basics of implementing and maintaining a risk management program.
Safe Driver (Chester County)
East Brandywine Township Building
1214 Horseshoe Pike, Downingtown, PA 19335
September 21, 2016 (8:00 AM – 12:00 PM)
This course is intended for drivers of municipal vehicles. Recognizing that the cause of the majority of crashes is driver error, the course encourages the development of safe driving behaviors through an understanding of three phases of the driving task, completing a pre-trip vehicle inspection, and work site vehicle operation.
Drainage: The Key to Roads that Last (Montgomery County)
Delaware Valley Insurance Trust
719 Dresher Road, Horsham, PA 19044
September 22, 2016 (8:00 AM – 2:00 PM)
This course covers the effect water has on roadways. It emphasizes problems caused by poor drainage and discusses various ways to handle these problems. It also stresses the importance of performing routine inspection of drainage system assets in relationship to planning and Federal Aid reimbursement in the case of a disaster.
Conducting Sign Retroreflectivity Inspections (Montgomery County)
Lower Frederick Township
53 Spring Mount Road, Zieglerville, PA 19492
September 28, 2016 (8:00 AM – 12:00 PM)
The LTAP Conducting Sign Retroreflectivity Inspections course will instruct municipal staff on new Federal Highway Administration (FHWA) traffic sign requirements, reinforce the value of a useful traffic sign asset management system, and demonstrate the tools and techniques available for measuring traffic sign retroreflectivity.
Salt and Snow Management (Bucks County)
Wrightstown Township Municipal Office
2203 Second Street Pike, Wrightstown, PA 18940
September 29, 2016 (8:00 AM – 3:00 PM)
This course covers all aspects of winter maintenance operations including planning and organizing; public relations; material usage and application rates; equipment types and calibration; various operational procedures, such as plowing and spreading; CDL regulations; safety and environmental awareness; and new techniques in pre-wetting materials and anti-icing procedures.
To register for courses, please visit
www.dot7.state.pa.us/LTAP
.
Staff Profile: Glenn McNichol, Senior GIS Specialist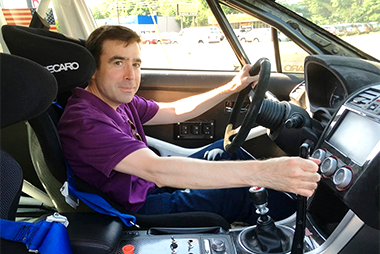 Tell me about your position at DVRPC.
I started as an intern in 1994. After my internship, I was fortunate enough to be hired on. I'm now a Senior GIS Specialist. My primary duties involve supporting the planning staff by creating maps for publications and meetings as well as performing GIS analysis for different projects. I also handle data requests from member governments and the public, and manage our aerial imagery program.
So you've been making maps for over 20 years. How has GIS changed in that time?
The technology – it's ever-evolving. Back when I started, printing a report map in color was the exception. Now, we can publish maps to the web and make them interactive. The aerial imagery has evolved too. For many years, our aerials consisted of static black and white photos printed on mylar sheets, now they're multi-spectral, digital images that can be readily used in GIS.
What other changes do you see coming?
I wish I knew – I'd be rich! But seriously, what continues to change and improve is the accuracy of and the ability to compile data. This year, along with our 2015 aerials, we obtained LiDAR data. LiDAR stands for Light Detection and Ranging, which means a laser is used to measure distances to features in the environment and, using those measured points, make a detailed representation of the terrain. This type of data can be useful in developing accurate digital elevation models. Depending on the density of the points, it can be used to derive building footprints, building heights and create impervious surface coverages. Ultimately, datasets such as those that I just mentioned have a multitude of planning uses ranging from emergency preparedness to stormwater management.
What was one of your most challenging projects?
Jerry Coyne's I-76 Operational Research Model. This was a multi-year effort that required the work of a number of staff members from different disciplines – planning, modeling, database administration and GIS. Jerry had to manage this very complex project, not only with regard to internal staff, but also incorporating the input of the steering committee and other planning partners. In the end, the success of this project spurred related projects that expanded upon the work of the initial effort.
What is something your colleagues may not know about you?
They may know that I am a car enthusiast. I like to read car magazines and watch car shows. I like the design-related aspects of cars, and I like driving (sometimes). My 2007 Subaru WRX has over 100,000 miles and, although it's been very reliable, it's showing its age. That said, I'm looking forward to shopping for a new car, but I'll probably agonize over what to get when the time comes. What my colleagues might not know is that my love for cars started as a love for flying. I took flying lessons in high school even before I learned to drive. It was cost prohibitive to keep up with once I started college, but flying made me a better driver!