DVRPC News: February 2015

Volume 36, Issue 7
February 2015
DVRPC's Board Approves FY16 Work Program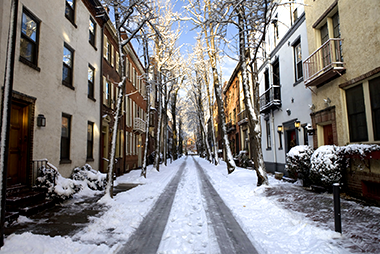 On January 22, the Board approved the FY 2016 DVRPC Unified Planning Work Program. This document outlines all of the federally funded planning projects to be undertaken by DVRPC on behalf of our member governments and transit organizations within the nine-county region from July 1, 2015 to June 30, 2016. The Work Program is developed annually by DVRPC with its planning partners to reflect the region's short and long-term planning needs.
DVRPC held a 30-day public comment period so that interested citizens could submit comments on the Work Program. To learn more about the Work Program, see www.dvrpc.org/WorkProgram.
DVRPC Announces Sponsorship Opportunities for 2015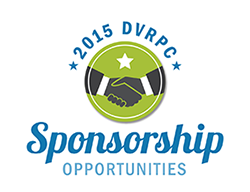 The Commission is hosting two premier events in 2015. Each provides an opportunity to network with federal, state, county, and municipal leaders as well as our private/public partners from throughout the region. 2015 marks DVRPC's 50th anniversary of serving the Delaware Valley region and we hope you will celebrate this achievement with us.
The Breaking Ground 2015 Conference, Building Livable Communities in Greater Philadelphia: The Next 50 Years, is scheduled for March 12th at the Union League in Philadelphia. This conference is designed for local planning partners, practitioners, developers, and decision-makers to learn about programs and initiatives that are building livable communities in Greater Philadelphia now and for the future.
DVRPC's 29th Annual Board Retreat will be held on December 10th. This event welcomes regional leaders to network and discuss timely issues that affect the nine-county area. It is held in conjunction with the Regional Excellence Awards Luncheon, which celebrates the region's most notable accomplishments in transportation, environment, economic development, and land use. Awards are presented to those who play key roles in moving our region to a more sustainable, economically competitive future. For more information on sponsorships and to sign up, visit www.dvrpc.org/Sponsorship.
Integrating Health and Planning on February 11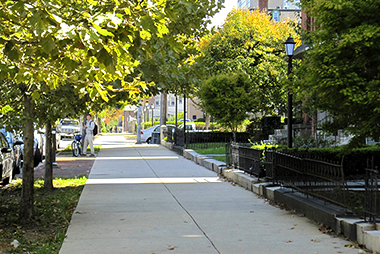 DVRPC's Healthy Communities Task Force will meet on February 11 to review and learn from local examples that are integrating health and planning. Building healthy communities and supporting healthy people requires interdisciplinary approaches – recognizing that where a person lives can affect that person's health. Randy Waltermyer, Transportation Services Director, Chester County Planning Commission, Dr. Rickie Brawer, Associate Director of the Center for Urban Health, Jefferson University Hospital, and others will present on the intersection of these two important fields. The event will close with a roundtable session at which attendees can present their own innovative work; lunch will be served afterward.
Healthy Communities Task Force – Examples of Integrating Health and Planning
Wednesday, February 11, 2015
9:30 AM to 12 PM (coffee available at 9 AM)
DVRPC's Main Conference Room
RSVP by Friday, February 6 via email: health@dvrpc.org
Learn About Building Livable Communities on March 12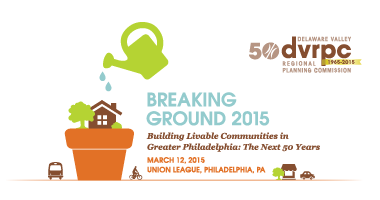 Join DVRPC on March 12, 2015, at the Union League in Philadelphia, for Breaking Ground 2015: Building Livable Communities in Greater Philadelphia: The Next 50 Years, DVRPC's conference designed for local planning partners, practitioners, developers, stakeholders, and decision-makers.
This one-day conference will feature an opening keynote by Harriet Tregoning, director of HUD's Office of Economic Resilience, and a lunch keynote on future retail and development trends by planning and retail specialist, Robert Gibbs, PLA, ASLA, CNU. Two breakout sessions will explore topics such as transportation, technology, health, manufacturing, climate change, and more. For more information and to register, visit www.dvrpc.org/BreakingGround.
Roundtable Explores the Pop-Up Economy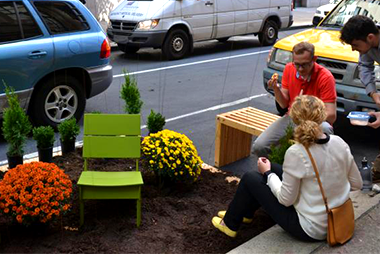 Park(ing) Day: PlanPhilly
On January 9, DVRPC explored the concept of "pop-ups" at a roundtable event that was part of DVRPC's Strategies for Older Suburbs series. The pop-up economy is a trend involving temporary investment as a means to catalyze more permanent economic development and investment within a community. Pop-ups are most often executed within distressed or underutilized neighborhoods, and have proven to be successful at demonstrating an area's potential and positively impacting the local economy. Taking the form of a pop-up shop, pop-up event, or pop-up planning, both the private and public sectors can take advantage of the pop-up economy's benefits.
The crowd heard from DVRPC's Spencer Gober, who authored a Municipal Implementation Brochure on the Pop-Up Economy. He provided examples of pop ups, such as parklets, open streets, tactical urbanism, "better block" projects, and pavement-to-plaza initiatives, and then went on to detail challenges as well as tips for hosting a successful pop up in a smaller community. Next up was Meg Walsh, of The Food Trust, who demonstrated the economic impacts of the Night Market held in neighborhoods around the city of Philadelphia. These events have contributed an estimated $17 million to the local economy. Finally, Seun Olubodon, founder of local clothing brand Duke & Winston, shared his story of going from selling t-shirts from the back of a van, to pop up storefronts, to finally having a permanent location on the Chestnut Street commercial corridor in Philadelphia.
The roundtable agenda, slides, and highlights can be found here.
DVRPC Work Highlighted at TRB Conference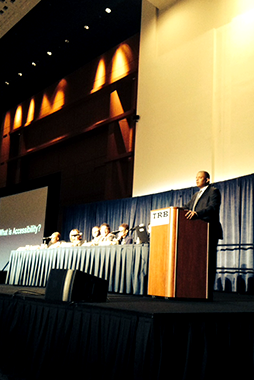 United States Secretary of Transportation, Anthony Foxx, kicking off the spotlight session, "Creating Ladders of Opportunity: US DOT's Efforts to Increase Access for the Future."
The 94th Annual Transportation Research Board (TRB) conference convened January 11-15, 2015 in Washington, DC. Several DVRPC staff members presented DVRPC programs and activities to an international audience of planners and engineers.
Presentations included such topics as: tools for integrating environmental justice into the planning process; DVRPC's PhillyFreightFinder and web-based planning applications; integrating bicycle and pedestrian data into regional travel monitoring; coordinating transportation incident management and freight; planning tools to explore issues of access and opportunity; and logistics and community impacts of crude oil shipments. In addition, a representative from the Commission participated in the US Department of Transportation's (USDOT's) spotlight session on "Creating Ladders of Opportunity."
DVRPC poster sessions included a case study on multimodal evacuation simulation and scenario analysis, and safety performance metrics of roundabouts vs. other circular intersections.