DVRPC News: April 2015

Volume 36, Issue 9
April 2015
350+ People Attend Breaking Ground Conference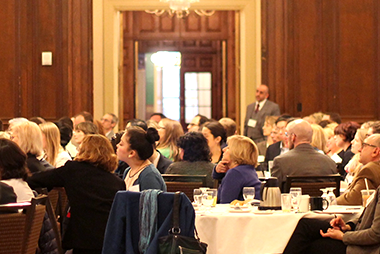 On March 12, 2015, DVRPC's Breaking Ground conference drew over 350 participants from throughout Greater Philadelphia. These individuals included municipal officials, planners, economic development professionals, real estate developers, urban designers, and numerous others that are working to make their communities and the entire region more walkable, bikeable, vibrant, equitable, and economically competitive. The one-day conference featured an opening keynote by Harriet Tregoning, Director of HUD's Office of Economic Resilience, and a lunch keynote on retail trends by planning and retail specialist Robert Gibbs.
Panelist presentations and conference proceedings are being posted online at www.dvrpc.org/BreakingGround. Be sure to check out attendees' favorite tidbits from presentations on Twitter using the hashtag #BG2015.
Over 30 TOD Projects Added to Smart Growth Project Database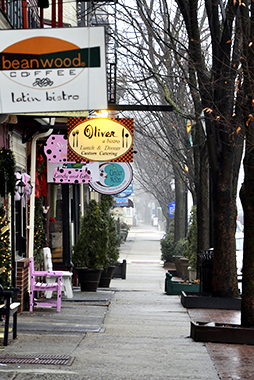 Photo by V. Sassaman
DVRPC's Smart Growth Project Database has been updated to include over 33 new developments near transit. The online mapping application tracks three types of smart growth development throughout Greater Philadelphia: developments near transit, traditional neighborhood developments (TND), and conservation subdivisions. Among the new additions are the Artisan Lofts, a proposed apartment redevelopment of the former Brush Factory in South Philadelphia; Andale Green, a townhouse project currently in progress in Lansdale, PA; and Cooper Village Apartments, a proposed 59-unit apartment building near the Cooper Medical School of Rowan University in Camden, NJ.
The updated database, which includes 191 total projects in various stages of development, is meant to serve as a quick and convenient reference tool for planners, local officials, and citizens who are interested in learning more about smart growth efforts around the region.
The majority of projects found in the database are classified as developments near transit. These 154 projects include over 22,000 residential units and reflect a renewed interest in investing near the region's transit infrastructure. The database will be continually updated with new information as it becomes available. To view the database, please visit: www.dvrpc.org/webmaps/SGPD.
Coming to a Town Near You: Spring 2015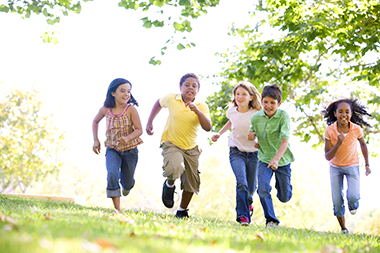 As April brings warmer weather and outdoor activities, it is a good time to stop and think about the state of the region's air quality. DVRPC's Air Quality Partnership (AQP) notes that the number of Air Quality Action days has decreased in recent years, but there is still a long way to go to attain a healthy environment for all.
Residents of the region can take charge of their respiratory health by signing up to receive a daily forecast or to be notified by email when the Air Quality Index (AQI) reaches Code Orange, which signifies unhealthy levels of ozone and/or fine particle pollution. The alerts are important for people with cardiac or respiratory disorders, senior citizens, and households with children, as these groups are especially susceptible to the effects of air pollution.
To educate children about air quality and its health impacts, AQP has developed an interactive workbook, Where's Mike?, geared toward students in third through fifth grades. It includes activities such as identifying sources of air pollution, solving basic math problems, and observing and recording air quality conditions using the daily air quality forecast. It also meets Pennsylvania state educational standards for Environment and Ecology and Health, Safety, and Physical Education. The workbook and teacher's guide, which are printable and compatible with SMART boards, are available at www.airqualitypartnership.org. Contact Sean Greene at 215-238-2860 or sgreene@dvrpc.org if your organization is interested in receiving printed copies of the workbook.
To sign up for air quality alerts, visit www.airqualitypartnership.org. Daily air quality forecasts and helpful tips are also available on the website or by calling 1-800-872-7261.
Keep an eye out for upcoming events such as fun runs, bike rides, and Earth Day events throughout the month by following us on social media! We will also recognize two local organizations with awards for their sustainability efforts later in the spring.
DVRPC to Guide Climate Change Efforts in 11 South Jersey Communities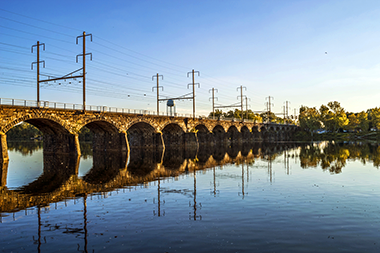 As part of the New Jersey Coastal Management Program's Resilient Coastal Communities Initiative (RCCI), DVRPC will be working with 11 towns in southern New Jersey to guide them through a resiliency planning process. RCCI is a NOAA-funded program to help NJ's coastal communities become more resilient to coastal hazards and the impacts of climate change, including increases in the severity of coastal storms and sea level rise. Such resiliency planning can help municipalities be better prepared for future disasters by reducing economic losses, the risk of loss of life, and the time needed to recover from hazardous events. DVRPC's work is part of a larger statewide program assisting up to 70 towns in New Jersey and will be funded by a $100k grant from NJDEP. For more information, contact Christopher Linn, AICP, Manager, Office of Environmental Planning, at 215-238-2873 or clinn@dvrpc.org.
New Resources Now Available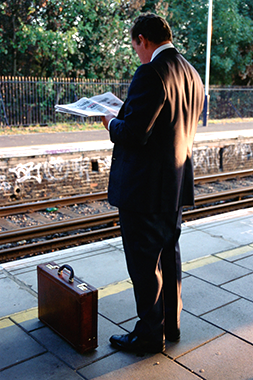 Trenton NRI
This publication documents the natural resources of the City of Trenton, Mercer County, New Jersey. There are descriptions, tables, and maps of: land use; soils; surface waters, including watersheds, streams, wetlands, and floodplains; land use/land cover and natural vegetation; threatened and endangered species; known contaminated sites; air quality; and climate.
Safe Routes to Transit
This study examined means to improve bicycle and pedestrian connection with three New Jersey Transit rail stations: Pennsauken Transit Center, Lindenwold Station, and Princeton Junction Station. For each station area existing conditions were inventoried and documented, and improvements desirable for improving bicycle and pedestrian connections with each station were identified. Affected municipalities can use this study as a resource when funding becomes available for such improvements.
PA 291 Area Study
The evaluations summarized in this report were in support of PennDOT's statewide effort to promote the establishment of formal access management ordinances for state and local highways. A case study of PA 291 was conducted and ideas and plans were prepared to illustrate the benefits of safety and access management strategies, together with recommendations for bicycle, pedestrian, and transit facilities, stormwater management, and land use redevelopment.
Trenton Line Access Study: Improving Pedestrian & Bicycle Access to Regional Rail Stations on the I-95 Corridor
This study was conducted by DVRPC to identify potential strategies to enhance pedestrian and bicycle access to five stations along SEPTA's Trenton Regional Rail Line in Philadelphia and Bucks County. The reconstruction of I-95 is expected to generate a significant number of new peak period transit riders over the next 10 years, which will further strain service capacity along the Trenton Line corridor. Improving pedestrian and bicycle access to SEPTA's system is part of a comprehensive approach to congestion mitigation that can help reduce parking demand at stations.
Upcoming LTAP Classes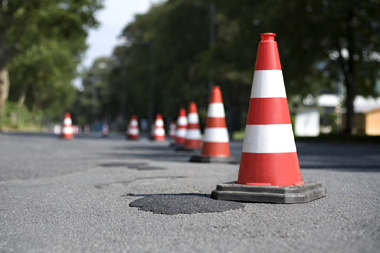 The PennDOT Local Technical Assistance Program (LTAP) provides workshops on technical information and proven technologies dealing with roadway maintenance and safety methods to meet the growing demands on municipal governments. The April LTAP workshops are below.
Work Zone (Temporary) Traffic Control (Montgomery County)
Delaware Valley Insurance Trust
719 Dresher Road, Horsham, PA 19044
April 7, 2015 (8:00 AM – 12:00 PM)
Stormwater Facility Operation & Maintenance (Chester County)
Upper Uwchlan Public Works Building
132 Oscar Way, Chester Springs, PA 19425
April 9, 2015 (8:00 AM – 12:00 PM)
Principles of Paving (Chester County)
Upper Uwchlan Public Works Building
132 Oscar Way, Chester Springs, PA 19425
April 22, 2015 (8:00 AM – 3:00 PM)
Learn more at www.dot7.state.pa.us/LTAP.
DVRPC Staff Profile – A New Addition to the Monthly Newsletter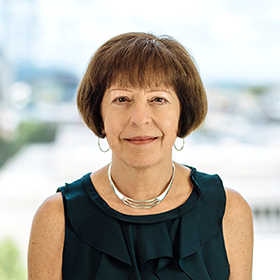 Candy Snyder, Director of Public Affairs, Retiring after 30 years of service
What were your first jobs in your career, and what brought you to DVRPC and the world of planning?
My first job was as a copyrighter for a small radio station in Western Pennsylvania; then I was a reporter, and after that I served as the President of the Tri-County Chamber of Commerce in Pottstown. I was ready for a change, and found out about this job through networking. One of the things I've learned to appreciate about the world of planning is how sincere people are in planning for the future, and how important it is for making our region a better place.
You have grown the public affairs office from an office of one to an office of nearly four. What has changed in public affairs and how would you characterize your approach?
When I was hired back in 1985, not much had been done regarding spreading the word on planning and DVRPC. My first task was to produce the agency's first annual report, within one month! Since then, we have certainly written a lot of press releases, gotten creative with our annual reports, held many events, and worked hard to engage with the public, most recently through social media. My approach has been to hire really good people and let them do their jobs.
What is your favorite part of the job?
By far, it is working with the staff at DVRPC. We have super supportive, skilled, tenacious people that are simply a pleasure to work with.
You have been commuting from Pottstown to Philadelphia for 30 years. What has changed over that timeframe, and how has that commute influenced your appreciation of planning?
The commute has gotten worse, even when I thought that wasn't possible. More and more people seem to be driving Route 422 and the Schuylkill Expressway, and rush hour lasts all day! But all that driving has made me more aware of the profound need for continuous transportation improvements, and how we can never build our way out of congestion. Transportation of the future needs to be different to accommodate everybody's mobility needs.
If you could pick someone famous to carpool with, who would it be?
I have always been fascinated by Abraham Lincoln and how he developed his perspective 150 years ago on issues that are still with us today. If Abe had a sick day, I'd give a ride to George Clooney!
What are your plans for retirement?
Not waking up at 5:00 am, and not driving! Then traveling, and spending more time with family members in Florida and my home roots in Western Pennsylvania. I'll stay involved in planning, too, by serving as the essay coordinator and sitting on the public relations committee of the Future Cities competition.
What has been the highlight of your career at DVRPC?
I have cherished working with a dedicated and skilled staff at the Commission. None are more talented than the individuals who comprise the Public Affairs Department: Elise Turner, DVRPC's Manager of Communications; Jane Meconi, Public Involvement Manager; and Julia Strapp, Public Affairs Intern. I admire their skills and loyalty, and will miss them tremendously.