DVRPC News: September 2014

Volume 36, Issue 2
September 2014
Investing in People and Places – Greater Philadelphia's CEDS Update Now Available for Public Review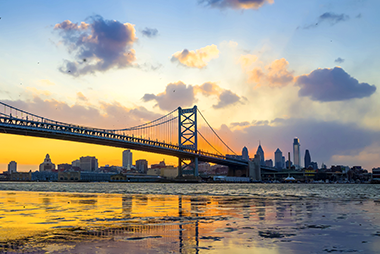 DVRPC is seeking input for Investing in People and Places, Greater Philadelphia's Comprehensive Economic Development Strategy (CEDS). The CEDS is intended to bring together the public and private sectors to create a roadmap to diversify and strengthen regional economies. It provides background information on regional demographic and economic characteristics; identifies regional strengths, challenges, and opportunities; and identifies regional economic development goals and objectives. It also includes a list of key regional economic development projects. The document was developed to satisfy the federal requirement for a comprehensive Economic Development Strategy for the region, and serves as the required five-year revision of the regional CEDS originally adopted by the U.S. EDA in 2009.
The public comment period will run until 5:00 PM on September 19, 2014. There are several ways to learn more, and send us your comments:
Check out the CEDS document online at www.dvrpc.org/Economic/ceds.htm, in the DVRPC Resource Center, and in a number of regional libraries

[0.1 MB pdf]

. The document will also be available at the public meeting listed below, and can be translated into an alternative format or language, if requested. Please contact 215-238-2841 if you wish to have the document mailed to you.
Attend the CEDS public meeting and information session between 4:00 PM and 6:00 PM on September 10 at DVRPC's offices at 190 N. Independence Mall West, 8th Floor, ACP Building, Philadelphia. The public will also be able to participate remotely via web conferencing. Register for the web conference by September 8 by contacting 215-592-1800 or public_affairs@dvrpc.org.
Join us at the next Regional Community and Economic Development Forum (RCEDF) on Thursday, September 4, 2014 from 8:30 AM to 11:00 AM at DVRPC's offices. This meeting will highlight some of the projects that have been or could be funded through the CEDS. It will be a highly interactive and fast-paced meeting as project sponsors will provide "flash presentations" of their projects. To attend this meeting, please RSVP to RCEDF_RSVP@dvrpc.org by Tuesday, September 2.
New Program to Fund Local Bridge Repairs in Southeastern PA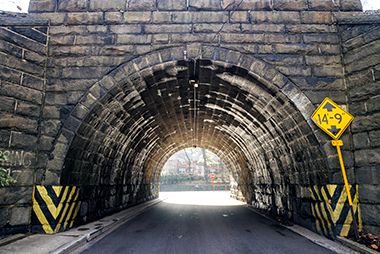 Photo Credit: Paul Reitano Photography
In an effort to help reduce the number of structurally deficient bridges, DVRPC's Municipal Bridge Retro-Reimbursement Program (MBRP) seeks to fund locally owned, structurally deficient bridge rehabilitation or replacement projects located within Bucks, Chester, Delaware, and Montgomery counties by employing PennDOT's retro-reimbursement process. Beginning in Fiscal Year 2016, $6,000,000 of state bridge funds will be made available for selected municipal bridge projects with deck spans of 20' in length or greater. The application period for this program opened on Tuesday, August 12, 2014, and will close at 5:00 PM on Wednesday, October 1, 2014.
Local bridge projects that follow a "retro-reimbursement" process follow the state liquid-fuel procedure which streamlines reviews and delegates PennDOT reviews to the local sponsor. A municipality that follows the retro-reimbursement process under this program will use local funds to rehabilitate or replace the bridge and then request reimbursement from PennDOT. PennDOT will pay 80 percent of the documented design and construction costs, including engineering, right-of-way, utility costs, construction inspection, and construction engineering; the local municipality will be responsible for 20 percent of the project costs. For more information, please visit www.dvrpc.org/MBRP.
Choices & Voices App Updated to Reflect New Future Investment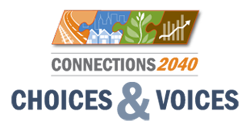 Choices & Voices, our award-winning online scenario application that crowdsources opinions on how the region should grow and invest in transportation, is new and improved! Version 2.1 reflects the amended transportation investments in our long-range plan, Connections 2040, allocating an additional $11 billion to transportation projects through the year 2040 due to Pennsylvania's Act 89. Even if you've taken Choices & Voices in the past, this new version is an excellent opportunity to do it again. Go to www.dvrpc.org/ChoicesAndVoices to get started, as well as see results collected from Version 2.0.
Mark your Calendars for Park(ing) Day 2014 on Friday, September 19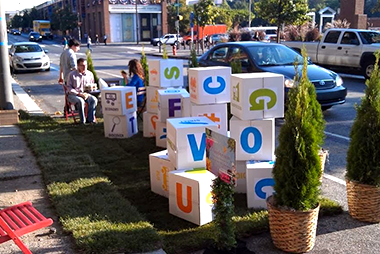 Park(ing) Day is an event that takes place in cities around the world every third Friday in September when participants choose a street parking spot and transform the space into a temporary public park. There will be over 40 parks in Philadelphia this year, and this will be DVRPC's fourth year participating!
To sign up to host your own parking space and to gather ideas from photos of former participants' installations, visit www.parkingdayphila.org.
To access a Google Map of all the parks signed up so far, visit www.parkingdayphila.org/interactivemap. Park(ing) Day can also be found on Facebook and Twitter. Use #ParkingDayPHL to see photos of team parks during the event.
Join us at the Park(ing) Day Party! Visitors of and volunteers from the 2014 Park(ing) Day Philadelphia parklets are encouraged to head over to the Philadelphia Center for Architecture after 5:00 PM for a reception with food and drink in honor of all the impressively creative park designers: philadelphiacfa.ticketleap.com/parking-day.
Free Local Technical Assistance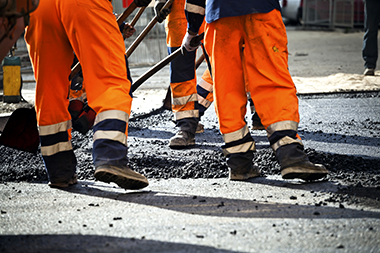 DVRPC is hosting PennDOT Local Technical Assistance Program (LTAP) classes for municipalities in two Pennsylvania locations this month. The class on Work Zone Temporary Traffic Control will be in Horsham in Montgomery County, on September 18. The class on Risk Management will be in Middletown Township in Bucks County on September 23. Classes will run from 8:00 AM to 12:00 PM. Sign up online at www.ltap.state.pa.us.
LTAP helps municipalities make the most of their budgets by providing free roadway maintenance and safety classes. To schedule a free LTAP class for your municipality, contact Christina Arlt at carlt@dvrpc.org.
Post Disaster Recovery in a Changing Climate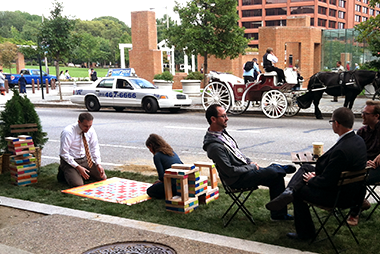 Demographic shifts and climate change are making disasters bigger and costlier. Gradually, the nation is moving toward more effective long-term recovery, while communities are working to become more resilient. But greater resilience calls for more sophisticated planning. Do you have the tools for a safer, stronger community? Learn about the next generation of post-disaster recovery planning from the people who wrote the book — and the new edition. This program is also suitable for planning commissioners, and it is cosponsored by FEMA.
Join us for a live viewing of the APA "Post Disaster Recovery in a Changing Climate" webinar at Chester County Planning Commission on Wednesday, September 24 from 3:45 PM to 5:30 PM. This event offers 1.5 AICP CM credits.
Register at dvrpc.ticketleap.com/post-disaster-recovery-in-a-changing-climate.
Cooperative Marketing: A Workshop for BIDs and Planning Practitioners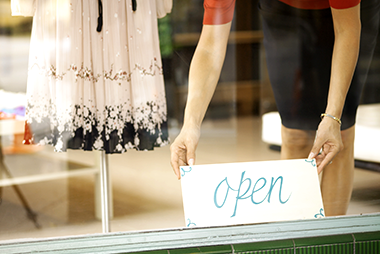 Organizing, designing, agreeing... and the dreaded collecting. Join DVRPC, the Collingswood BID, and Leigh Minor Nagy from Minor Bird Retail Therapy, on how to make cooperative marketing effective, smart, and as pleasant as possible. The registration fee of $25 includes breakfast and materials.
Thursday, September 25, 2014
8:30 AM: Breakfast and Registration
9:00 AM: Presentation by Leigh Minor Nagy, Minor Bird Retail Therapy
Scottish Rite Auditorium
315 White Horse Pike
Collingswood, NJ 08107
Receive more information and RSVP by September 23, 2014 to kpcilurso@dvrpc.org or 215-238-2876. This event is pending 2 AICP Certification Maintenance Credits.
Other September Events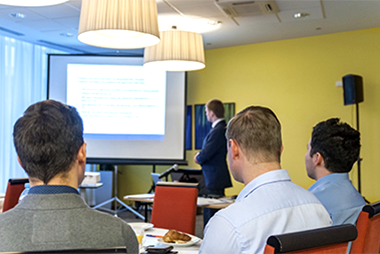 DVRPC staff will present on immigration in our region, with a focus on Delaware County and Upper Darby, at the Community Inclusion Network Meeting on Thursday, September 11th at 11:00 AM. The presentation will highlight our Immigration Data Snapshots and there will be an opportunity for Q&A at the end. The meeting will be held at Delaware County Memorial Hospital, Conference Room A&C Ground floor across from the cafeteria. RSVP to 610-497-7300 or ellen.williams@crozer.org.
The American Planning Association Pennsylvania Chapter and PennDOT are hosting a training entitled, "Integrating HOP Coordination into Access Management Programs" at DVRPC on Tuesday, September 30, 2014 from 9:30 AM to 11:30 AM (Registration starts at 9:00 AM). The training is free for APAPA members and $25.00 for non-members. If you are interested in attending, please use this link to register: www.surveymonkey.com/s/DVRPC-Access