DVRPC News: October 2014

Volume 36, Issue 3
October 2014
Greater Philadelphia's Comprehensive Economic Development Strategy Adopted by DVRPC Board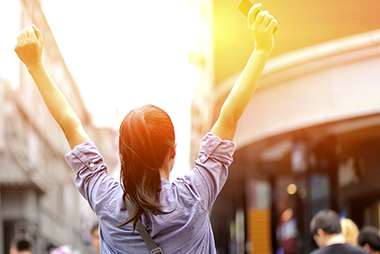 The Board of the Delaware Valley Regional Planning Commission (DVRPC) adopted Investing in People and Places: Greater Philadelphia's Comprehensive Economic Development Strategy at its meeting on Wednesday, September 24. The Comprehensive Economic Development Strategy (CEDS) serves as the required five-year revision of the regional CEDS originally adopted by the U.S. EDA in 2009.
The updated document cites Greater Philadelphia's opportunities, such as a centralized Northeast location, quality educational facilities, and a high quality transportation network, as well as the region's challenges, such as a relatively high tax burden, transportation infrastructure deficiencies, and limited local financial resources. The CEDS addresses these opportunities and challenges by identifying specific objectives, which can be summed up in three guiding principles: Invest in People, Invest in Places, and Invest in Business. The document also includes a list of key regional economic development projects. The EDA requires projects to be on this list to apply for funding, though not all projects on the list will receive EDA funding. The average annual amount of EDA funding available in this region over the past three years is $2.8 million.
DVRPC hosted public meetings and stakeholder sessions to inform the update, and released the draft document for a public comment period in August. The final document, which has been officially submitted to the EDA, is available on the DVRPC website at www.dvrpc.org/Economic/ceds.htm, along with agendas and highlights from the "Investing in People and Places" series from last spring.
DVRPC Awards $2.2 Million for Revitalization Projects in NJ and PA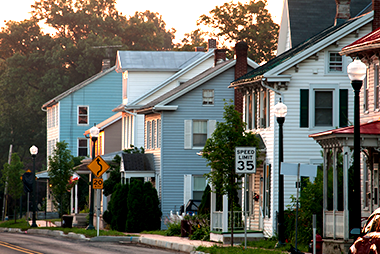 DVRPC has awarded almost $2.2 million to 32 municipalities in Greater Philadelphia through the Transportation and Community Development Initiative (TCDI) program. TCDI grant funds support planning for local development and redevelopment efforts. In Pennsylvania, municipalities will receive $1,200,000 and in New Jersey, municipalities will receive $1,000,000.
TCDI creates more livable neighborhoods in Greater Philadelphia. The grants support local planning projects that will lead to more residential, employment, or retail opportunities; improve the character and quality-of-life within these communities to retain businesses and residents; enhance and use the existing transportation infrastructure capacity in these areas to reduce demands on the transportation network; and reduce congestion and improve the transportation system's efficiency.
For a complete list of communities selected for the 2015 grants, visit www.dvrpc.org/TCDI.
Regional Greenhouse Gas Emissions Are Down
Greenhouse gas (GHG) emissions in the Greater Philadelphia region decreased 13 percent between 2005 and 2010, according to a recent update of DVRPC's regional energy use and GHG emissions inventory. A four percent decrease in energy use and a cleaner electricity generation mix contributed to this decrease. DVRPC updated the inventory with 2010 data (the most recent year for which complete data are available), and compared it with the data from 2005. The report covers the nine county Greater Philadelphia region.
In the report, energy use and GHG emissions are broken down by county, municipality, and energy source. Among the key findings were:
Ninety percent of the region's 83 million metric tons of carbon dioxide equivalent GHG emissions in 2010 resulted from energy use, including energy used in homes and businesses, and energy used by the transportation sector;
The region's 2010 GHG emissions make up about 1.2 percent of the United States' total 2010 GHG emissions.
Per capita emissions are about 14.4 metric tons. This is about 35 percent below the national average. Yet, globally, the region's total emissions are comparable to those of Austria, a nation with 1.5 times the population of Greater Philadelphia;
In 2010, activities in the region used energy equivalent to almost 20 times the 2013 net generation output of the Limerick Generating station in Montgomery County, PA.
This decrease in regional GHG emissions between 2005 and 2010 helps move the region towards the targets laid out in Connections 2040, the region's long range plan, of reducing GHG emissions by 50 percent by the year 2035, 60 percent by 2040, and 80 percent by 2050. Further reductions will require sustained, concerted, and aggressive action at the household, firm, community, regional, state, national, and global level.
For municipal energy use and greenhouse gas emissions reports, click here.
To view the full report, click here.
Greener Pastures for New Farmers Study Released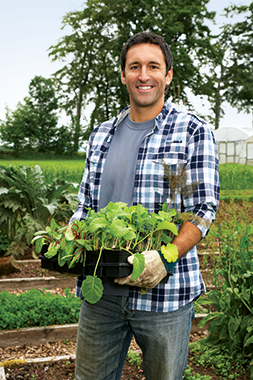 DVRPC recently released a report, Greener Pastures for New Farmers: A look at financial & technical assistance for beginning farmers in Greater Philadelphia. The U.S. Department of Agriculture defines beginning farmers and ranchers as those who have operated a farm or ranch as the principal operator for 10 or fewer years. These farmers are crucial to our food system, yet they often face significant obstacles in accessing the knowledge, land, and capital necessary to start or expand their operations. Traditional farm financing through commercial lenders or government agencies is often out of reach because of rigorous application requirements like three-year financial histories, tax returns, and collateral.
Greener Pastures examines these and other challenges, as well as opportunities, and makes several recommendations to government agencies and organizations in support of small and beginning farmers. Recommendations include: developing a beginning farmer state tax credit; creating a financial and technical assistance program that capitalizes on regional capacity; creating a financial tool that complements existing agricultural lending; and creating communities of practice at county and regional levels.
To view the full report, visit www.dvrpc.org/food/greenerpastures.
Smart Growth Project Database Redesigned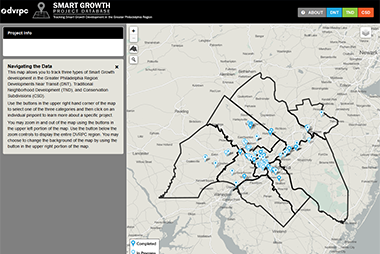 Originally released in February 2013, DVRPC's Smart Growth Project Database has been redesigned and updated to include dozens of new projects. The online mapping application tracks three types of Smart Growth development throughout the Greater Philadelphia region: developments near transit, traditional neighborhood developments (TND), and conservation subdivisions.
The updated database, which includes 158 total projects in various stages of development, is meant to serve as a valuable resource for municipal officials, planners, and citizens interested in learning more about Smart Growth efforts around the region.
The majority of projects found in the database are classified as developments near transit. These 121 projects include over 22,000 residential units and reflect a renewed interest in investing near the region's transit infrastructure. The database will be continually updated with new information as it becomes available. To view the database, please visit: www.dvrpc.org/webmaps/SGPD.
DVRPC Participates in Park(ing) Day 2014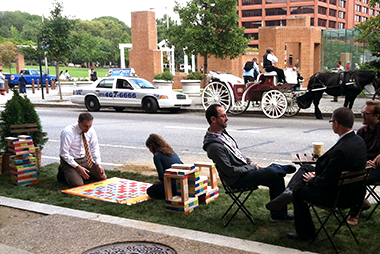 Dozens of groups mobilized on Friday, September 19 to bring temporary public parks to metered parking spaces around Philadelphia. Park(ing) Day is an annual, nationwide event started by a California design firm and brought to Philadelphia in 2008. This year's beautiful weather was the crowning glory of a day celebrating design, pedestrian-friendly green spaces, and neighborliness. For more information, visit www.parkingdayphila.org.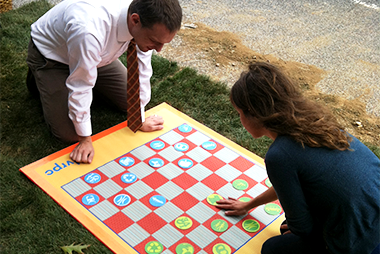 Free Online Training Available for all PA Residents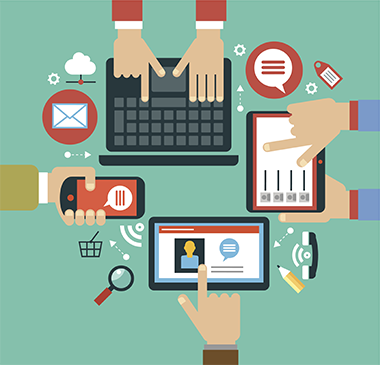 Registration is still open for the Pennsylvania Online Broadband & Technology Training (OBTT) Program – FREE online courses available anytime, anywhere! The PA OBTT course library was designed with small businesses, local governments, and nonprofits in mind. With more than 100 FREE courses to choose from, there is something new for nearly everyone to explore. Course topics include Online Marketing; Website Development; Cloud Computing; Quickbooks; Microsoft Applications like Word, Excel, Outlook, PowerPoint and Access; Business Skills; Project Management; and more. Additional information, including registration instructions, is available at www.dvrpc.org/Community/OBTT. Contact DVRPC Public Affairs at public_affairs@dvrpc.org or 215-592-1800 with any questions.
Get Involved!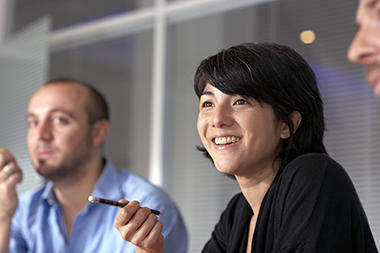 Please join us at some upcoming public events. On October 9, the DVRPC Environmental Justice Work Group will meet at 8:45 AM at DVRPC. Eileen Divringi of the Federal Reserve Bank of Philadelphia, will present "Small Legacy Cities, Equity, and a Changing Economy," which describes the extent to which economic revitalization strategies in Wilmington, DE, Lancaster, PA, and Bethlehem, PA had led to equitable outcomes for low- and moderate-income residents.
On October 28 at 5:30 PM, the DVRPC Public Participation Task Force will host its next Facing the Future event. A representative of the Economy League of Greater Philadelphia will present the World Class Index, a framework for tracking progress in regional education and talent outcomes, boosting business growth, and making our infrastructure more effective and reliable. For more information, visit the DVRPC events calendar at www.dvrpc.org.
DVRPC to Seek Applicants for Public Participation Task Force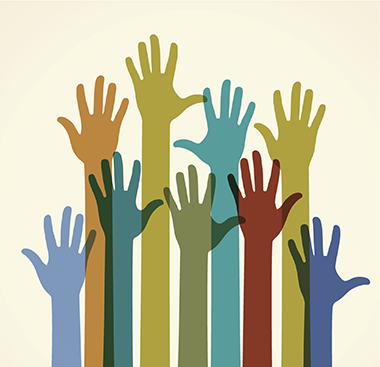 DVRPC, as part of its ongoing efforts to engage citizens of the Delaware Valley, will open a selection round in October to solicit members for its Public Participation Task Force (PPTF). The PPTF is comprised of board-appointed members and citizens at-large, selected through an application process open to all residents of the nine-county region. Additional details regarding this opportunity to be part of the regional planning process will be sent to you in early October.