DVRPC News: August 2014

Volume 36, Issue 1
August 2014
DVRPC Board Approves $10.5 Billion in Transportation Projects for Southeastern Pennsylvania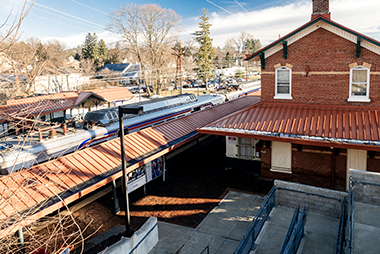 Photo Credit: Paul Reitano Photography
At its July meeting, the DVRPC Board amended the region's Long-Range Plan to include $10.5 billion in additional highway and transit projects for southeastern Pennsylvania through the year 2040. Following the signing of Act 89, Pennsylvania's new transportation legislation, DVRPC was able to add new projects to the
Connections 2040
Long-Range Plan and FY 2015-2018 Transportation Improvement Program for Pennsylvania.
With over 600,000 new residents and 300,000 new jobs forecast over the life of the Plan, Connections 2040 will help guide planning, investment, and growth in the nine-county region. The update to the Long-Range Plan details how southeastern Pennsylvania will invest the $10.5 billion in additional transportation funding. Key additional projects include:
Reconstruct additional sections of I-95 in South Philadelphia, and US 422 in Montgomery County, including a new bridge over the Schuylkill River.
Complete the partial interchanges and implement strategies to reduce congestion on the US Route 30 Coatesville-Downingtown Bypass in Chester County.
Reconstruct, repair, or improve sections of US Route 1 from the New Jersey state line in Bucks County through to the Delaware state line in Chester County.
Repair or replace dozens of structurally deficient bridges across the region.
Expand the SEPTA Elwyn line to Wawa, and the Norristown High Speed Line to King of Prussia.
Purchase new SEPTA locomotives, Regional Rail cars, and replace the trolley fleet.
Construct additional miles of the Circuit regional trail network.
For a complete list of projects and to learn more about the Long-Range Plan, visit www.dvrpc.org/Connections2040.
The DVRPC Board has also approved the Pennsylvania Transportation Improvement Program (TIP), which is the agreed-upon list of priority transportation projects to be advanced during a four-year timeframe; its projects are drawn from the Long-Range Plan. The approved FY 2015-2018 PA TIP contains over 330 multi-modal projects worth nearly $5 billion. There is just over $2 billion for projects addressing the highway and bridge network in the five-county region, $658 million for projects included in the Interstate Management Program for I-95 and I-76, and almost $2.3 billion for transit projects for SEPTA and Pottstown Area Rapid Transit (PART).
To view TIP projects by county, visit www.dvrpc.org/TIP/draft/HighlightsPA15.pdf [8.2 MB pdf].
In addition to the adoption of the Long-Range Plan amendment and TIP, the DVRPC Board approved the transportation conformity finding of the Connections 2040 Long-Range Plan and FY 2014 NJ and FY 2015 PA Transportation Improvement Programs. Transportation conformity is the process that ensures plans and programs receiving federal aid are consistent with the federal Clean Air Act requirements and the region's air quality goals.
First Permanent Bike Counters Installed on Trails across the Region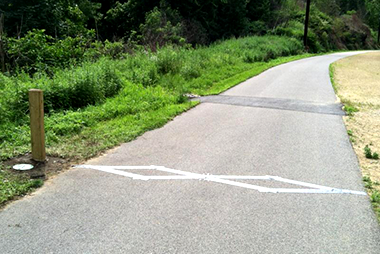 Permanent Bicycle and Pedestrian Counter on Cynwyd Heritage Trail
Planners now have a better way to track the number of users on trails, thanks to new permanent counters which are being installed across the region with funding from the William Penn Foundation. DVRPC's Office of Travel Monitoring began installing the counters in June, with six counters currently being installed throughout the region. DVRPC will install a total of 12 counters throughout Greater Philadelphia on trails as varied as the Lawrence Hopewell Trail, the Port Richmond Trail, and the Cooper River Trail.
The counters combine a passive infrared sensor, which detects body heat, with an inductive loop, which detects the metallic signature of bicycle wheels, to provide a count of pedestrian and cyclists including their travel direction. The counters will provide continuous data 24 hours a day and 365 days a year. They will allow DVRPC to develop region-specific correction factors with which to estimate annual trail use from shorter term trail counts at other locations.
Bicycle and pedestrian counts are currently available on DVRPC's website at www.dvrpc.org/webmaps/pedbikecounts.
Ozone Season Update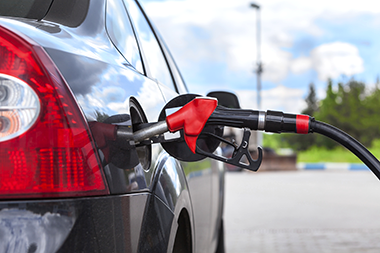 The region is currently in the middle of ozone season, when higher temperatures combined with low breezes bake pollutants to result in an unhealthy atmosphere, particularly for at-risk populations such as children and the elderly. Days when there is a high concentration of ground-level ozone or particulate matter are referred to as Air Quality Action Days. Alerts are generated when the forecast is shown to be unhealthy to tell people to limit outdoor activity.
The good news is that there have only been three Air Quality Action Days so far this year, compared to eight at this point in 2013. While we can't control the weather, we can influence how much pollution gets into the air. DVRPC's Air Quality Partnership encourages people to take steps to reduce air pollution every day, but taking steps to reduce emissions is especially important on days when air pollution is forecast to be poor.
Here are three important actions you can take to help keep pollution levels lower and save yourself some money in the process:
Turn it off – Letting your vehicle run when you're not driving wastes gas and pollutes the air.
Tune it up – Proper vehicle maintenance, like keeping your tires at the right pressure, saves gas and makes your vehicle safer to operate.
Take it easy – Aggressive driving is not only dangerous, but wastes gas and can cost you money in repairs, fines, and insurance.
Visit www.airqualitypartnership.org to sign up for air quality alerts on days that are forecast to be unhealthy.
Tools and Resources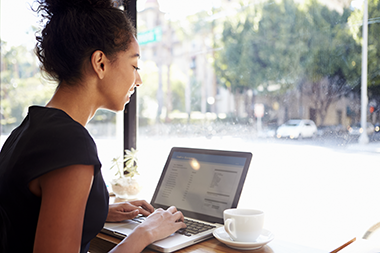 A Work Zone Temporary Traffic Control course is being offered on August 19 through PennDOT's Local Technical Assistance Program (LTAP).The class will take place from 8:00 AM to 12:00 PM in Middletown Township (Bucks County). The focus of the course is work zone traffic control guidelines and set-ups for typical municipal work, from grading a gravel road to painting crosswalk lines to repairing pavement. Find more information and register at www.ltap.state.pa.us.
DVRPC is offering free online courses, including graphic design, Microsoft Office Suite applications, project management, and other topics for Pennsylvania residents. The courses are offered through the Pennsylvania Department of Community and Economic Development (DCED) Online Business and Technology Training (OBTT) program. Learn more at www.dvrpc.org/Community/OBTT.
RideScore, an interactive database that measures the strengths of a transit station's connections to the bicycle network, launched last month. Use this interactive map to see how your local station measures on transit volumes, connectivity, cultural resources, Circuit proximity, outdoor destinations, walkability, proximity to bicycle facilities, surrounding population, employees, and non-parking passenger boards. To learn more and see RideScores for stations throughout the region, visit: www.dvrpc.org/webmaps/ridescore.
Join Us for Park(ing) Day on Friday, September 19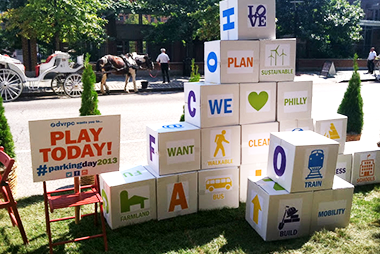 On September 19, a number of businesses, nonprofits, designers, and citizens will transform parking spaces around Philadelphia into temporary public parks. Park(ing) Day re-imagines the possibilities of 170 square feet of public space. The event celebrates parks and other public spaces in cities across the country, and raises awareness of the need for more pedestrian-friendly spaces in our urban areas.
We hope that you'll join us by hosting a park. Don't forget to stop by DVRPC's pop-up park on 6th Street, south of Market! To view a map of all participants and their locations, click here.
Learn more and sign up for a spot at www.parkingdayphila.org. Follow the event on Twitter at @parkingdayphila and tell others about your experience with #ParkingDayPHL.