DVRPC News: September 2013

Volume 35, Issue 3
September 2013
GVF Honors DVRPC for its Sustainability Efforts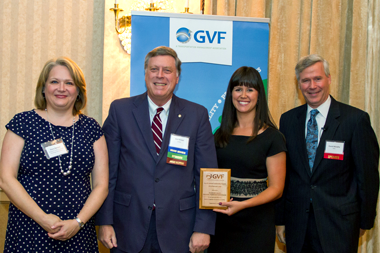 Photo courtesy of Greater Valley Forge Transportation Management Association (GVF).
DVRPC was one of over 30 organizations honored at the Greater Valley Forge Transportation Management Association's (GVF) Sustainability Breakfast on September 9. The Sustainable Awards honor organizations for their outstanding achievements in implementing programs that provide and promote commuting alternatives and sustainable practices to their employees and the community.
The Commission received a Platinum award for several of its "green" practices, including having bike racks on-site, providing facilities for co-mingled recycling, offering a transit benefit to all employees, and being transit accessible and walkable. DVRPC's Mobility Alternatives Program, which includes the Share-A-Ride and Emergency Ride Home initiatives, is a tool to help other companies in the region to encourage alternate commutes among employees and implement sustainable practices. DVRPC also administers the RideECO program to businesses in the region, which offers a tax break for taking transit. The Air Quality Partnership is another environmentally friendly program that companies can join at no cost. For more information, visit www.pacarpool.org, www.RideECO.org, and www.airqualitypartnership.org.
During the breakfast, Michael Stevens, Director for the Capitol Riverfront Business Improvement District in Washington, D.C., served as the keynote speaker. Mr. Stevens highlighted the transformation of the Capitol Riverfront neighborhood into a mixed-use community that now has numerous transportation options. Shawn Garvin, Regional Administrator for the U.S. Environmental Protection Agency Mid-Atlantic Region 3, spoke about the importance of businesses and communities working together to create a more sustainable environment. Meteorologist David Murphy from 6ABC Action News served as master of ceremonies for the awards.
Photos from the breakfast can be found here.
GVF is a not-for-profit organization dedicated to achieving a desirable quality of life and a healthy, competitive economic environment by developing multi-faceted transportation strategies. For more information, visit www.gvftma.com.
PennDOT to Improve Pottstown Pike Signal Timing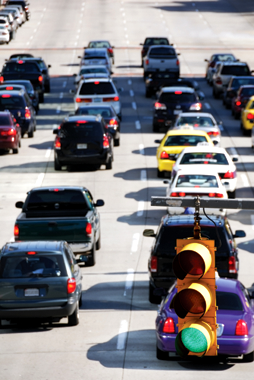 The Pennsylvania Department of Transportation has chosen Pottstown Pike as the pilot corridor in a new traffic signal timing initiative in southeastern Pennsylvania. DVRPC and the Chester County Planning Commission collaborated with PennDOT to secure the necessary funding for this project, which aims to improve traffic flow. Pottstown Pike's signal system was initially installed in 1995, and while certain upgrades have been made in subsequent years, the corridor will benefit greatly from the improved timing. The work on Pottstown Pike's signals will be limited to those between the Route 30 bypass and Shoen Road and is expected to be completed in eight to twelve weeks.
For more information on this project, contact Laurie Matkowski at lmatkowski@dvrpc.org or 215-238-2853.
Improving Regional Corridors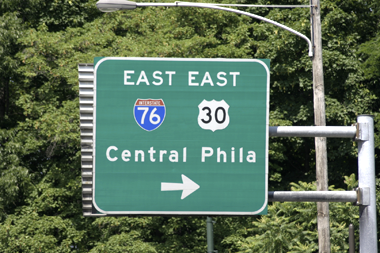 DVRPC staff returned to Lancaster Avenue in Eastern Radnor Township for the implementation phase of the US 30 corridor study, which is conducted in conjunction with Radnor Township, Villanova University, PennDOT District 6-0, the Delaware County Planning Department, and SEPTA. The project aims to improve safety and mobility along Villanova's frontage through a variety of measures, including determining the most effective location for a pedestrian bridge and improving congestion at PA 320's six-way intersection. The final report for the US 30 Eastern Radnor Township Traffic and Circulation Study is expected to be completed later this fall.
In addition, possible improvements to three consecutive eastbound on-ramps through the I-476 and Conshohocken interchanges are currently being evaluated using simulation models from the Schuylkill Expressway (I-76) Operational Research Model project. The ramp improvement project, proposed by the Montgomery County Planning Commission, has the potential to improve mobility along the mainline of I-476 southbound, in addition to I-76 through the interchanges. The project is being coordinated with representatives from the County, and PennDOT District 6-0's Highway Design and Freeway Operations groups, among others. Technical activity will be completed by the end of the year.
DVRPC is also working with Camden County to update the county's Highway Master Plan through assessing traffic safety and performing travel demand modeling for the entire County Route (CR) network. Notably, the highway element is being prepared in direct coordination with the county's developing Land Use Master Plan, which complements the county's Farmland Preservation Master Plan, and its Bicycling and Trails Master Plan. Taken together, the four elements provide a comprehensive vision for the future of Camden County, and will serve as the official update of the county's overall Master Plan.
South Broad Street Concept Plan Published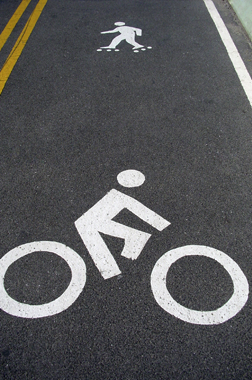 This month DVRPC published its first concept plan for a bicycle and pedestrian sidepath. A sidepath is defined as a shared-use path adjacent to a roadway and is different from a trail, which runs on its own right of way. The project was commissioned by the Mayor's Office of Transportation and Utilities (MOTU) in an effort to accommodate active transportation along South Broad Street. That corridor is economically and culturally important, with a large flow of people due to the stadium complex, FDR Park, and the Navy Yard commercial center.
Stakeholders were presented with the various options and agreed upon the sidepath as the best because it would create the necessary connection south without significantly impacting the current road configuration and vehicle flow. The sidepath would run from Marconi Plaza at Oregon Avenue south to the Navy Yard and be integrated into the surrounding bicycle and pedestrian infrastructure as seamlessly as possible. This plan is intended to be used to guide the engineering process and to assist in securing funding for the project. View the concept plan here.
Energy and Climate Change Initiatives Updates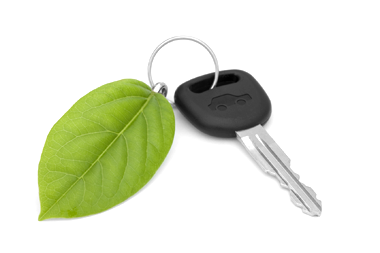 In its ongoing effort to increase the resiliency of Greater Philadelphia, DVRPC has quantified energy use and greenhouse gas emissions in the region, and has developed an action plan to introduce electric vehicles (EVs) and their charging facilities.
The Regional Energy Use and Greenhouse Gas Inventory updates the previous 2005 inventory with data from 2010, and links to an interactive map that provides detailed energy use and GHG emissions by municipality. A printed document and additional tools will be completed over the next few months.
Ready to Roll! Southeastern Pennsylvania's Regional Electric Vehicle Action Plan is now available online in two volumes. Volume I contains an overview of DVRPC's analysis, and provides a regional readiness plan with policy recommendations. Volume II provides a detailed overview of electric vehicle technology and a more detailed discussion of the contents addressed in Volume I. Additional tools are available online.
For more information on DVRPC's Energy and Climate Change Initiatives, visit www.dvrpc.org/EnergyClimate.
Development of FY 2015 Work Program Begun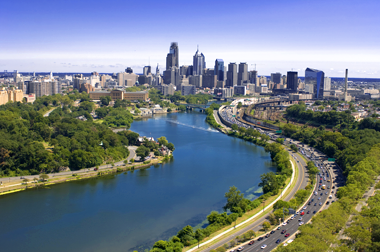 During the month of September, DVRPC kicked off the development of the FY 2015 Unified Planning Work Program. Federal laws and regulations require every metropolitan planning organization (MPO) to coordinate a transportation planning program that details the short-term planning needs of the region. A draft document will be presented to the DVRPC Board on December 12, 2013 with a final version to be adopted on January 23, 2014, which will take effect on July 1, 2014. The current FY 2014 Work Program can be viewed at www.dvrpc.org/WorkProgram.
Help Lead the Region's Conversation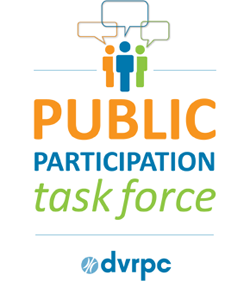 The Public Participation Task Force (PPTF), an important component of DVRPC's civic engagement, is seeking new members to represent citizen perspectives that reflect the region's geographic, ethnic, cultural, and economic diversity. The PPTF reviews timely issues, serves as a conduit for DVRPC information to organizations and communities across the region, and assists the Commission in implementing public outreach strategies.
The PPTF is comprised of both board-appointed members and citizens-at-large. Residents of the nine-county region with an interest in planning, knowledge of regional issues, a history of civic engagement, and effective communication skills are encouraged to apply. Individuals interested in serving as members of the task force must submit an application outlining their qualifications and experience by October 18, 2013. More information, including the PPTF application, can be found online at www.dvrpc.org/GetInvolved. Applications can also be obtained at public libraries throughout the region, or by contacting Jane Meconi at 215-592-1800 or public_affairs@dvrpc.org.
DVRPC Participates in Park(ing) Day 2013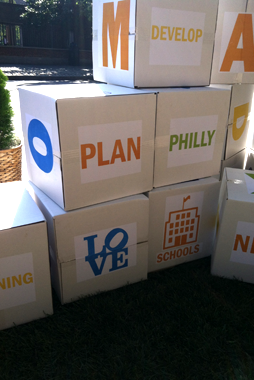 Dozens of groups mobilized on Friday, September 20 to bring temporary public parks to metered parking spaces around Philadelphia. Park(ing) Day is an annual, nationwide event started by a California design firm and brought to Philadelphia in 2008. This year's beautiful weather was the crowning glory of a day celebrating design, pedestrian-friendly green spaces, and neighborliness. For more information, visit www.parkingdayphila.org.
The Role of Immigrants in the Regional Economy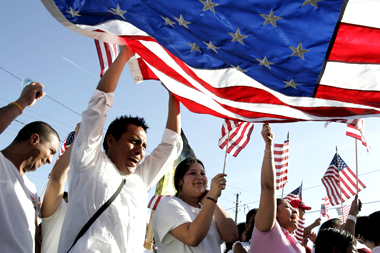 DVRPC's Regional Community and Economic Development Forum (RCEDF) will host a discussion of the role of immigrants in Greater Philadelphia's economy on the morning of Tuesday, October 1. This month's forum is held in conjunction with Global Philly 2013, an exposition of Philadelphia's international resources, programs, activities, and assets that is currently taking place in the DVRPC region through November 1. The forum will include an overview of regional demographics and the economy, providing a context for the featured presenters and subsequent panel discussion. The RCEDF's discussions are always riveting, with diverse perspectives represented on the panels and in the audience. Come and join the conversation on an important and timely topic.
The discussion will take place in DVRPC's Main Conference Room from 10:00 AM to 12:00 PM on Tuesday, October 1 with a light breakfast beforehand. View the agenda forum here. The discussion is free to attend, and may be eligible for CM credits, pending APA approval. Please RSVP by Friday, September 27th to RCEDF_RSVP@dvrpc.org.
Planning Ethics and the Law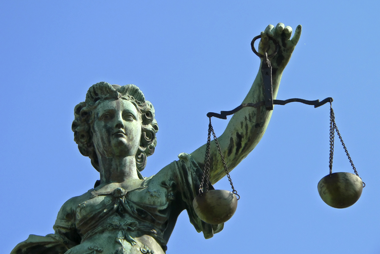 Ethical planning has a lot in common with the law but sometimes the two diverge. This APA webinar addresses the way a planner's perspective on ethics can differ from a court's. Broaden your understanding of ethics (and the AICP Code of Ethics), learn how cases have been decided, and examine what standards the law uses to judge ethical behavior. You will hear from individuals who closely follow legal developments and from colleagues who deal with this subject often. 1.5 CM Ethics credits are available.
DVRPC's Municipal Outreach program will be hosting a viewing of this live web conference in DVRPC's Main Conference Room on Wednesday, October 9, 2013 at 3:30 PM. The event is free to attend, but you must register in advance at www.dvrpc.ticketleap.com/planning-ethics-and-the-law.
Save the Date for the 2013 M. Powell Lawton Conference and Award Luncheon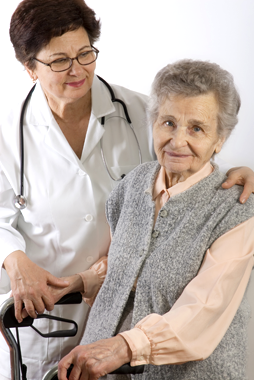 The Philadelphia Corporation for Aging (PCA), in conjunction with DVRPC, will present this year's Lawton Award at their conference on November 1, where they will also discuss Building Community Partnerships to Address Chronic Illness Among Older Adults. The conference will explore the challenges of aging and chronic illness, as well as the range of local resources that can be leveraged to provide support to the 80% of elderly Philadelphia-area citizens with a chronic illness. There will be an emphasis on the relationship between health and the built environment.
The 2013 M. Powell Lawton Quality of Life Award will be presented to Neville Strumpf, Ph.D., F.A.A.N., who was the founding director of Penn's Hartford Center of Geriatric Nursing Excellence and for many years was the Director of Penn's Gerontology Nurse Practitioner Program.
For more information, and to register for the conference and award luncheon, visit www.pcacares.org/Lawton. Planning CM credits pending approval.