DVRPC News: November 2013

Volume 35, Issue 5
November 2013
New Legislation Increases Transportation Funding in Pennsylvania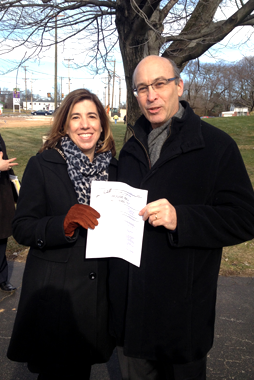 Montgomery County Commissioner Leslie Richards and DVRPC Executive Director join Governor Corbett at the signing of the transportation funding bill
On Monday, November 25th, Pennsylvania Governor Tom Corbett signed into law a new transportation funding bill that will generate an additional $2.3 billion annually for the state's transportation system by the fifth year of implementation. Of that amount, approximately $1.8 billion will be for roads and bridges, nearly $500 million will be for mass transit, and $144 million will go toward multimodal projects, including aviation, freight, and bicycle improvements.
Revenue for the bill will come from several sources. The largest amount will come from lifting the cap on the oil company franchise tax paid by fuel distributers. The oil franchise tax rate has been capped at $1.25 per gallon and the bill extends the tax to the full wholesale price of gasoline. Additional revenue will come from small increases to vehicle registration and drivers' license fees which will be indexed to inflation beginning in 2015, and increasing moving violation fines. It is estimated that the additional projects funded by the bill will create up to 50,000 new jobs and preserve 12,000 existing jobs.
The Senate version of the bill passed by a resounding majority this past summer. However, it had languished in the House and finally passed a day after being brought up for a full vote for the first time and going down in defeat. The final version of the bill lifted the prevailing wage threshold that requires union-scale wages for transportation projects, from $25,000 to $100,000, and also allows the speed limit to be raised to 70 mph on select roads approved by PennDOT. The additional funding will help the region address critical bridge, road, and transit needs, and significantly reduce the $64 billion transportation funding gap that was forecast over the life of the recently adopted Connections 2040 Long-Range Plan.
$4 million Allocated to Connect The Circuit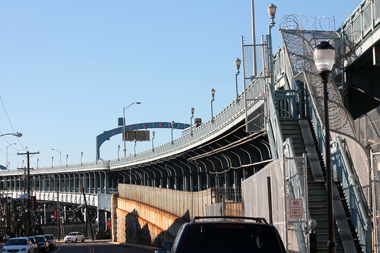 DVRPC announced $4 million in grants for 13 trail design and construction projects at an event this month in Camden, New Jersey; these funds include a $400,000 grant to improve bicycle and pedestrian facilities on the Ben Franklin Bridge. Officials from Camden County, the City of Camden, the Delaware River Port Authority (DRPA), and the William Penn Foundation spoke about the importance of improving this vital link in the region's transportation network. More information about the Benjamin Franklin Bridge South Walkway Bicycle & Pedestrian Ramp project can be found on DRPA's website at drpa.org/projects/bfb_walkway.html.
This is the third grant round in DVRPC's Regional Trails Program, made possible by the William Penn Foundation. The program aims to improve a connected network of multi-use trails, known as The Circuit, by prioritizing projects that fill gaps, connect more communities to the trail system, and make the network accessible to all residents of Greater Philadelphia. Phase I covered design and construction of trails that included the Schuylkill River Trail in Phoenixville and the East Coast Greenway in Tullytown, while Phase II covered planning and feasibility studies along several priority sections of the trail network. The 31 applications received in Phase III were evaluated by a selection committee comprised of Foundation representatives, PennDOT and NJDOT, DVRPC staff, and regional trail funders and advocates.
For details, including a map of selected projects, visit www.dvrpc.org/RegionalTrailsProgram.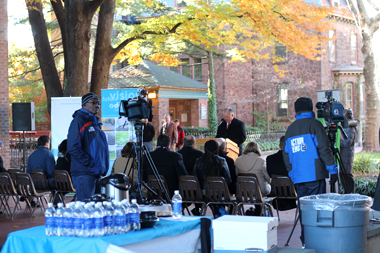 Camden event highlighted the importance of trails
Study Shows Vehicle Traffic is Down, Transit Ridership Up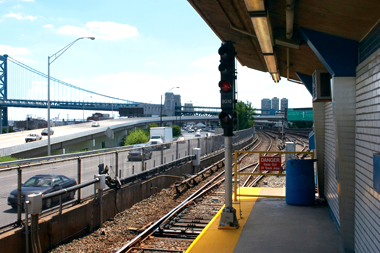 Overall travel activity throughout the Delaware Valley declined between 2005 and 2010, mainly due to the Great Recession according to a new analysis by DVRPC. The region shows evidence of shifts in travel activities similar to elsewhere in the country, such as continued growth of public transit ridership and a decline in auto trips. However, automobiles are still the dominant mode of transportation, accounting for almost 70% of trips in the urban area and 80% of trips in some of the more suburban and rural parts of the region.
The findings are the results of the latest traffic counting surveys, which are presented in two new reports: 1995-2010 Travel Trends in the Delaware Valley Region and 1980-2010 Travel Trends in the Philadelphia Central Business District.
In order to provide a more complete and accurate picture of travel patterns in Philadelphia, DVRPC also counted bicycle and pedestrian traffic. In 2010, a total of 93,409 pedestrian trips and 11,438 bicycle trips were made to and from Center City. Active modes of transportation are growing in popularity and constitute an important part of the transportation network, especially as The Circuit expands.
For more information about DVRPC's traffic counting program, visit www.dvrpc.org/Traffic.
Choices & Voices Interactive Web App Relaunched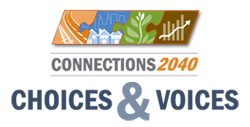 DVRPC has recently launched Choices & Voices version 2.0. Choices & Voices is an online application that allows users to develop their own scenario for future development and investment in the region's transportation system. Version 2.0 of Choices & Voices reflects additional policies and constraints identified in the Connections 2040 Plan, the potential impacts of SEPTA's realignment plan, and also incorporates many of the suggested improvements by respondents of version 1.0. You are invited to share your thoughts on future growth and transportation funding at www.dvrpc.org/choicesandvoices.
In version 1.0, respondents from all parts of the region identified a vision of a denser, mixed-use development pattern that is walkable, bikeable, and transit-oriented. More than 90 percent of all respondents preferred that future development be located near existing land development, where alternative transportation infrastructure is already in place. This is consistent with the Connections 2040 vision of focusing future development in more than 120 Centers around the region. Respondents also placed priority on using available funds for system preservation over system expansion. Results and analysis of version 1.0 is available here.
DVRPC Welcomes Oxford to Innovative Classic Towns Program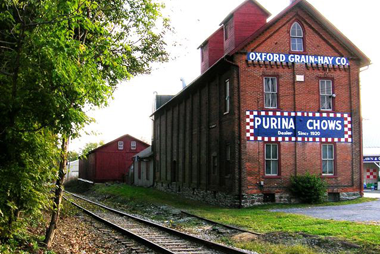 This month, DVRPC welcomed the Borough of Oxford, Pennsylvania into its Classic Towns of Greater Philadelphia program, which aims to promote historic communities around the region. Oxford is the heart of several of Chester County's rural farming communities, with seven roads and a railroad spur meeting in the center and prompting many decades of economic growth. The borough's key strengths are its strong local workforce, affordable and well-maintained commercial and residential properties, and a tight-knit social fabric. Residents enjoy excellent schools, amenities for a range of ages, affordable housing options, and countless community events.
The 19 Towns currently participating in DVRPC's Classic Towns program include Ambler, Bordentown City, Cheltenham, Collingswood, Germantown, Glassboro, Haddon Heights, Kennett Square, Lansdale, Lansdowne, Manayunk, Media, Merchantville, Moorestown, New Hope, Oxford, Phoenixville, Souderton/Telford, and West Chester.
To explore what it's like to live, work, and play in Oxford and other Classic Towns, visit www.classictowns.org.
RideECO Marks Its One Year Anniversary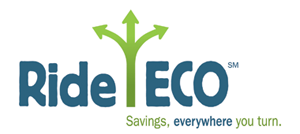 In November 2012, DVRPC introduced RideECO, a new name for our commuter benefit program that allows employees to purchase transit fares with pre-tax dollars, saving money for both them and their employers. The past year has seen 20 new corporate clients join the program and a doubling of participants in RideECO Select, a value-added package with minimal administration needed by the employer. RideECO Select clients also have access to increased fare options such as the RideECO stored value card. The cards, which are personalized and reloadable debit cards offering balance protection, have already seen a 50 percent increase in circulation this year. DVRPC continues to work closely with SEPTA as they move forward with New Payment Technology (NPT), ensuring the future compatibility of RideECO stored value cards with the NPT.
RideECO also partnered with Enterprise Car Share and the Greater Philadelphia Chamber of Commerce to offer program discounts and incentives to their members in an effort to develop a truly multimodal and universally accessible transportation system.
For more information about the commuter benefit program that saves time and money, go to www.RideECO.org.
Learn to Create More Effective Signs for Your Community on December 6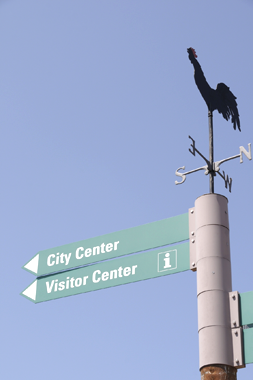 Residents and leaders of communities around the Philadelphia region are invited to hear from experts on signage and design as part of DVRPC's Strategies for Older Suburbs Roundtable Series. The roundtable will feature presentations on possible negative impacts of signs, developing better sign codes, and the ins and outs of wayfinding signage, followed by peer discussion. Pending approval from APA, this event may be eligible for up to 2 CM credits.
Friday, December 6, 2013
9:00 am – 11:30 am
Breakfast will be provided
Delaware Valley Regional Planning Commission
8th Floor | ACP Building
190 N. Independence Mall West | Philadelphia, PA 19106
Please RSVP by Wednesday, December 4 to Karen Cilurso at kpcilurso@dvrpc.org.
The agenda and speaker list may be viewed here.
Geospatial Technology and Open Source Event on December 11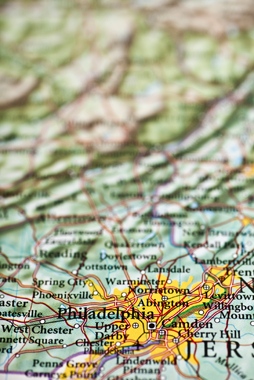 The DVRPC Information Resources Exchange Group (IREG) is hosting a full day of presentations by those actively developing and providing amazing applications, tools, and data. From web maps to data APIs, from data visualization to GitHub, and even the cloud, the event is geared so that attendees will walk away with a better understanding, skill, or interest. There will also be a CartoDB workshop from 4-5 following the presentation. This free event will run from 10:30 am to 5 pm and include lunch. Seating is limited to 75. Register at dvrpc.ticketleap.com/ireg.