DVRPC News: March 2013

Volume 34, Issue 9
March 2013
Make Your Choice, Use Your Voice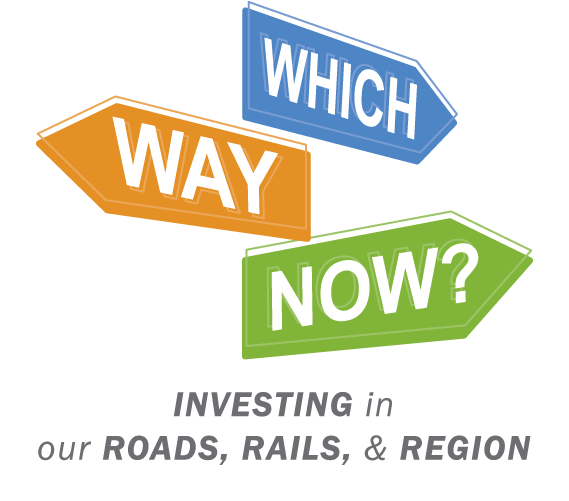 Governor Corbett's recent announcement of a new and enhanced transportation funding strategy for Pennsylvania has focused attention on the need to invest in our region's transportation infrastructure. Our transportation network is critical to everyone who lives and works here as people, goods, and services all rely on our roads and rails to move throughout the region. Yet even as we advocate for infrastructure benefits, we face a tremendous challenge in maintaining the system due to a large funding gap. By sharing your ideas on how to increase investments, you can help us find innovative ways to keep our transportation system safe, efficient, and productive, and our regional economy growing. Lend your voice at Which Way Now?. There, you can get the facts about our region's transportation network, share this story with friends and colleagues, and play the Choices & Voices game, a web application that allows users to determine future development patterns and make transportation investments.
DVRPC Now Accepting Proposals for Regional Trails Program Grants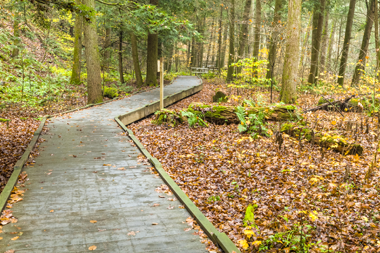 DVRPC recently opened the application period for Phase III of the Regional Trails Grant Program. The Regional Trails Program supports the completion of a high-quality, dedicated, off-road trail system for travel by bicycles and pedestrians. This vision is captured in The Circuit, a planned 750 mile region-wide network of bicycle and pedestrian trails connecting Greater Philadelphia.
Phase III grants will support design and construction of multi-use trails throughout Greater Philadelphia, with an emphasis on completion of The Circuit. A Funding Opportunity Announcement (FOA) is posted on the DVRPC website at: www.dvrpc.org/RegionalTrailsProgram. Proposals are due in-hand to DVRPC by 5pm on Friday, April 12, 2013. Electronic submissions are accepted and encouraged.
Funding for the Regional Trails program has been provided by the William Penn Foundation.
Effecting Change in the Region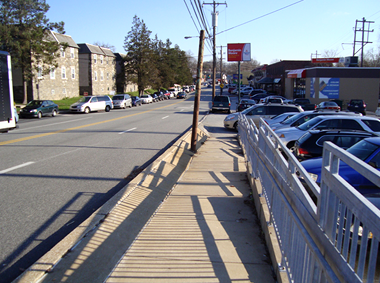 DVRPC's Office of Corridor and Transportation Studies has recently completed the Haverford Road: Commercial Corridor Analysis, a study designed to evaluate potential improvements to a portion of Haverford Road in Haverford Township, Delaware County. The study focuses on the Haverford Road commercial area between Hathaway Lane, near the Ardmore Junction Station of the Norristown High Speed Line (NHSL), and Eagle Road/Wynnewood, near the Wynnewood Road Station of the NHSL. DVRPC's work builds on recent municipal efforts to improve the township's business districts, and includes strategies to enhance the pedestrian environment, promote revitalization of commercial properties, and improve access to transit.
One of the potential projects outlined in the study is the implementation of a road diet along a stretch of Haverford Road between Ardmore Avenue and Karakung Drive, which currently consists of four travel lanes with minimal accommodations for pedestrians. This road diet would convert Haverford Road into two travel lanes, one center turning lane, and new flexible shoulder space. Roadway reconfiguration such as this is proven to be a cost effective way to better satisfy the needs of pedestrians and cyclists while maintaining an adequate level of service for motorists.
Continuing in the vein of traffic flow improvement, DVRPC is also conducting a study along Route 30 in the vicinity of Villanova University. Goals for the study include:
Improving highway congestion along US 30 during peak periods;
Identifying safe pedestrian crossing points across US 30;
Improving vehicular access to/from US 30 from intersecting roads and driveways; and
Improving safety for motorists, pedestrians, and bicyclists traveling along US 30 and adjacent roadways.
These traffic analyses are paving the way for significant safety improvements to roads and relief of vehicle congestion. It is the administration of important analyses such as these and the implementation of their recommendations that keeps our region happy, healthy, and economically competitive. DVRPC is proud to work with local and state authorities to achieve a safe and efficient transportation system.
New Design Guidelines for SEPTA Stops and Stop Access
A high-quality transit stop is one that is well connected to the neighborhood or community it serves, accommodates the needs of all transit passengers safely and comfortably, and permits efficient and cost-effective transit operations. Working with SEPTA and other planning partners, DVRPC has developed SEPTA's first comprehensive set of design guidelines for bus stops, stop areas, and the incorporation of bus stop facilities into the development review process. The purpose of these guidelines is to provide municipalities in the SEPTA service area, local developers, and other local partners with a consistent framework for designing surface transit stops. The design guidelines detailed in this document are intended to guide local comprehensive plans, land development ordinances, site or subdivision plans, and transportation/mobility plans. They are based on a review of standards and best practices applied nationally, discussions with planning partners, and survey feedback from municipalities in the SEPTA service area.
Please Click Here to download your own copy, or visit the SEPTA website (media > reports).
Upcoming Partner Events in April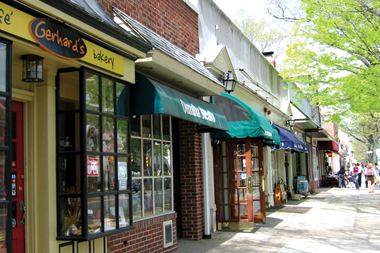 On April 5, the Delaware Valley Smart Growth Alliance is holding an event, Community Marketplace: Investing in the Delaware Valley's Downtowns. For more information, Click Here [pdf].
On Earth Day (April 22), Amtrak and the U.S. Environmental Protection Agency are partnering to host the third annual Environmental Fair. This year's fair will be held from 9:00 a.m. to 3:00 p.m. in the North Arcade Waiting Area at 30th Street Station. Come enjoy music and fun-filled environmentally friendly activities, and don't forget to visit the DVRPC table!
Planners Take Note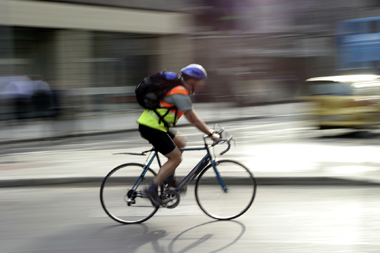 Join the Pennsylvania Chapter of the American Planning Association (APA-PA) and PennDOT on April 18, 2013, at DVRPC for a 2-CM-credit training session on PennDOT's new handbook, "Improving Connectivity and System Function through Local Planning [pdf]." This training will offer an overview of the handbook and provide guidance to municipalities on how to enhance vehicular, bicycle, and pedestrian connectivity. The presenters will discuss strategies to effectively regulate and manage a connected transportation network within a community, including a review of connectivity index calculations and model ordinance language.
Registration begins at 1:30 p.m.; the workshop is from 2 – 4 p.m. The training is free for APA-PA members and $25 for non-members. Register at www.surveymonkey.com/s/GYZ5BTS.
Join Us for the Greater Philadelphia Pedestrian and Bicycle Summit on April 30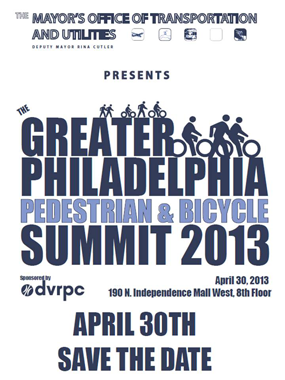 Over the past five years, Philadelphia and neighboring counties and municipalities have become increasingly supportive of residents, workers, and visitors who travel and recreate by foot and bike. Multi-million dollar investments have been made across the region to both tie together and expand our regional trail network, collectively known as the Circuit. Other advancements have been made through PennDOT construction projects, such as the Route 202 Parkway, and through county and local planning efforts, such as the Burlington County bicycle master plan, which is ongoing. To further advance efforts to provide true transportation choices, DVRPC and the Philadelphia Mayor's Office of Transportation and Utilities invite you to learn more about recent investments and emerging best practices at the Greater Philadelphia Pedestrian and Bicycle Summit.
A detailed agenda will be released in the coming weeks. The Summit will include sessions on the region's trail network, policies for protecting pedestrians, methods for expanding the bicycle network, evolving best practices and standards, and community investments in active transportation. Each topic will be discussed by multiple stakeholders representing different perspectives.
Attendance is limited and registration will be required. If you have any questions or concerns or if you would like to be placed on the Summit's email distribution list, please contact Ariel Ben-Amos, at ariel.ben-amos@phila.gov or 215.686.9001, or Cassidy Boulan, at cboulan@dvrpc.org or 215.238.2832.