DVRPC News: December 2013

Volume 35, Issue 6
December 2013
DVRPC Honors Top Regional Programs and Leaders
The region's best in transportation, environment, economic development, and land use were honored on December 12 at DVRPC's 27th Annual Board Retreat and Regional Excellence Luncheon in Mt. Laurel, New Jersey. In addition, New Jersey Governor Chris Christie was recognized as the Regional Leader of the Year for his outstanding leadership and commitment to the State of New Jersey. Each year, DVRPC applauds individuals, organizations or initiatives that have contributed to moving Greater Philadelphia toward a progressive and economically sound future.
Recipients of this year's Regional Excellence Awards include:
Regional Leader of the Year: Governor Chris Christie, New Jersey
Leah Arter, Burlington County Freeholder Deputy Director, presenting to James Simpson, Commissioner, New Jersey Department of Transportation and DVRPC Board Chair on behalf of Governor Christie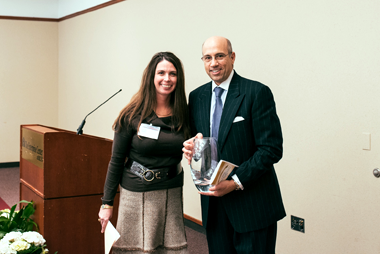 Regional Transportation Project of the Year: Pennsauken Transit Center, Pennsauken, New Jersey
Louis Cappelli, Jr., Camden County Freeholder Director and DVRPC Secretary, presenting to The Honorable Rick Taylor, Mayor, Pennsauken Township; Lou Millan, Director of Programmatic Planning, New Jersey Transit; and Nicholas Marton, Project Manager of the Pennsauken Transit Center Project, New Jersey Transit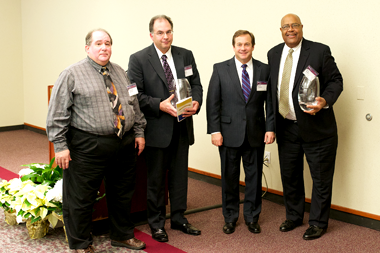 Land Use Project of the Year: Paseo Verde, Philadelphia
Rina Cutler, Deputy Mayor for Transportation and Utilities, City of Philadelphia, presenting to Nilda Ruiz, President and CEO, Asociación Puertorriqueños en Marcha (APM)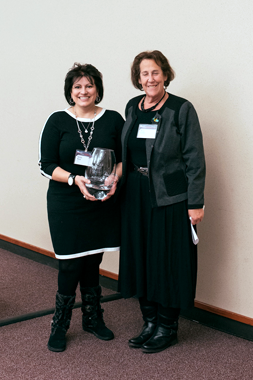 Regional Economic Development Program of the Year: Bucks County Municipal Economic Development Initiative
Leslie Richards, Vice Chair, Montgomery County Commissioners and DVRPC Board Vice-Chair, presenting to Robert G. Loughery, Chairman, Bucks County Commissioners and Diane M. Ellis-Marseglia, Bucks County Commissioner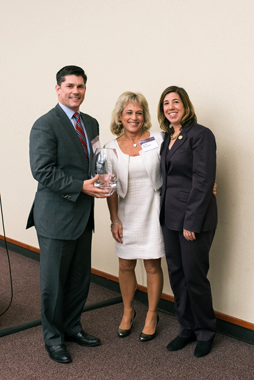 Regional Environmental Program of the Year: Cooper River Park, Camden County, New Jersey
Richard Westergaard, Planning Director, Gloucester County Planning Department, presenting to Louis Cappelli, Jr., Camden County Freeholder Director and DVRPC Board Secretary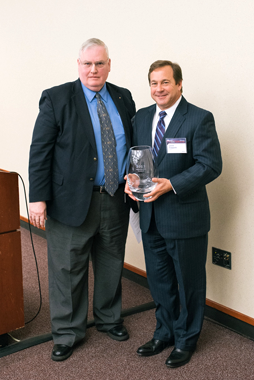 Board Retreat Explores "Changing Technology, Changing Transportation"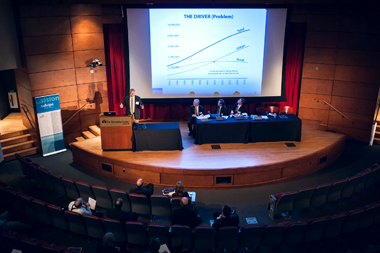 Over 140 elected and appointed officials, business leaders, and community representatives gathered on December 12 for the 27th Annual Board Retreat, held at the Enterprise Center at Burlington County Community College, in Mt. Laurel, New Jersey.
DVRPC Executive Director Barry Seymour welcomed everyone and highlighted the Commission's accomplishments over the past year before introducing the panelists. The first panel discussed changing technology in transportation. The technology experts included: Andrew Bata, Chief, Strategic Improvements and Best Practices, MTA New York City Transit; Daniel Lee, Ph.D., Engineering Professor, University of Pennsylvania; Sabrina Sussman, Vice President for Membership and Development, ITS America; and John Gartner, Associate Director, Benchmarking and Market Research, Navigant.
DVRPC Board Chair and New Jersey Department of Transportation Commissioner, James Simpson, introduced the second half of the presentations, which focused on the policy implications of changing technology, with a story of how regional thinking and cooperation are necessary in order to build a great transportation network. The policy experts included: James Hughes, Ph.D., Dean, Edward J. Bloustein School of Planning and Public Policy, Rutgers University; Deron Lovaas, Director, Federal Transportation Policy, Natural Resources Defense Council; and Tom Glendening, CEO, E3THINK.
Following the panel discussions, the Regional Excellence Awards were presented and Board business attended to. To view photos from the Board Retreat, Click Here.
Working to Make Solar Energy More Affordable to Residents and Small Businesses in Greater Philadelphia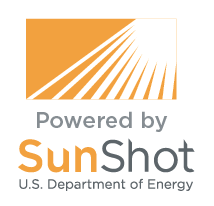 DVRPC is partnering with the Mid-America Regional Council (MARC), the National Association of Regional Councils (NARC), the Meister Consultants Group (MCG), and the Council of State Governments (CSG) in the Solar Ready II, funded by a U.S. Department of Energy SunShot Initiative Rooftop Solar Challenge II grant. DVRPC will work with municipalities in Pennsylvania and New Jersey to understand and implement solar photovoltaic (PV) best management practices that help reduce the "soft costs" of solar PV installations. Soft costs include everything but the solar PV equipment itself, and can account for a considerable portion of the installed cost of solar PV. They include compliance with municipal regulations such as permitting and inspection. Improving the process to regulate, permit, and inspect solar PV systems will help the region's residents, businesses, and municipalities save time and money in the permitting process. It will also assure a predictable permitting process that reflects community goals, and help reduce the price of solar PV installations for our region. DVRPC will leverage its existing networks and partnerships with local governments and other stakeholders to recruit municipalities, host training, and encourage the use of solar best practices. The Solar Ready II project will result in more streamlined and standardized solar practices in Greater Philadelphia, and will achieve measureable improvements in the region's solar market conditions.
For more information about DVRPC's Solar Ready II Project, please contact Liz Compitello at ecompitello@dvrpc.org or 215.238.2897.
For more information about the Rooftop Solar Challenge, visit http://www.eere.energy.gov/solarchallenge.
For more information about DVRPC's energy and climate change initiatives, visit /EnergyClimate.
Planning Partners View South Philadelphia Freight Facilities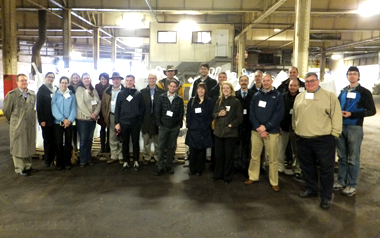 Representatives from the Philadelphia Mayor's Office of Transportation and Utilities, Philadelphia Department of Streets, Philadelphia City Planning Commission, Pennsylvania Department of Transportation, Pennsylvania Department of Environmental Protection, and DVRPC toured freight facilities.
DVRPC and its freight advisory committee, the Delaware Valley Goods Movement Task Force, hosted a tour of South Philadelphia freight facilities for the Philadelphia Mayor's Office of Transportation and Utilities and other planning partners early this month. The freight facilities of South Philadelphia are notable in their variety and magnitude and are highly dynamic: cargo levels are growing, private and public sector stakeholders are numerous, and growth pressures are exerted by competing land uses.
The tour came right as the holiday season ramped up, a time when the movement of goods is on the minds of many. Two of the facilities viewed, Pier 84 and the Packer Avenue Marine Terminal, receive ships from all over the world, including ones laden with cocoa beans that may ultimately become holiday treats. In fact, the Port of Philadelphia and Camden is recognized as a worldwide leader in the handling of US-bound cocoa beans and cocoa products, with many chocolate processing facilities located in the surrounding region.
The tour group also visited the CSX Greenwich Intermodal Yard and the UPS Ground Delivery Hub. The four facilities visited are linchpins of the region's economy, and yet comprise only one of the 45 freight centers in Greater Philadelphia. Freight, as the economy in motion, is closely associated with jobs and job creation. DVRPC works with its planning partners to balance freight operations with community goals so that our local economy is strengthened.
As the movement of freight continues to receive added consideration under federal legislation, it is important for local leaders and planners to have an understanding of modern logistics practices and intermodal freight operations. Many city planners do not have the opportunity to see port terminals, intermodal rail yards, and truck terminals up close or to hear directly from logistics experts about day-to-day operations, so the expert narration of facility owners and operators at each site made for a tremendous educational experience.
Transportation for the tour was generously provided by the Philadelphia Regional Port Authority and narration by its Senior Marketing Representative, Dominic O'Brien.
Administering Zoning Codes APA Webinar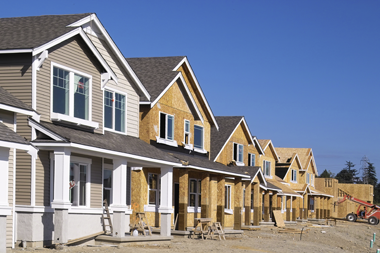 Congratulations! Your community has adopted a new zoning code. Now you have to figure out how to administer it. In this program, veteran planning managers will discuss common implementation challenges that accompany major zoning reform efforts. How do you provide enough flexibility to accommodate creative development without undermining the new code's vision and intent? Hear about implementing form-based codes, hybrids, and other contemporary zoning tools aimed at fixing the ills of conventional Euclidean zoning. Explore the vital role of zoning in local plan implementation and gain practical insight into administrative issues.
The webinar will be shown at Greater Valley Forge TMA on Wednesday, January 15, 2014 at 3:30 PM. Register at dvrpc.ticketleap.com/administering-zoning-codes.