DVRPC News: May 2012

Volume 33, Issue 11
May 2012
3,400 New Trees to be Planted in Five Communities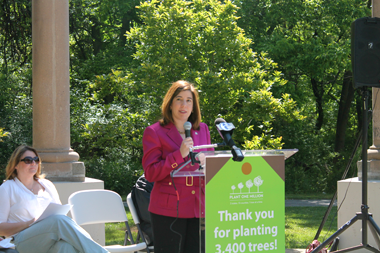 Montgomery County Commissioner and DVRPC Board Member Leslie Richards addresses the crowd in Norristown on April 30.
Just in time for spring, five communities will receive 3,400 new trees, thanks to the Pennsylvania Horticultural Society (PHS) and the Delaware Valley Regional Planning Commission (DVRPC). Towns receiving the trees are: the City of Chester and Millbourne Borough in Delaware County; Norristown in Montgomery County; and New Hope Borough and Warminster Township in Bucks County.
The trees are funded by a grant from PennVest, an independent agency of the Commonwealth of Pennsylvania which provides funding for drinking water programs, storm water management, brownfield assessments, and more. PennVest awarded the grant to DVRPC to work in partnership with PHS to plant the trees.
The planting areas include streetscapes, parks, schools, and other public properties such as municipal halls and libraries. In addition to providing shade and energy savings, improving air quality, and revitalizing neighborhoods, the trees will also help manage storm water runoff and reduce combined sewer overflows, protect streambanks, and improve water quality.
A ribbon-cutting was held in each community, where local officials and stakeholders celebrated the tree plantings.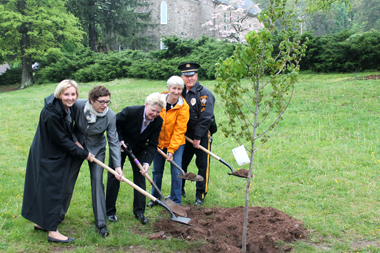 Lynn Bush, Executive Director of the Bucks County Planning Commission and DVRPC Board Member; Nancy O'Donnell, PHS Program Director; Claire Shaw, New Hope Borough Councilwoman; Geri Delevich of the New Hope Borough Shade Tree Commission; and Officer Frank DeLuca plant a tree in New Hope on May 1.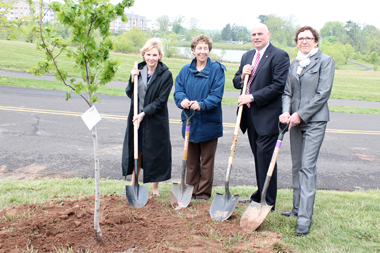 Lynn Bush, Executive Director of the Bucks County Planning Commission and DVRPC Board Member; Karen Whitney, Township of Warminster Director of Parks and Recreation; Mark McKee of the Township of Warminster Board of Supervisors; and Nancy O'Donnell, PHS Program Director, plant a tree at the Warminster ribbon-cutting on May 1.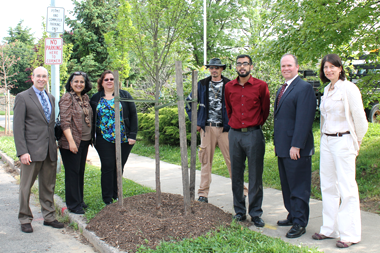 Barry Seymour, DVRPC Executive Director; Maitreyi Roy, PHS Vice President for Programs; Tina Mason, Millbourne Borough Manager; Joe Ferraro, Millbourne Streets Crewmember and TreeTender; Justin Skariah of Millbourne Borough Council; John McBlain, Delaware County Councilman and DVRPC Board Member; and Patty Elkis, DVRPC Associate Director of Comprehensive Planning, at the May 7 event in Millbourne.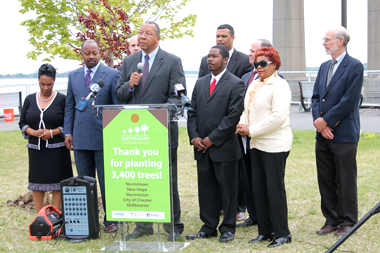 Mayor John Linder, City of Chester, addresses the audience at the May 7 ribbon-cutting at PPL Park on the Chester waterfront.
Last Chance to Comment on Draft PA TIP, Proposed Long-Range Plan Amendment, and Conformity Finding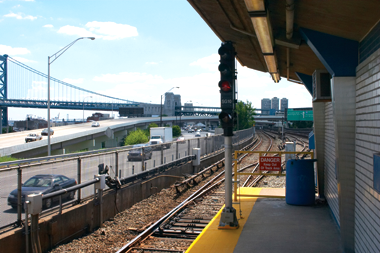 DVRPC is seeking comments on the Draft DVRPC FY2013-2016 TIP for Pennsylvania, a proposed Connections Long-Range Plan Amendment, and the Draft Transportation Conformity Finding. The comment period for the TIP and Plan Amendment will end at 5:00 p.m. on June 1, and it will end for the Draft Transportation Conformity Finding at 5:00 p.m. on June 5.
The TIP is the regionally agreed-upon list of priority transportation projects, as required by federal law. The Connections Plan is the region's 25-year vision for prioritizing transportation investments in the region and the proposed Plan amendment is the result of a request from New Jersey Transit to include the South Jersey BRT system project, which runs along portions of Route 42/55/I-676, in the fiscally constrained set of projects that are part of the Plan. Transportation conformity is the process that ensures that plans and programs receiving federal aid are consistent with the region's air quality goals.
The public comment period will also serve as an opportunity to comment on the Pennsylvania Department of Transportation (PennDOT) Statewide Transportation Improvement Program, available online here.
For information on how to submit comments by mail or online, visit www.dvrpc.org/GetInvolved/PublicNotices/2012-05_TIP.htm.
DVRPC Awards Over $7.8 Million to Human Services Transportation Programs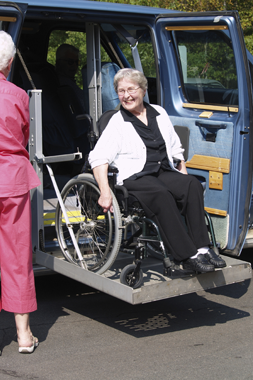 To help provide access to jobs for low-income workers and reverse commuters, DVRPC has approved over $6.2 million in funding for the Job Access and Reverse Commute (JARC) and over $1.6 million for the New Freedom Initiative (NFI) programs in southeastern Pennsylvania.
The JARC program is intended to help fund transportation services and supportive activities that facilitate access to jobs for welfare recipients, lower income persons, and reverse commuters. It supplements the region's public transportation system, such as expanding early morning and evening services and providing shuttles connecting transit stations to employment sites. The FY13 JARC program, which is allocated by a federal formula, provides $2,151,704 of FTA funds. PennDOT also provides $3,700,000 in matching funds. Additionally, FY12 leftover funds in the amount of $371,785 are also added for a total southeastern Pennsylvania JARC program of $6,223,489. These resources will fund the 28 recommended Pennsylvania JARC projects through Fiscal Year 2013.
The New Freedom Initiative program funds additional tools for disabled individuals seeking integration in the workforce and society. Typically, this is infrastructure beyond ADA requirements or travel training. The FY13 New Freedom program, which is allocated by federal formula, provides $1,322,290 of FTA funds. PennDOT is providing matching funds of $319,323 for a total southeastern Pennsylvania NFI program of $1,641,613. These resources will fund five recommended projects.
As the region's designated metropolitan planning organization, DVRPC has prepared a Coordinated Human Services Transportation Plan (CHSTP), with regional demographic information, policies, and program priorities. The DVRPC Board approves regional project applicants for funding, based on the CHSTP Selection Committee's list of recommendations, which evaluates the consistency of proposed projects with the adopted regional CHSTP and the statewide PennDOT application objectives. Recommended projects are added to the regional Transportation Improvement Program (TIP), pending grant approvals.
For more information about CHSTP, visit www.dvrpc.org/CoordinatedHumanServices.
Classic Towns Photo Contest a Success; Winners to be Announced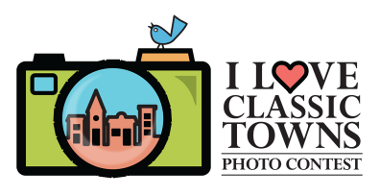 The "I Love Classic Towns" photo contest has been a resounding success. Since the contest began in February, over 1,200 submissions were received and over 8,000 votes were cast.
Both amateur and professional photographers were invited to submit images from the 20 Classic Towns. The winning photographs will be selected by a panel of judges and up to $1500 in cash prizes will be available. The photographs will become part of a traveling exhibit touring the Classic Towns.
Stay tuned for the announcement of the winners this summer. For more information about the Classic Towns program and the contest, visit www.classictowns.org.
"Help Keep Darby Borough on the Move" at Open House and Transportation Expo on June 6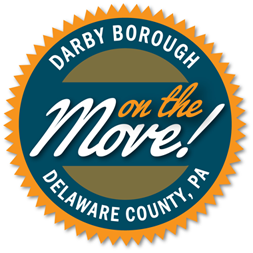 On Wednesday, June 6, DVRPC, Darby Borough, and the Delaware County Planning Department will be hosting a Darby Borough Open House and Transportation Expo. Residents and stakeholders will have an opportunity to meet passenger and freight transportation experts and provide input on improving safety at the Main Street and 5th Street highway-railroad grade crossings.
The event will be held 5:00 to 7:30 p.m. at the Darby Borough Recreation Center at 1020 Ridge Avenue. There will be free refreshments and giveaways.
Exhibitors will include SEPTA, PennDOT, CSX, UPS, AAA-Mid-Atlantic, Community Transit, Delaware County TMA, Amtrak, Bicycle Coalition of Greater Philadelphia, Philadelphia Regional Port Authority, Safe Routes to Schools, and Operation Lifesafer.
For more information, contact Ted Dahlburg, Manager, Office of Freight and Aviation Planning, at 215-238-2844 or tdahlburg@dvrpc.org.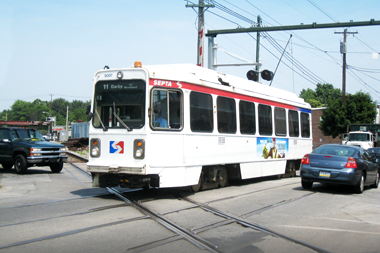 Learn How to Reduce Energy Costs in Your Municipality on June 13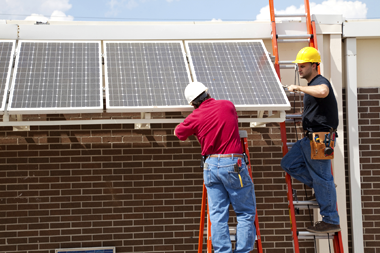 DVRPC's Circuit Rider program is continuing its 2012 seminar series on reducing energy costs in municipal operations with a June 13 event on "Energy Management Best Practices." It will be held from 9:00 to 11:00 a.m. at the Lower Merion Township Administration Building in Ardmore, PA. The seminar will highlight ways municipalities can achieve significant energy cost savings through simple low- or no-cost improvements to their buildings and facilities. Municipalities attending the free seminar will receive tips for tracking energy use, implementing operations and maintenance improvements, and tracking progress over time.
The seminar series is just one aspect of the Regional Circuit Rider for Energy Efficiency in Local Government Operations (Circuit Rider) program. The program provides training and direct assistance to municipalities in Bucks, Chester, Delaware, and Montgomery counties to develop and implement strategies to reduce energy use—and thus reduce the associated greenhouse gas emissions.
To register for the June 13 event, click here.
For more information about the Circuit Rider program, click here.