DVRPC News: August 2012

Volume 34, Issue 2
August 2012
DVRPC Launches Household Travel Survey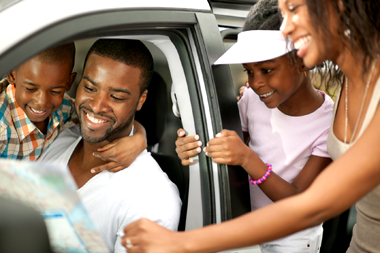 DVRPC is sponsoring a year-long region-wide travel survey to prepare for the future transportation needs of the Greater Philadelphia region. The Household Travel Survey (HTS) will collect data about the daily travel behaviors of residents in southern New Jersey and southeastern Pennsylvania to determine how to improve roads, reduce traffic congestion, enhance walking and bicycle paths, and upgrade public transportation.
Participation is voluntary and will involve 10,000 randomly selected households in the DVRPC region. Each household member will be asked to use a diary to record how, when, and where they travel for a single day during the year. A subsample of 500 households will also be provided with a GPS device to carry on their day of travel. DVRPC will utilize the survey data to better understand the region's travel characteristics and inform future transportation projects.
The research firm Abt SRBI will be conducting the survey, beginning with a pilot program this summer. The main survey will take place from September 2012 to September 2013.
To learn more about the Household Travel Survey, visit www.dvrpc.org/travelsurvey.
Community Investment Index Helps Planners Target Projects with Greatest Impact
DVRPC is proud to announce the launch of the Community Investment Index (CI2), a new tool aimed at helping planning partners and project sponsors understand how new project proposals can support—and be supported by—prior investments across a range of disciplines. The Community Investment Index accomplishes this goal by mapping the concentration of recent (2000 through 2010) place-based investments and on-the-ground features that contribute to sustainable communities across southeastern Pennsylvania.
DVRPC comprehensively mapped nearly 100 types of place-based investments, developed composite scoring "heat map" datasets for seven topic areas, and used this information to create the Community Investment Index: an interactive scoring map encompassing concentrations across all topic areas.
Successful applications for federal funding sources increasingly require applicants to demonstrate their ability to leverage the requested funding by building on other local planning or investments. By linking planning and grantmaking with CI2, DVRPC and its planning partners will be able to target projects that will be most competitive for funding and have the greatest local-area impact.
The Community Investment Index can be used in a variety of ways: a high score can be used to make the case for making new investments in the same locations as prior investments (since in the best case, groups of investments can combine to have a greater impact than they do individually). However, a lower score could also be used to make a case for historical underinvestment in a given location.
To learn more about the Community Investment Index and use the interactive map, visit: www.dvrpc.org/CI2.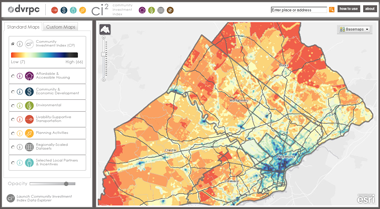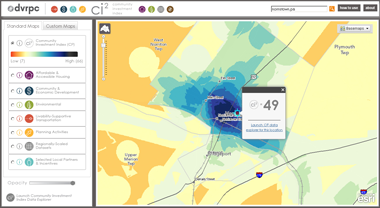 DVRPC Announces Winners of "I Love Classic Towns" Photo Contest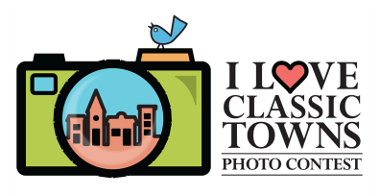 On August 15, DVRPC announced the winners of its first ever "I Love Classic Towns" Photo Contest and opened its gallery show with an awards ceremony and celebration at the Ambler Theater in Ambler, PA. The contest, which launched earlier this year, received over 1200 submissions from amateur and professional photographers from around the Delaware Valley.
Entrants submitted photos for consideration in seven categories, including: community, local history, main street, parks and recreation, people, residential, and seasonal. Additionally, a Best in Show prize and Voters' Choice prize were also awarded. The winners are:
Community – Mike Tribulas, of Collingswood, NJ;
Local History – Margaret Westfield, of Haddon Heights, NJ;
Main Street – Maureen Schoenberger, of Cinnaminson, NJ;
People – Billy Ronayne, of West Chester, PA;
Parks and Recreation – Anita Behrman, of Ambler, PA;
Residential – Valerie Sassaman, of Bordentown City, NJ; and
Seasonal – Allison Wolf, of Ambler, PA.
The Best in Show prize went to Schoenberger for her photograph of Haddon Avenue in Collingswood during the holiday season. The Voters' Choice prize went to Linda Hollinger, of Philadelphia, for her photograph of cyclists in Manayunk.
To view the winning photographs, visit contest.classictowns.org/winners.
The contest is part of DVRPC's innovative Classic Towns of Greater Philadelphia program and was designed to engage the community in showcasing the region's unique neighborhoods in both the city and suburbs. The photography exhibition will travel to other Classic Towns in the coming months. Check www.classictowns.org for the dates and locations.
Seminar to Focus on Saving Energy in Outdoor Lighting
DVRPC's Circuit Rider program continues its 2012 seminar series on reducing energy costs in municipal operations with a September event, "Strategies to Save Money and Energy in Street Lighting." DVRPC and PECO invite all interested municipalities to a roundtable discussion on strategies to reduce energy use and costs in their street lighting systems. This roundtable will provide an overview and discussion of PECO's current street lighting rate tariff, and will explain how municipalities can participate in the ratemaking process. In addition, the seminar will present examples of how municipalities in the region have saved street lighting energy costs within the PECO street lighting tariff structure.
The seminar will take place from 8 to 10 a.m. on Wednesday, September 19th at the Presidential Caterers in East Norriton, PA. A complimentary breakfast will be available starting at 7:30 a.m.
For more information and to register, visit:
www.dvrpc.org/EnergyClimate/CircuitRider/seminar.htm
To learn more about the Circuit Rider program, visit www.dvrpc.org/EnergyClimate/CircuitRider, or contact Liz Compitello at 215-238-2897 or ecompitello@dvrpc.org.
DVRPC Updates Plan to Improve Transportation Safety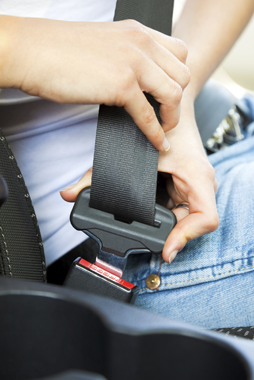 Everyone can help reduce crash fatalities and injuries by taking commonsense steps, such as always wearing a seatbelt, but there is now a plan available that recommends more specific strategies and actions. There are seven safety emphasis areas that contribute to 95% of crash fatalities in the Delaware Valley (aggressive driving contributes to most of those fatalities). The strategies outlined in the plan address each of those emphasis areas.
The 2012 Transportation Safety Action Plan was developed through analysis, coordination with PennDOT and NJDOT, and with guidance from the Regional Safety Task Force (RSTF).
The 2012 update is the third edition of the Safety Action Plan. It puts more emphasis on actions that agencies and organizations can take in the Delaware Valley. Progress on specific actions will be reported on at each RSTF meeting. This is part of a move by the RSTF to have more impact in the region.
The number and severity of crashes can be reduced, and everyone can take a role to reduce the heartbreak, cost, and traffic congestion caused by crashes. For more information, visit www.dvrpc.org/Transportation/Safety.
Join Us for Park(ing) Day on Friday, September 21

On September 21, a number of businesses, nonprofits, designers, and citizens will transform parking spaces around Philadelphia into temporary public parks. To celebrate five years of Park(ing) Day in Philadelphia, help us reach our goal of 50 parks.
Park(ing) Day re-imagines the possibilities of 170 square feet of public space. The event celebrates parks and other public spaces in cities across the country, and raises awareness of the need for more pedestrian-friendly spaces in our urban areas.
We hope that you'll join us by hosting a park this year. To view a google map of all participants and their locations, click here.
To learn more and sign up for a spot, visit www.parkingdayphila.org.