DVRPC News: March 2011

Volume 32, Issue 5
March 2011
DVRPC to Hold Listening Sessions Across the Region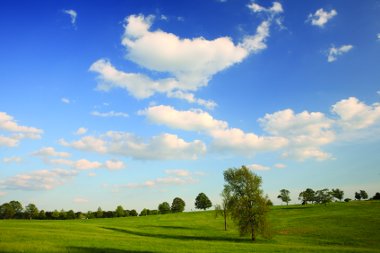 DVRPC invites you to attend a listening session on the economic value of open space on Tuesday, March 29, 2011, at 6:00 p.m. at the Franklin Commons Conference Room in Phoenixville, PA. Dinner and networking will begin at 6:00 p.m., followed by a presentation at 7:00 p.m.
This meeting is part of a series of listening sessions held around the region. The goal is to inform residents about DVRPC programs and public participation activities, such as membership on the Regional Citizens Committee (RCC). These meetings will provide an opportunity for a continuing dialogue between the public and the Commission regarding the most important issues facing the region. Another public meeting will be held in New Jersey sometime this spring.
If you are interested in attending this or future meetings, or have questions, please contact Jane Meconi, Public Involvement Manager, at 215-592-1800 or public_affairs@dvrpc.org.
Trade In Your Old Lawn Mower on May 7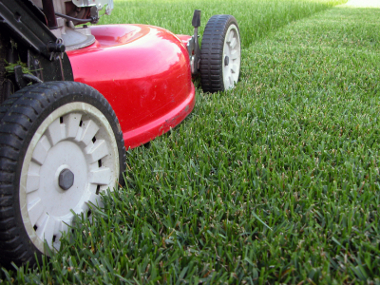 Residents in southeastern Pennsylvania will have an opportunity to get rid of their old, gasoline-powered lawn mowers and purchase environmentally friendly, discounted electric or battery-powered mowers at an event on Saturday, May 7 in Springfield Township, Montgomery County.
Hosted by the Air Quality Partnership (AQP), the event will run from 10:00 a.m. to 2:00 p.m. in the Springfield Township High School parking lot at 1801 East Paper Mill Road, Erdenheim, PA.
Interested residents are required to pre-register at www.airqualitypartnership.org. The first 140 registrants will receive a $50 voucher toward a new, electric or battery-powered lawn mower. Black and Decker will be on-site, giving up to an additional 30% off to those who purchase a mower at the event. Participants must trade-in an old mower in order to receive the voucher and discount. Registration will close at 250 participants.
The AQP is partnering with Sustainable Waste Solutions to haul away the old mowers. All mowers must be drained of fluids before drop-off. A list of county hazardous waste days can be found at www.airqualitypartnership.org.
AQP is a DVRPC program that educates residents about the dangerous effects of ground-level ozone, and provides air quality forecasts to the public. Gas-powered lawn mowers are a major contributor to ground-level ozone, and purchasing an electric mower is just one way the public can help the environment. To sign-up for air quality forecasts and alerts, and for tips on how to reduce air pollution, visit the newly redesigned website, www.airqualitypartnership.org.
2010 Census Data Now Available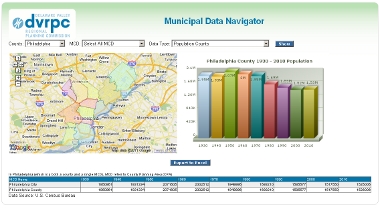 DVRPC has added the recently released 2010 Census Population Data by municipality to our Data Navigator. To see how a county or municipality's population has changed over the years (since 1930), visit our website and select 'Data Type: Population Counts' in the application. Data is downloadable to a spreadsheet.
Additional data will be added to the Data Navigator and the Census Data Profile Web Map application as it becomes available.
Linking Planning and NEPA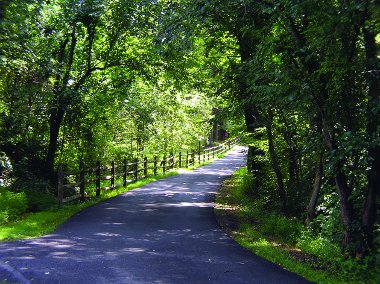 DVRPC is working with the Pennsylvania Department of Transportation on an initiative to better connect environmental considerations to transportation planning, whether it be for long-range planning or specific corridor projects. The statewide effort between PennDOT and its Metropolitan and Rural Planning Partners, known as Linking Planning and NEPA (the National Environmental Policy Act), encourages greater information sharing among agencies in order to streamline the project development process and produce more effective transportation projects.
At the cornerstone of the program is new web-based software that makes information available to all planners and engineers, assuring that everyone has access to the same information during the project screening and development process. The software draws information from state transportation databases about the facility in question, including traffic, condition, and crashes. It also examines state and national data about cultural, historical, and environmental resources (such as wetlands, streams, parks, and stormwater management zones) that are in close proximity to the facility. The software allows planners to input their local knowledge. Consideration of these potential resource impacts early in the process allows planners to better determine a project's value to the region and its potential timing and costs. It also engages resource agencies and engineers earlier in the planning process.
Planners will use the new software in the development of the next Transportation Improvement Program (TIP) for Pennsylvania. A number of meetings, workshops, and other outreach efforts will assist planning staff this spring. Linking Planning and NEPA (LPN) will ensure a more efficient and informed programming and project delivery process.
Implementing Connections: The Benefits for Greater Philadelphia Now Available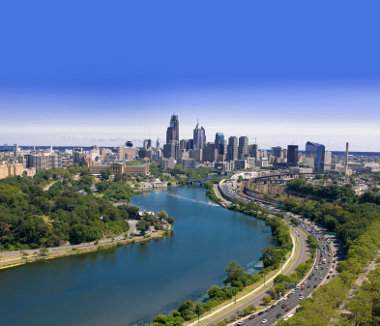 DVRPC has released a new report outlining the benefits of the Connections Long-Range Plan and what its policies will mean for the region over the next 25 years.
The key strategies outlined in the Connections plan can provide the following benefits:
The plan calls for protecting an additional 500,000 acres of land, and ensuring that priority lands remain undeveloped. Managing growth and protecting these resources will benefit air and water quality, reduce flooding, and provide agricultural, aesthetic, recreational, and economic value.
Focusing the region's future population and employment growth around the region's 100+ development centers can increase options for housing, commercial space, and transportation. It can reduce the cost of supportive infrastructure by more than $14,000 per new housing unit compared to the trend.
The Plan advocates for compact, mixed-use development helping to build an energy-efficient economy and reduce the region's future CO2 emissions. However, the policies in the Plan alone will not be sufficient to achieve the goal of reducing emissions by 50 percent by 2035. Fulfilling this vision will require substantial political leadership and incentives to provide services with less energy, and generate energy with less CO2.
The development patterns recommended by Connections will likely lead to more people using environmentally-friendly modes of transportation in 2035, including walking, biking, and taking transit trips, with less driving compared to the trend. This will provide health benefits to region's residents, reduce energy use and greenhouse gas emissions, reduce congestion and delay, and increase the region's economic competitiveness.
The Plan calls for the creation of an annual $100 million funding source for regional transportation projects. This additional funding could significantly reduce the backlog of transportation infrastructure needs. It could help reduce lane miles and bridges in poor condition; lead to more timely replacement the region's transit vehicle stock; provide new bicycle and pedestrian facilities; and fund investments in roadway safety, as well as operational and ITS improvements. Though this funding will not be able to achieve the region's goal of achieving and maintaining a state of good repair for all transportation infrastructure, this investment will provide a 4:1 benefit to cost ratio, returning more than $17 billion in direct benefits to the region's transportation system users.
For more information on DVRPC's long-range planning efforts and to view the full report online, click here.
Student Forum Explores Career Development, Public Health, and Planning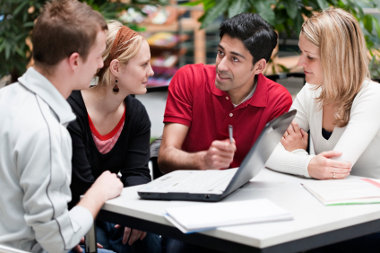 This month, DVRPC hosted the first Regional Student Forum meeting of the spring 2011 semester, and is looking forward to another two meetings before the summer. The Forum, which welcomes students from universities and colleges in the region, is the first to bring students from Pennsylvania and New Jersey together to discuss planning issues and innovations on a regional scale.
On March 25, the Regional Student Forum will meet with a focus on career development in urban planning with a guest speaker from the Rutgers University Edward J. Bloustein School of Planning and Public Policy Professional Development Institute. The Forum will meet again on April 15th to discuss public health and regional planning with Clint Randall, the Healthy Communities Coordinator for the City of Philadelphia. Both meetings will be held at 3:00 p.m. in DVRPC's Conference Center.
To RSVP for an upcoming meeting or to sign up for the Regional Student Forum mailing list, please contact Jane Meconi, Public Involvement Manager, at 215-592-1800 or public_affairs@dvrpc.org. For continuously updated news of interest to student planners in the region, visit regionalstudentforum.blogspot.com.