DVRPC News: January 2011
Volume 32, Issue 3
January 2011
DVRPC Launches New Census Web Map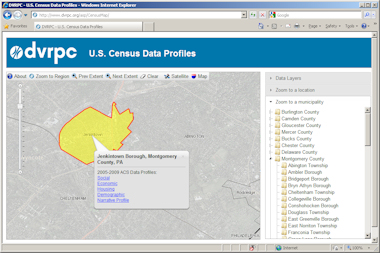 To allow users to quickly access Census Data Profiles, including the recently released municipal-level American Community Survey (ACS) profiles, DVRPC has created its new Census Data Profile Webmap.
The ACS is a nationwide survey conducted by the U.S. Census Bureau designed to provide communities a fresh look at how they are changing. The ACS collects information such as age, race, income, commute time to work, home value, veteran status, and other important data. ACS data profiles provide demographic information (race, ethnicity, and total housing units) as well as social characteristics (relationships, languages spoken at home, and marital, educational, and disability status); economics (income, employment, occupation, and commute to work); and housing characteristics (occupancy, tenure, year built, and housing value and cost). This information is based on a sample collected over the most recent five years and is not based on the 2010 decennial Census.
For further information, please contact Mary Bell, DVRPC's Manager of Demographic and Economic Analysis, at mbell@dvrpc.org.
Planners Discuss Historic Preservation as an Economic Development Tool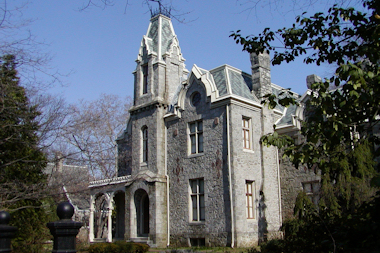 On January 19, DVRPC staff, regional planners, and historians attended a workshop to learn about historic preservation as an economic and community development tool. This one-day workshop was moderated by Donna Ann Harris of Heritage Consulting, Inc; and included presentations from guest speakers Michel Lefevre and Andrea MacDonald from the Pennsylvania Historical and Museum Commission (PHMC); John Andrew Gallery from the Preservation Alliance of Philadelphia; Betty Turner of Germantown Community Connection; Ron Emrich of Preservation New Jersey; and David Young, Executive Director of Cliveden of the National Historic Trust.
Following the morning workshop, participants enjoyed a bus tour of historic Germantown. The event was "a great way for decision-makers to discuss their current historic preservation tactics and learn from each other," said Barry Seymour, DVRPC Executive Director. For more information on DVRPC's Strategies for Older Suburbs Program and future events, visit www.classictowns.org.
DVRPC Staff Mentor Planning Students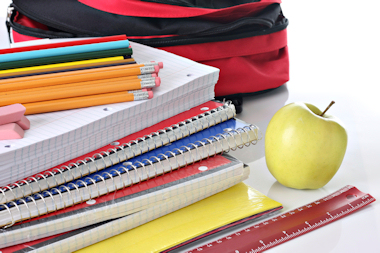 DVRPC's Regional Student Forum provides an opportunity for planning, urban studies, and engineering students to meet and apply their planning skills to benefit the region in which they live and work. It also engages a new audience in the regional planning process.
This year, DVRPC is hosting a program that allows DVRPC staff to mentor individual students. Students connect with their DVRPC mentors by attending events and meetings throughout the spring 2011 semester. "About a dozen staff members are participating in this new program and we are excited to help students learn and experience regional planning first-hand," says Jane Meconi, DVRPC Public Involvement Manager. "We hope that the program will grow, engaging more staff and students in the years to come."
For more information regarding the Regional Student Forum, visit regionalstudentforum.blogspot.com or contact Jane Meconi at 215-592-1800 or public_affairs@dvrpc.org.
DVRPC Helps Residents Realize Their Commuting Options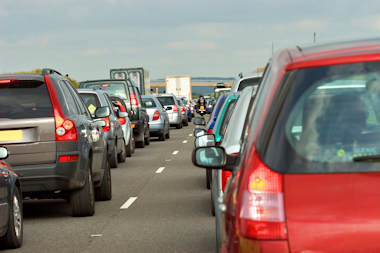 In an effort to cut down on single-occupant vehicle (SOV) mileage in our region, DVRPC educates employers and commuters about their travel options through the Mobility Alternatives Program (MAP). Working with the Transportation Management Associations (TMAs) in the four Pennsylvania suburban counties, and the Clean Air Council in Philadelphia, DVRPC coordinates the Share-A-Ride program as part of MAP.
Share-A-Ride links interested commuters with similar home and work locations so that they can form car and vanpools. Interested commuters who work in southeastern Pennsylvania can sign up for the program at www.pacarpool.org. Any matches generated are sent to the commuter by the relevant TMA. Commuters are responsible for contacting one another and making their own arrangements for sharing their commute. Share-A-Ride is "transit first," meaning if a reasonable transit option is available it will be presented to the commuter before any carpool matches. For more information about MAP or Share-A-Ride, please contact Sarah Oaks at soaks@dvrpc.org.
Free Classes Available on Safety and Public Works Best Practices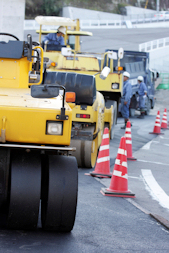 Tuition-free safety and public works training is available to municipal employees through PennDOT's Local Technical Assistance Program (LTAP). DVRPC staff works with PennDOT and the Pennsylvania State Association of Township Supervisors (PSATS) to offer the workshops. Last year, more than 200 people registered for classes in Bucks, Montgomery, and Chester counties. Classes have also been held in Delaware County; Philadelphia County arranges LTAP courses directly with PennDOT.
In addition to classes, PennDOT maintains a library of reference materials on numerous public works issues, and one-on-one instructor-to-municipality assistance is available for specific issues. Classes are open to any employee of a Pennsylvania municipality. For a listing of classes, visit www.LTAP.state.pa.us. If you are a municipal officer, manager, or senior staff supervisor and would like to schedule a class, or for more information about the program, please contact Sarah Oaks at 215-238-2856 or soaks@dvrpc.org.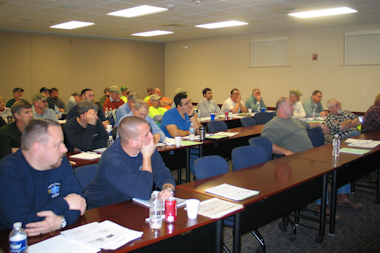 Regional Citizens Committee Elects Chair for 2011
Aissia Richardson of Philadelphia has been unanimously re-elected as Chair of the Delaware Valley Regional Planning Commission's (DVRPC) Regional Citizens Committee (RCC) for calendar year 2011. As Vice President of Operations at the Uptown Entertainment and Development Corporation, Ms. Richardson is responsible for creating and implementing the organization's Fund Development Plan. In addition, Ms. Richardson is highly active in her community and has been the President of the African American United Fund since 2006.
The RCC is the primary forum for Delaware Valley residents and interested stakeholders to participate in the regional planning and decision-making process. To get involved, visit www.dvrpc.org or contact Jane Meconi at 215-592-1800 or public_affairs@dvrpc.org.