DVRPC News: February 2011

Volume 32, Issue 4
February 2011
DVRPC Unveils Regional Food System Plan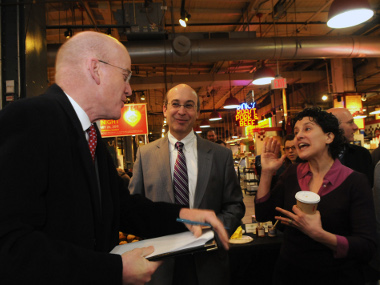 On February 10th, DVRPC unveiled "Eating Here: Greater Philadelphia's Food System Plan" and announced $500,000 in implementation grants at an event at Reading Terminal Market. Attendees included over 100 regional policy makers, farmers, preservation experts, hunger advocates, and small business owners. The Plan is the result of a two-year collaborative effort to provide recommendations to increase the security and economic, social, and environmental benefits of the regional food system.
DVRPC also announced $500,000 in grants, made possible with funding from the William Penn Foundation. DVRPC Board Chair and Montgomery County Commissioner Joe Hoeffel presented "Plate of Distinction" Awards to seven local organizations already working to achieve the recommendations laid out in the plan. These organizations are: The Common Market, Fair Food, Greensgrow Farms, Metropolitan Area Neighborhood Nutrition Alliance (MANNA), Pennsylvania Association for Sustainable Agriculture (PASA), SHARE Food Programs, and Weavers Way Community Programs.
For a copy of the complete plan and for more information about DVRPC's work on regional food system planning, visit www.dvrpc.org/food.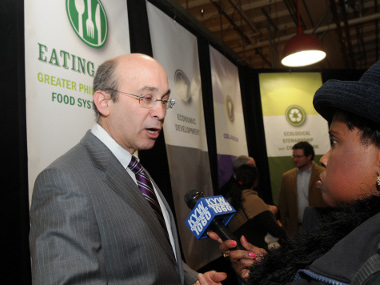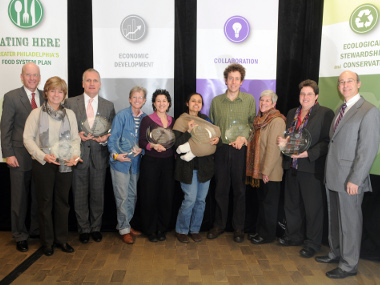 Commission Recommends Safety and Operations Improvements for I-95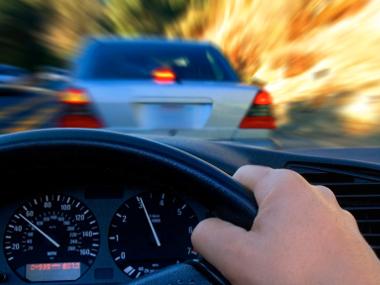 Last June, DVRPC's transportation operations and safety units conducted a Road Safety and Operations Audit (RSOA) on a 10-mile stretch of I-95 in Delaware County. This corridor, which experienced over 1000 crashes from 2007-2009 (40% of which were rear-end collisions), also contained four road segments listed on PennDOT's high-crash location inventory making it an ideal candidate to audit.
The audit team identified specific recommendations to address safety and help optimize travel conditions. A number of low-cost improvements have already been implemented by PennDOT including: replacement of milepost markers to help emergency responders verify incident locations, clearer pavement markings near I-476 to help address merging issues, replacement of multiple exit signs, removal of vegetation that was blocking signs, and re-striping of select ramps. In addition, Intelligent Transportation Systems (ITS) equipment (including closed-circuit TV cameras, dynamic message signs, and traveler information detectors) is being installed throughout the corridor as part of a separate project.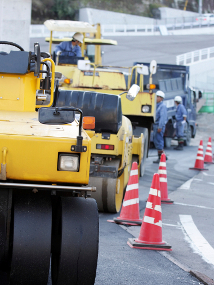 It was the first time an RSOA was conducted on an interstate, and it brought together partner organizations including FHWA, PennDOT, Delaware County, Pennsylvania State Police and local police, and local fire departments. The next RSOA is scheduled for spring-summer 2011, and will focus on I-95 in Bucks County. For more information, contact Kevin Murphy at 215-238-2864 or kmurphy@dvrpc.org.
Student Forum to Explore Career Development, Public Health, and Planning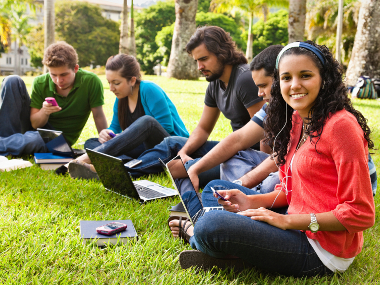 This spring, DVRPC is hosting several events for local planning students, including a mentoring session, a career workshop, and a panel discussion with a local planner. The Forum, which welcomes students from universities and colleges in the region, is the first to bring students from Pennsylvania and New Jersey together to discuss planning issues and innovations on a regional scale.
On March 2nd, students participating in DVRPC's student mentoring program will be meeting at the Philadelphia Center for Architecture to discuss career development. Students will have the opportunity to network with their mentors, learn more about DVRPC, discuss their own post-graduate opportunities, and see the Center's current exhibit: "Green, Urban, Glocal: Work by Philadelphia Architecture & Design Schools."
On March 25, the Regional Student Forum will meet with a focus on career development in urban planning with a guest speaker from the Rutgers University Edward J. Bloustein School of Planning and Public Policy Professional Development Institute. The Forum will meet again on April 15 to discuss public health and regional planning with Clint Randall, the Healthy Communities Coordinator for the City of Philadelphia. Both meetings will be held at 3:00 p.m. in DVRPC's Conference Center.
To RSVP for an upcoming meeting or to sign up for the Regional Student Forum mailing list, please contact Jane Meconi, Public Involvement Manager, at 215-592-1800 or public_affairs@dvrpc.org. For continuously updated news of interest to student planners in the region, visit www.regionalstudentforum.blogspot.com.
DVRPC to Hold Listening Session on the Economic Value of Open Space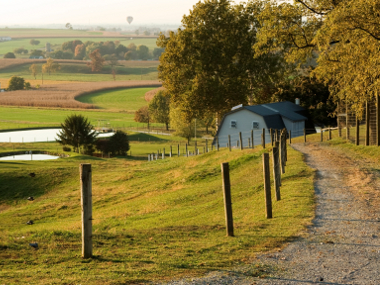 DVRPC invites you to attend a listening session on the economic value of open space on Tuesday, March 29, 2011, at 6:00 p.m. at the Franklin Commons Conference Room in Phoenixville, PA. Dinner and networking will begin at 6:00 p.m., followed by a presentation at 7:00 p.m.
This meeting is part of a series of listening sessions held around the region. The goal is to inform residents about DVRPC programs and public participation activities, such as membership on the Regional Citizens Committee (RCC). These meetings will provide an opportunity for a continuing dialogue between the public and the Commission regarding the most important issues facing the region. If you are interested in attending this meeting or have questions, please contact Jane Meconi, Public Involvement Manager, at 215-592-1800 or public_affairs@dvrpc.org.