DVRPC News: August 2011

Volume 33, Issue 2
August 2011
Public Comment Feature for DVRPC Board Action Items Now Online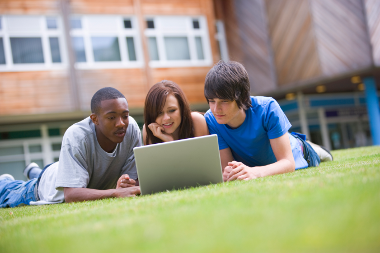 Delaware Valley residents who are interested in reviewing and commenting on action items that go before the DVRPC Board will now be able to do so online. By visiting the Board Meeting date announcement on the DVRPC Calendar (/asp/cal/), and clicking on the "More Info" link, members of the public can read background information regarding monthly Transportation Improvement Program (TIP) actions, Work Program Amendments, and other action items that are on the Board agenda, as well as be able to submit comments or questions related to the action items.
DVRPC welcomes comments and input from all members of the public from throughout the broader Greater Philadelphia metropolitan region. Providing online access enables two-way communication, and broadens DVRPC's public participation engagement. For more information, or if you have any questions, please contact Jane Meconi, AICP, DVRPC Public Involvement Manager, at 215-592-1800 or public_affairs@dvrpc.org.
DVRPC Names Three More Classic Towns at Annual Trolley Tour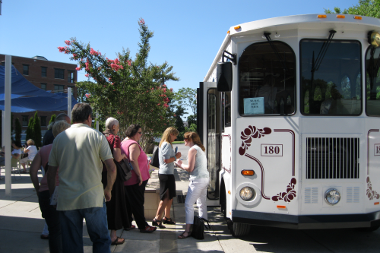 On July 27, DVRPC named three more towns to its Classic Towns of Greater Philadelphia program, designed to promote the region's unique communities in both the city and suburbs.
The newest classics are Lansdale in Montgomery County, Kennett Square in Chester County, and Bordentown City in Burlington County.
DVRPC Executive Director, Barry Seymour, announced the new towns during the second annual Trolley Tour, which highlighted Ardmore in Montgomery County and Manayunk in Philadelphia.
The tour enabled regional leaders and local business owners to see firsthand the vibrant residential neighborhoods, diverse architecture, bustling business and entertainment districts, and remarkable recreational opportunities that exemplify the 21 Classic Towns.
The tour highlighted Ardmore's Central Business District and Suburban Square as well as Frank Lloyd Wright's Suntop Homes. In Manayunk, tour participants took in the downtown along with the Manayunk towpath and enjoyed frozen yogurt at Whirled Peace.
Classic Towns of Greater Philadelphia is a DVRPC initiative designed to promote the region's unique communities in both the city and suburbs. With more than one million people relocating throughout the Greater Philadelphia region every year, this program highlights the "classic" communities and helps residents rediscover the beauty and diversity of our older towns.
To learn more about the Classic Towns program and these communities, visit www.classictowns.org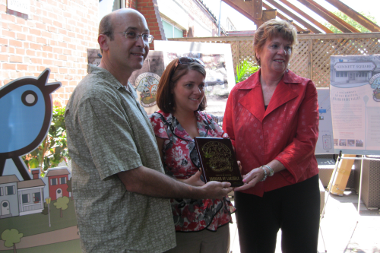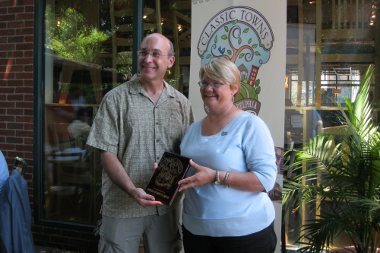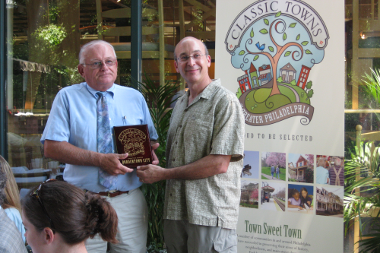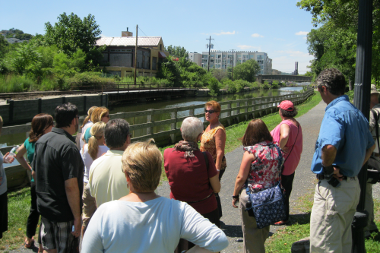 DVRPC Explores Idea of SEPTA Station on Chester Waterfront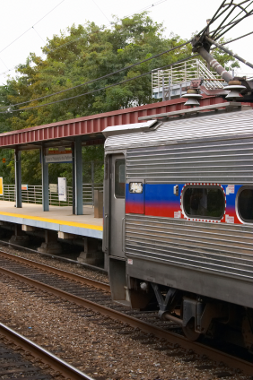 With all of the recent and planned development along the Chester City waterfront, planners and community enthusiasts alike are looking at the possibility of increasing transit access to the area. The Chester Riverfront and Community Rail Access Study looks at connecting an existing regional rail line with the Chester City riverfront. The new DVPRC report suggests that replacing Chester's Highland Avenue Station would be a realistic and feasible option. Another is the construction of a new station on Engle Street near Martin Luther King Jr. Memorial Park. This would allow safe passage over freight tracks and is roughly a half-mile from PPL Park and other development. Estimated construction costs for these projects ranges from $17 to $27 million, depending on strategy.
To read the Chester Riverfront and Community Rail Access Study in its entirety, click here.
New DVRPC Data Bulletin Analyzes Crashes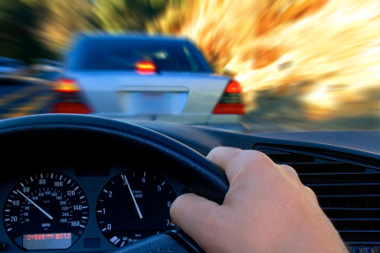 The Greater Philadelphia region has experienced a steady decline in traffic crash fatalities and injuries since 2006. Despite this encouraging trend, the 86,219 traffic crashes that occurred in 2009 claimed the lives of 383 people and injured another 45,159. The recently released 2009 Crash Data Bulletin provides an annual snapshot of road safety in the Delaware Valley by highlighting and comparing trends at the national, regional, state, and county levels. This document serves as a supplement to DVRPC's Safety Action Plan and will be prepared on an annual basis.
To view a PDF of the data bulletin, click here.
Join us for Park(ing) Day on September 16

On September 16, DVRPC will join a number of businesses, nonprofits, architects, and citizens to transform metered parking spaces around Philadelphia into temporary public parks. The Commission's "park" will be located on the 300 block of Market Street. For more information, including a list of participants, visit www.parkingdayphila.org.