Building the Economy
The economic future of the region, nation, and world is faced with a host of issues revolving around rising energy prices and dealing with the realities and regulations of climate change. The regions that best equip their businesses and residents to deal with these issues will be the ones that thrive. Connections 2040 recognizes that the region will need to be innovative in implementing solutions to reduce energy consumption in our buildings and transportation sectors and promote the use of alternative energy technologies in order to be prosperous in the future. Promoting eco-enterprises and green-collar jobs that support energy efficiency and alternative energy industries will make our region more competitive economically, generate new jobs and revenue, and create jobs for the underemployed. In addition, the region can build on its already strong economic foundation and improve business sustainability practices in fields, such as life sciences; tourism; health care; finance; professional and business services; information technology; creative industries; internet, cable, and telecommunications; transportation and logistics; specialty manufacturing; and food production.
Economic Growth
To enhance the climate for business growth, municipalities must maintain a dialogue with the business community and engage business leaders in growing the economy. A more attractive business tax environment, as well as fast, predictable, and transparent government decision-making, will encourage economic development. Municipalities can also work together to foster regional collaboration, participate in a regional economic development marketing program, and improve the region's image, both internally and externally. Tools that municipalities can use to improve their economic competitiveness include the following:
TIF allows public improvement projects to be financed by future tax revenues within a designated area. These future tax revenues are derived from the anticipated increase in land value that these improvements will create.
Enterprise zones are areas in economically disadvantaged communities that receive state grants to undertake business development activities. Businesses located in a designated Enterprise Zone may receive tax credits, loans, or other incentives. In Pennsylvania, Keystone Opportunity Zones serve a similar function.
Land value taxation, also called two-tier or two-rate taxation, increases taxes on the value of land while reducing taxes on the value of buildings and improvements. This can encourage reinvestment in urban areas by lowering the relative cost of improving a property and raising the relative cost of allowing it to remain vacant.
In the nine-county Delaware Valley Regional Planning Commission (DVRPC) region, shared services occur at every level of government and are much more widespread than the number of formal service-sharing agreements indicates. Indeed, the shared service model has been embraced by members of both political parties as a fiscally responsible method of service delivery. In many cases, sharing services allows municipalities to decrease both the cost and the complexity of the services they provide to their constituents while providing a higher level of service overall.
The pop-up economy manifests itself through temporary events, shops, or planning activities. Its key benefits are risk reduction and the ability to try out new concepts with low upfront costs.
Energy Efficiency And Conservation
Energy efficiency is the single most cost-effective approach to address the challenges related to high energy costs and the increased generation of greenhouse gases (GHG) that cause climate change. Just a 10 percent improvement in energy efficiency will save the region $2.5 billion per year in direct costs, while reducing GHG emissions. To reduce the energy used by residents' driving, municipalities can also work to locate employment, services, and housing in close proximity to each other.
DVRPC has developed tools and expertise to help municipalities identify, prioritize, and implement cost-effective strategies to reduce energy use and curb GHG emissions in municipal operations. Implementing measures to reduce energy costs will lower local governments' operating costs, creating a demand for workers and providers of energy efficiency and renewable energy products and services. Energy-efficiency improvements also present opportunities to improve air quality and modernize aging infrastructure, as well as provide a model for local businesses and residents. Cost-saving measures to reduce energy and GHG emissions have proven successful for local government operational sectors, including buildings, fleets, outdoor lighting, and wastewater treatment facilities. There are a number of tools currently available for municipalities to increase energy efficiency:
An inventory of greenhouse gas (GHG) emissions and energy use in the region was first released in 2009 by DVRPC, using data from 2005. The inventory was updated in 2014 with 2010 data. It is DVRPC's intention to update the inventory every five years. The inventory allocated energy use and GHG emissions to each of the region's communities. It is available to download from the DVRPC website. Local governments can use the allocated inventory to understand and help reduce sources of GHG emissions and energy use in their community.
A baseline energy analysis of municipal operations enables local governments to determine the areas in which they are consuming the greatest amounts of energy at the greatest cost. By conducting a simple evaluation of operational sectors and individual buildings with easy-to-use tools, local governments can focus energy reduction efforts where it counts.
Alternative energy ordinances ensure that alternative energy production (solar, geothermal, and wind) is cost effective and compatible with existing land uses in a community.
Municipalities with Alternative Energy Ordinances
Green building and energy-efficient design standards for public and private buildings can be integrated into energy codes as a way to demonstrate environmental leadership and reduce energy use in buildings. These practices can be encouraged in your community through public-sector leadership or through incentives. Incentives can take a variety of forms, either financial (such as tax rebates, fee waivers, or cash payments) or nonfinancial (such as development bonuses in terms of increased floor-area ratio, building height, density, or expedited permit processing or fast-track review).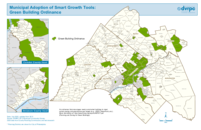 Municipalities with Green Building Ordinances
Energy audits assess how much energy a building consumes, identify measures that can make a building more energy efficient, and provide information about potential energy cost savings. Even a simple no-cost audit of a building's plug load, which can account for over 20 percent of a building's electric energy usage, can identify low- or no-cost energy saving measures.
Energy-efficient purchasing, standards, and specifications will ensure that appliances, information technology equipment, lighting, and control equipment have the greatest efficiency for their use, reducing utility bills and lowering operation and maintenance costs.
Energy performance contracting allows local governments to audit and retrofit several buildings and facilities for energy efficiency. The benefits of an energy performance contract include little to no upfront capital expenditure, and long-term energy cost savings. Energy performance contracting can be financed through a tax-exempt "municipal lease," which is considered a non-balance sheet debt and can be paid back through savings in the operating budget.
Green fleet and commute programs call for the purchase of fuel-efficient and alternative fuel vehicles and encourage employees to use public transportation or carpool to work.