Transportation Improvement Program (TIP)
The TIP is the regionally agreed upon list of priority transportation projects, as required by federal law (ISTEA, TEA-21, SAFETEA LU, MAP-21, and the FAST Act). The TIP document must list all projects that intend to use federal funds, along with all non-federally funded projects that are regionally significant. We also include all other State funded capital projects. The projects are multi-modal; that is, they include bicycle, pedestrian, ITS, and freight related projects, as well as the more traditional highway and public transit projects.
For an overview of the TIP, how it was developed, and how you can become involved, see the Transportation Improvement Program (TIP) Handbook. [1.8 MB pdf]
Major Amendments to the FY 2015 TIP for PA
DVRPC is amending the FY 2015 TIP to incorporate schedule changes to two regionally significant projects: I-95 & Aramingo Avenue, Adams Avenue Connector MPMS #17782 in Philadelphia and Plank Road/Otts Road/Meyers Road/Seitz Road Intersection Improvements MPMS #57851 in Montgomery County. The Transportation Conformity finding must be amended to reflect the schedule changes to the projects in the TIP. The public comment period will open on January 13, 2016 and close at 5 p.m. on February 16, 2016. The DVRPC Board will be asked to act on these documents at their February 25, 2016 meeting.
Copies of DVRPC's Draft TIP Amendments and Conformity Finding are available below, in the DVRPC Resource Center, as well as in a number of regional libraries.
Written comments and questions for the TIP and Transportation Conformity can be submitted online below, e-mailed to tip-plan-comments@dvrpc.org, or may be addressed to Plan/TIP/Conformity Comments, c/o DVRPC Office of Communications and Engagement, 190 N. Independence Mall West, 8th Fl., Philadelphia, PA 19106. Please note that the DVRPC website will be down for preventative maintenance from January 15th to January 17th so submit online comments before or after this period. Comments for these documents must be received no later than 5:00 p.m. on February 16, 2016.
Current TIPs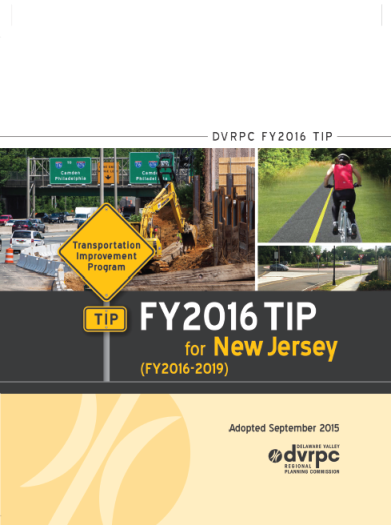 The DVRPC FY2016 TIP for NJ (FY2016-2019) was adopted by the DVRPC Board on September 30, 2015, and became effective on November 20, 2015. This important document represents the latest program of transportation projects for the NJ portion of the region. This TIP will remain in effect until at least September 30, 2018.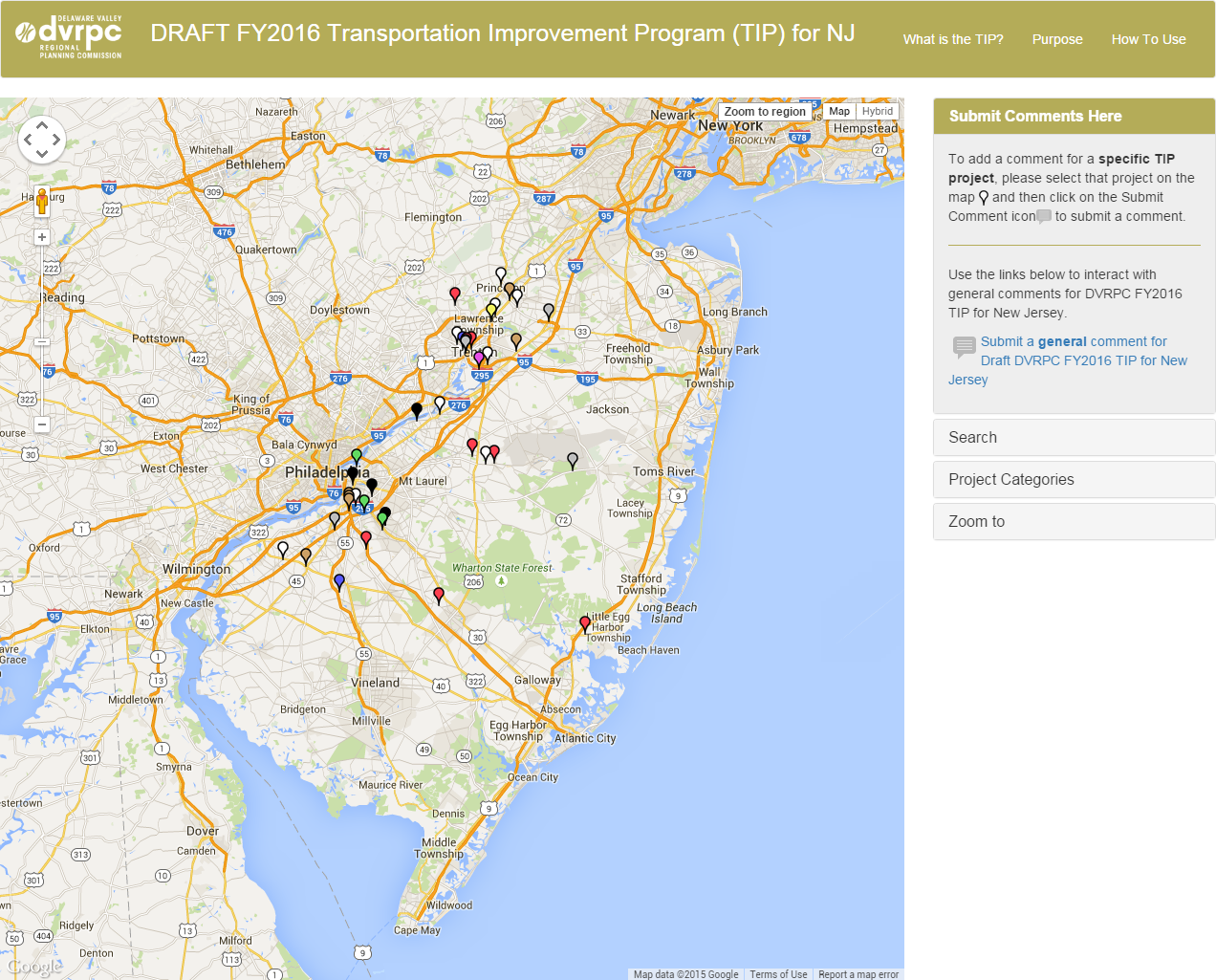 TIP projects can be searched, mapped, and displayed interactively here

The DVRPC FY2015 TIP for PA (FY2015-2018) was adopted by the DVRPC Board on July 24, 2014, and became effective October 1, 2014. This TIP will continue as the current TIP until September 30, 2016. This important document represents the latest program of transportation projects for the PA counties in the region.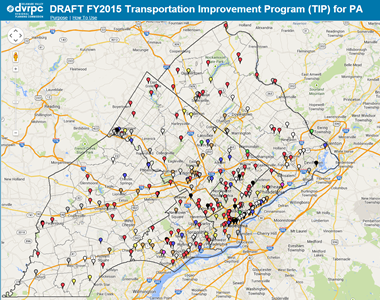 TIP projects can be searched, mapped, and displayed interactively here
Prior TIPs
Flexing Highway Funds to Transit
End-of-Year Obligation Summaries