DVRPC Regional Greenhouse Gas Inventory
As the first task in its Climate Change Initiatives Program Area, DVRPC has completed an inventory of greenhouse gas (GHG) emissions in the region. Identifying and quantifying the emissions sources in the region is a key first step to developing strategies for reducing emissions. The full report is available for download here. This effort was accompanied by the allocation of the inventory to each of the region's nine counties and 352 municipalities. Tables detailing the allocated emissions are included as Appendix A of the full report and are available as a separate Excel spreadsheet. This spreadsheet also includes the detailed regional inventory tables. Please contact the Office of Energy and Climate Change Initiatives if you would like a detailed overview of energy use and GHG emissions for a particular municipalitiy.
Overview
The base year for the GHG emissions inventory is 2005. Greenhouse gas emissions, measured in metric tons of carbon dioxide equivalent (MTCO2E), are calculated for energy used in the residential, commercial, and industrial sectors, as well as the transportation sector, which includes on-road transportation, passenger and freight rail, aviation, marine transportation, and off-road vehicles. Emissions resulting from waste management (solid waste and wastewater), agriculture processes (both animal and plant related), non-energy-related emissions from industrial processes, and fugitive emissions from fuel systems (natural gas systems and petroleum systems) are also included.
Within the DVRPC region, these sectors resulted in emissions of 87.5 million metric tons of carbon dioxide equivalent (MMTCO2E) in 2005. Over 91 percent of these emissions resulted from energy consumption, including stationary energy consumption by the residential, commercial, and industrial sectors, and mobile energy consumption from the transportation sector. Waste management and industrial processes each accounted for an additional 2.9 percent and 3.7 percent, respectively, of total emissions. Emissions from agricultural processes and fugitive emissions each account for less than 1 percent of total emissions. When the net change in carbon stocks in the region's trees is taken into account, the region's total emissions are slightly higher, at 87.7 MMTCO2E.
Table 1. Summary of DVRPC Regional Greenhouse Gas Emissions-2005
Source: DVRPC, 2009
Emissions Source Category
Emissions
(MMTCO2E)
Percent of
Total
Stationary Energy Consumption-Residential
21.1
24.2%
Stationary Energy Consumption-Commercial & Industrial
32.1
36.6%
Mobile Energy Consumption
27.2
31.1%
Agriculture
0.5
0.5%
Waste Management
2.6
2.9%
Industrial Processes
3.2
3.7%
Fugitive Emissions from Fuel Systems
0.8
0.9%
Gross Emissions
87.5
100%
Land Use, Land Use Change, and Forestry
0.2
Net Emissions
87.7
Together, regional emissions accounted for about 1.2 percent of gross national emissions. With 1.9 percent of the nation's population in 2005, per capita emissions in the DVRPC region were about one third lower than in the nation as a whole. This is largely due to the region's lower per capita commercial and industrial energy consumption, on-road mobile emissions, and agricultural emissions.
The results from allocation of emissions to the municipal level clearly demonstrate that municipalities with higher density tend to produce lower per capita emissions.
The report begins with an overview of the 2005 Baseline Inventory, and follows with a discussion of the methods and data used to estimate 2005 emissions. It continues with a discussion of the methods used to allocate the inventory to the region's municipalities. The report contains an appendix that presents the results of the allocation by county and municipality and an appendix listing participants in the inventory advisory group and other stakeholders.
DVRPC will use this inventory in its work to develop policies and programs for the region to reduce greenhouse gas emissions. DVRPC will also use this inventory to support inventory efforts at the county and municipality level, as well as to support regional analysis of where investments in energy conservation and efficiency might be most productively made.
In Figure 1 below, each slice on the graph represents a single emissions source category. The size of the slice represents emissions from a given source category as a percentage of gross emissions. The relative contribution of each source category to total emissions in the DVRPC region is shown beside a similar graph for the United States. Note that the contribution of some source categories in the region, such as combustion of fuel for mobile sources, is similar to the contribution of those same source categories at the national level. In other cases, like agriculture, the relative share of emissions is quite different.
Figure 1. Relative Contribution of Emission Sources to Total DVRPC and National GHG Emissions by Source Category-2005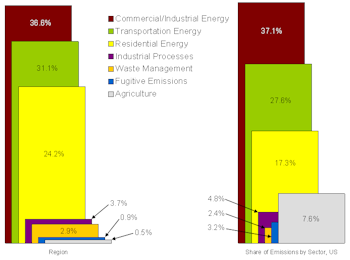 Figure 2 presents the per capita emissions by source category for both the region and the nation. The region's per capita gross emissions of 15.9 MTCO2E per person are one third lower than the national average of 24.5 MTCO2E per capita. This difference is driven largely by the region's lower per capita transportation, commercial/industrial, and agricultural emissions.
Figure 2. Comparison of 2005 DVRPC and National Per Capita Emissions, by Source Category (MTCO2E)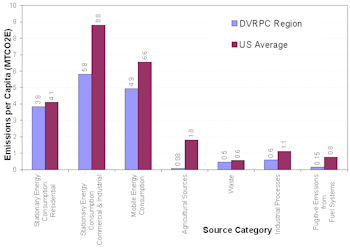 Please see the full report for:
Details on each of the emissions source categories;
Details on the methodology for calculating emissions;
Allocation of the emissions to counties and municipalities in the region;
Details on the allocation methodology; and,
A list of stakeholders engaged in the development of the inventory.